Fundraising is fundamental to the success of the Singing Wells project and our targets are ambitious. There are so many good causes globally which are deserving of grants and sponsorship but we have a strong belief in the cultural importance of the Singing Wells project.  We invite funding and sponsorship from NGOs, business partners and individuals who share our ambitions and recognize the need to preserve cultural identities, before they are lost.
How to support us
Funding for the Singing Wells project is managed by the UK registered charity, the  Abubilla Music Foundation (reg. no: 1142173).

We are registered with the Charities Aid Foundation where you can make a secure donation. To make a donation please go to the CAF web site and enter 'abubilla' in the keyword search box to find our donation page. Donations from UK/US dual tax payers are managed through the CAF American Donor Fund which allows for tax efficient giving. For more information please visit the Charities Aid Foundation website or contact us.  Thank you.

Victoria Denison is responsible for fundraising and sponsorship for the Singing Wells project so please feel free to contact her with any questions you may have.  Contact Victoria Denison
Singing Wells – The Story So Far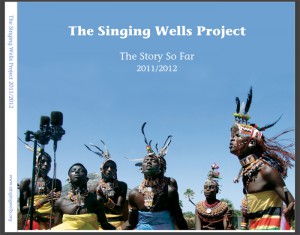 We have recently published a book about the Singing Wells project.  In words and beautiful photos, the books illustrates the story  of our first year of  field recordings.  You can order copies from the Blurb bookstore and all profits we receive from the sales are donated to the Abubilla Music Foundation.
Click here to order copies of our beautiful book
'Missing': 2013 fundraising  video
Following in the footsteps of 71 Hours to Monday this is a track called 'Missing' – an original Abubilla Music song re-mixed for the Singing Wells 'Influences' series.  The track musicians from the UK, Kenya and Uganda. The video includes footage from our field recording sessions in 2012 to Kenya and Uganda during 2012.
Singing Wells strategy 2013 – 2014
To view a pdf version of  our strategy document, please click here.
For more information about aims and the governance of The Abubilla Music Foundation, please visit http://www.abubillamusicfoundation.org.uk/