The Ketebul gang (Tabu, Nick, Pato, Stevo) woke up very early to get to Nairobi  Airport and get approval to export/import all the recording equipment.    The AMF team woke up at a more humane time of 8AM for breakfast and a little time with Simba the Locust Killer (rotweiler we previously met at the Travellers Rest in Uganda last year) It was a beautiful morning at the Airport Guest House in Entebbe with pretty flowers and strange guinea fowl pottering about.  The two groups were united around 10 with our two drivers William and Emanuel and set off for Kampala.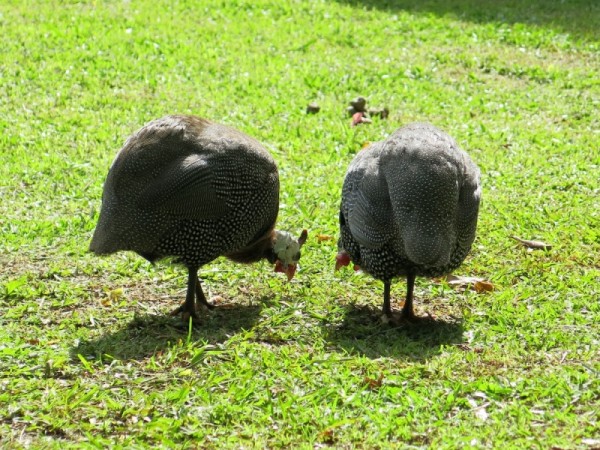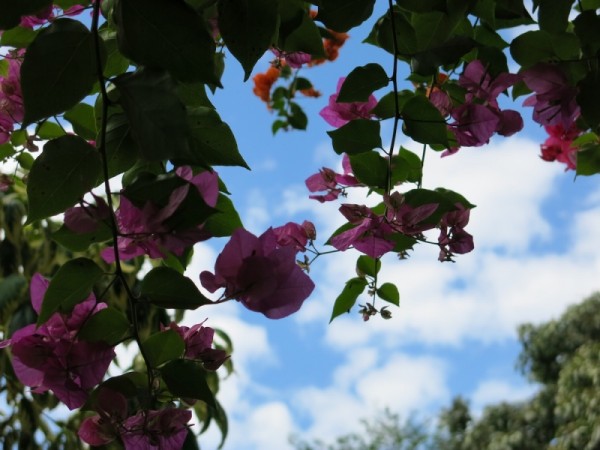 As promised Kampala traffic was a nightmare.  The William Team (Jimmy/Pato and Hannah) tried to take a short cut, but the road was closed and we ended up winding through some very poor areas around Kampala with a truck not designed for essentially footpaths.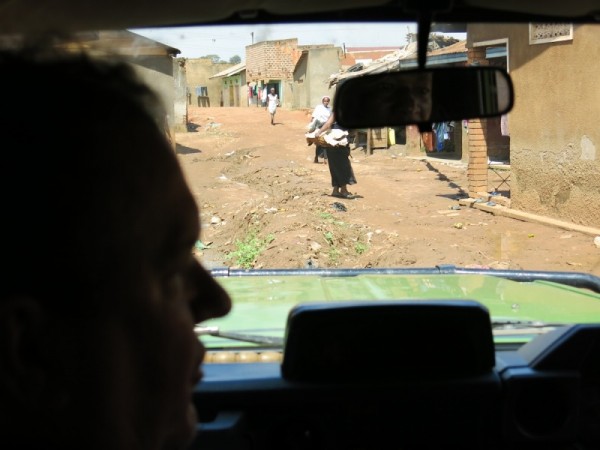 All the time, the high rises of Kampala were in view but it felt like an altogether not very nice place. The harsh divide between wealth and poverty is alarmingly clear, and the architecture spells it out.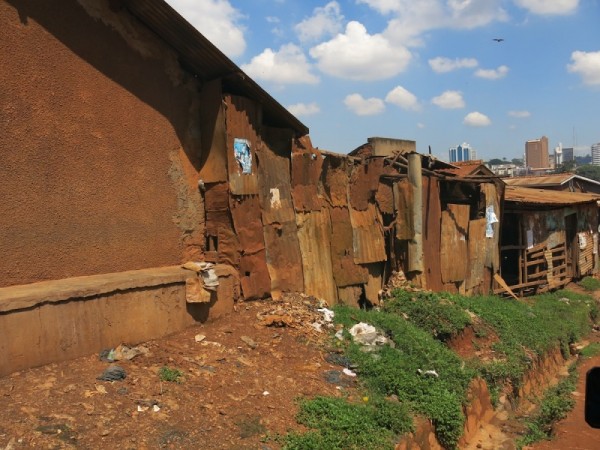 Ultimately we all made it to super-market where we loaded up with money, mobile phone cards and other sundries and headed out.  The William car stopped to pick up Akello, a lovely Ugandan singer/songwriter, who is joining the group as our Influences artist.    The Emmanuel car headed into Kampala to pick up our press badges.
We then headed off to Gulu at around 2PM (yes, we tend to spend a lot of time getting mobile phone cards!) and headed out on a 360 km drive to the town of Gulu in Northern Uganda.  Within minutes we were deeply immersed in the 'classic' East African road scene:  big tall white bags of coal, with grass helmets, bricks in various stages of manufacturer (either drying or firing), pyramids of potatoes, tomatoes on patches of blankets under trees, tiny goats tethered near the road side to pick at a fresh patch of grass, bike rider riding with small loads or walking their bikes with large loads (this trips winner was a large door, but fails miserably to our Rift Valley coffin), bed frames in all shapes and sizes gathered in front of workshops, big steel gates leaning against small trees, live chickens hung upside down by their feet showing how fresh they are for purchase, children gathering in groups of 2 to 5 to wave as we ride past, small groups of young men sitting in chairs beneath large trees greeting us with squinted eyes and ne'er a smile, women of all shapes and sizes on 20 kilometre walks with every household item imaginable on their heads and everywhere the magical colors of green grass against terracotta mud that seeps up the walls of every dwelling. Baboons and other monkeys hanging about on the sides of roads. We see these images and we hear the music of past trips. We even have one blog all about what we see on the road  on the trip- we will spend a lot of time driving as our locations are spread about the North, but boy, there's a lot to see!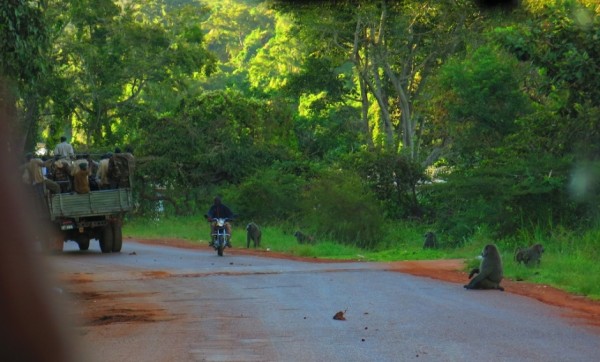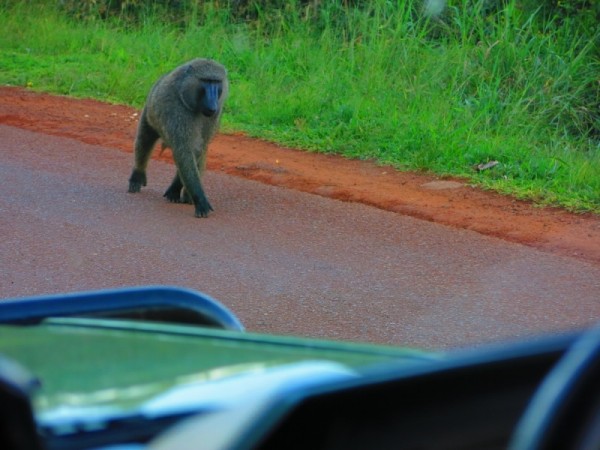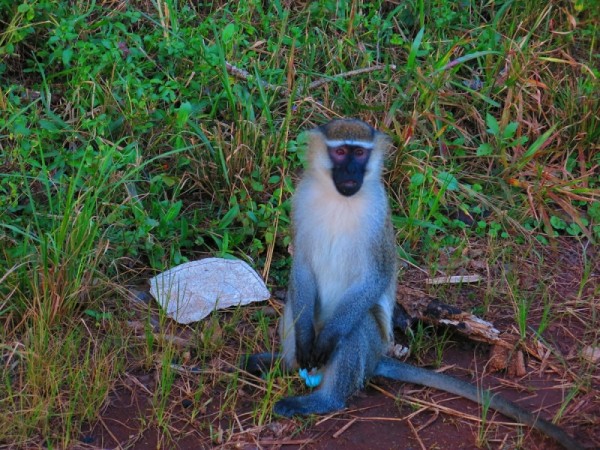 One lovely view, about 90 minutes south of Gulu, Karuma Falls: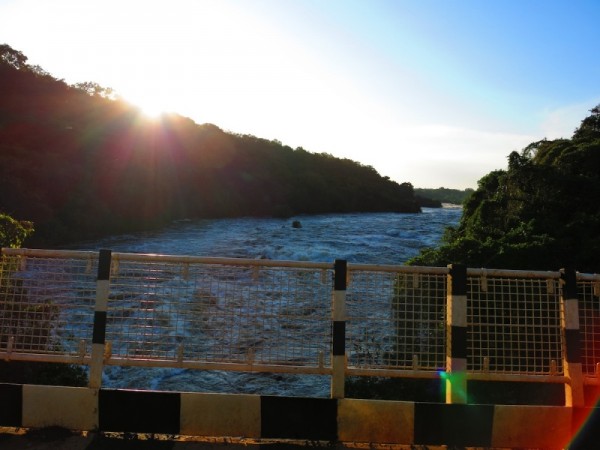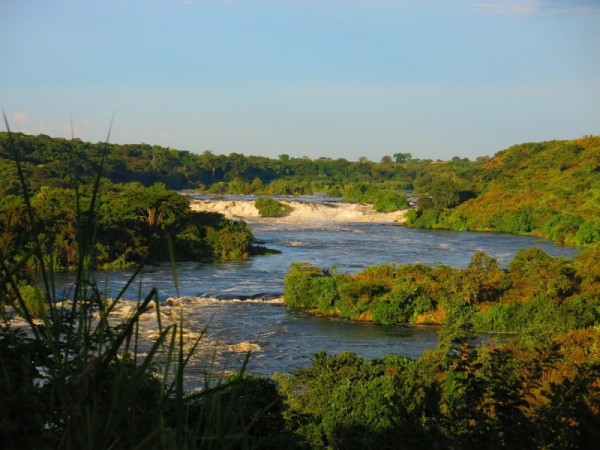 And then there's the road.   Our drives to the music are always the most dangerous thing we do.  The road to Gulu was a revelation, however.   Generally good, paved roads, with a painted lines down the center and plenty of space for bikes, cows and children to wander on the shoulder.  The big horrible trucks that have haunted us in trips past were rare and passing was generally safe.  Still, each of the cars counted about 5 'brushes with death', any one of which would be a lifetime of stories for London.  We drove. We ate our packed lunch.  We drove.  We drove.  And we raced faster and faster to make it to Gulu before DARK, our true horrible enemy on drives.  Darkness just fell as we hit Gulu, which was fine, as we slowed right down and joined the chaos of the Gulu city center.  We pulled into our hotel at around 1910, only 10 minutes or so after our target time.
We pulled into the Acholi Inn, unloaded all the equipment to our rooms and quickly feel into a dinner of Nile Specials and Chicken, Pork or Fish in various sauces, accompanied by various carbs, including Posho (the Ugandan version of Ugali)… Then to bed.  We've arrived.  Tomorrow is music.
Jimmy
(Gulu)