Long day but glorious.  We woke early, loaded our bags and headed out to Awach, about an hour away from Gulu.   We settled in the beautiful village of Paibona Tuga, which is known for the music of the Likembe, the thumb piano.  As yesterday, we settled under a big tree in the middle of the village, about 30 metres from some homes, and became surrounded first by goats and then by children.  The musicians gradually arrived over the next forty minutes, usually by bike, with either a Likembe or some other percussion. Most of the children settled under the same tree our sound crew was using and sang along to the songs.  There was only one set of shrieks, when a 4 foot grass snake slithered through the kids, over our equipment and through performers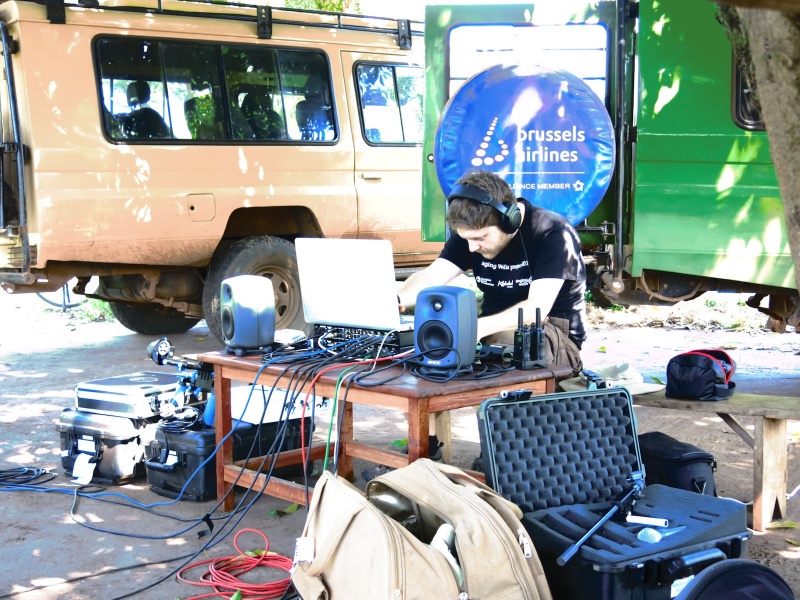 Part of our routine now is to have Vicki on top of one of the vans to get a good 3rd angle (much of the Acholi dancing involves circling a drummer, meaning you can't see said drummer unless from above…)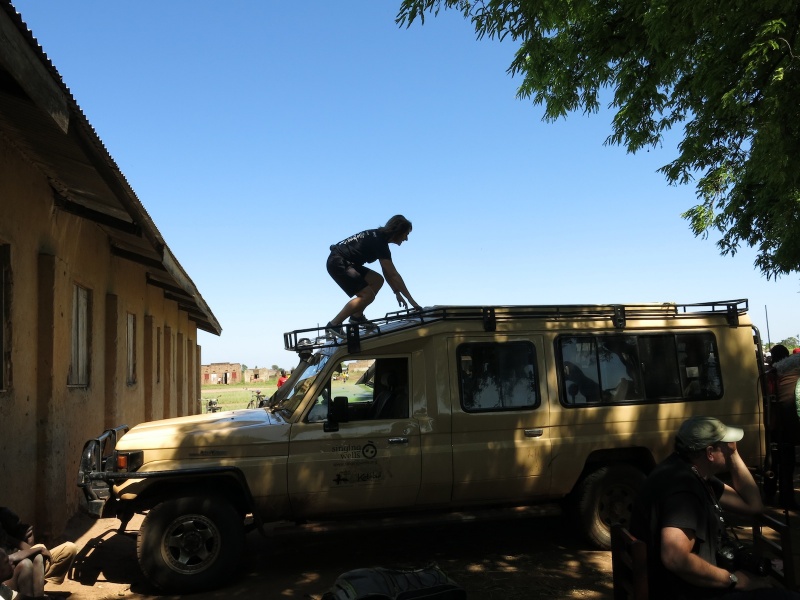 The Music Groups
Our first group was Rubanga Kingom (Awach Boys), a full Likembe band. They formed thirty years ago and their goal is 'Edu-Tainment', helping African children learn key life lessons through song. They have 35 members, who all have full time jobs doing something other than music, so usually about 15-20 can make any performance. In general, the men all play instruments and the women all dance. They call their music 'folk' because it combines traditional musical styles with modern themes of war, disease, etc. Their lead singer is Wokorach Walter and their main likembe player is Ocora David.
Here, they are warming up…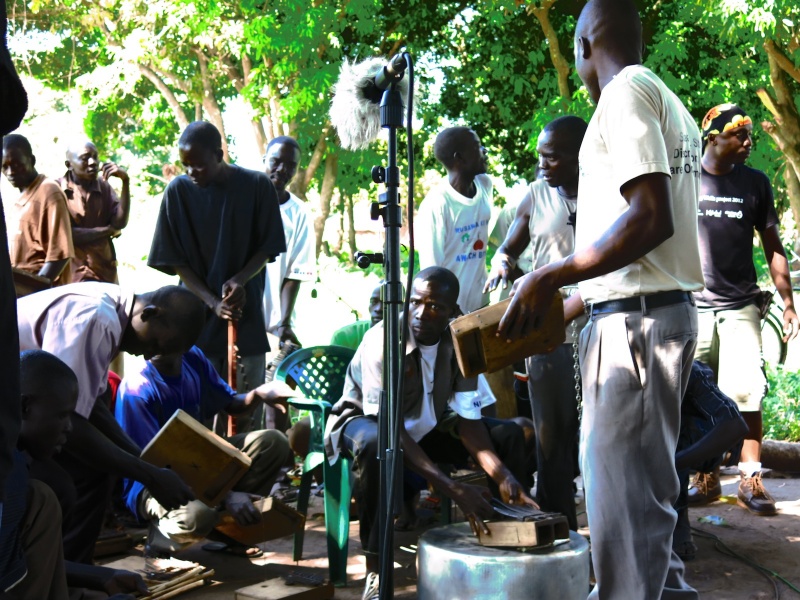 Let's set the scene of a typical performance and please watch the videos.   There are typically 8-10 thumb pianos in any performance, ranging from about 20 inches down to about 6 inches.   For this band, the 'bass' Likembe is played directly onto an over turned 'tub' so it resonates the low bass notes (later, with the Macedonia band, the bass Likembe was huge and stood on its own).    The bass player is joined by a percussionist who will also pound the tub for the kick drum and then use a little metal brush as a tom.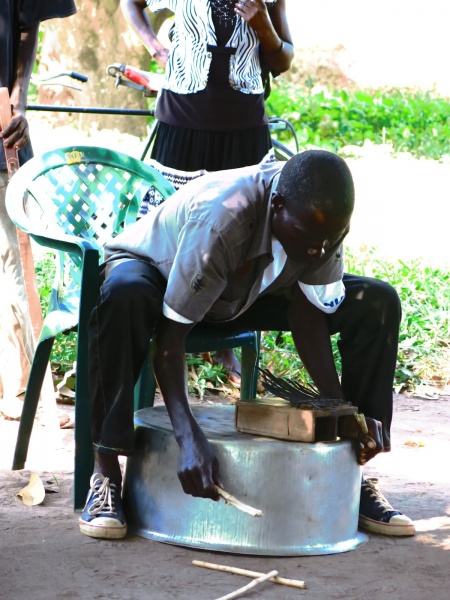 There are then lots of men with big sticks with metal on them which sound like a snare.  All the men sing back up and become a beautiful chorus.  20 folks playing Likembe give you the soft rhythms of Calypso, but as Tabu pointed out, it is more accurate to say Calypso sounds like the soft rhythms of a good Likembe band.  Here's a quick sound clip of the band…
Here's a video of their 'magic moment':
Their first song was Kica Watimon Nining, which is a song of forgiveness.  Two men start the song fighting (and it is a pretty good tussle) before they are encouraged by the band and woman dancers to calm down, solve their differences and forgive.  Given the recent wars in Uganda and given that we are in formally held Kony territory, this song is pretty important.
In the same vein, their second song was Lweny Dong Pee, a message to the government to bring back the children of conflict, many of whom remain displaced or imprisoned.
Their third song was Songa Mbele, a song about 'moving forward' symbolized by all the performers swaying their heads back and forth.
They did a final song called Kanyaga Mbele.
We loved this group and they rank in our Top 10 so far for Singing Wells.   We loved them so much we recorded a 'magic moment' with them and also an Influences session with Akello.  She sang her song Wan Wilobo, a song for and about Ugandan women and their stories during and after the war, as they keep their families together through work dawn to dusk.
In complete contrast to our first band, the second and fourth band were all dance and percussion.  First, Ker Kal Kwaro was a full dance band with amazing percussion, similar to some of the groups we met yesterday.  The great thing about this band was its youth, with most of the dancers and percussionists under the age of 15.
Before playing the 'tuned' their drums using fire (to dry them out) which was amazing to watch.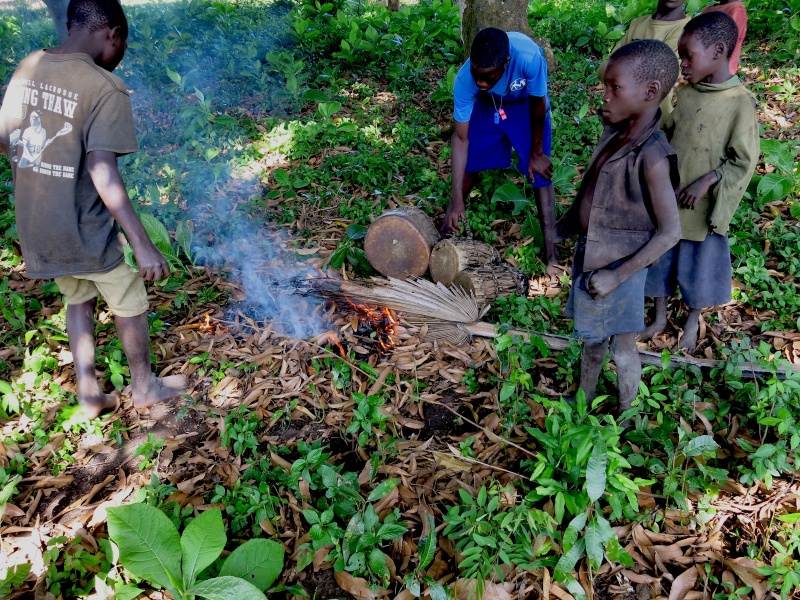 They played:
Wanencalo Munu
Aciel Longo
Luo Yee
Luga Luga
Kot Ngwer Cwe
Here's Wanencalo Munu:
Here's Aciel Longo:
Here's Luo Yee:
Here's Luga Luga:
And finally here's Kot Ngwer Cwe:
We loved their energy and recorded a second 'Magic Moments' of the day for one of their dances.
The fourth band was Waroco Tekwaro, made up of many of the members of Ker Kal Kware.  Again, all massive dance energy pressed home by their 5 Agwara  drummers (Calabash, or the Samba drum, Tamborim.
They played Lutino Achii and Lajwer and had most of the kids all on their feet dancing.
Here's Lutino Achii:
Here's Laywer:
But sandwiched in between these two wonderful dance bands was something truly special – Anyim Lac.   This was a band made up of 5 women and a male flutist.   The lead was an ancient and gorgeous woman who sang and played a single string Adugu (shaped like a bow) in a 'Tik Tik' style (which means 'Chin Chin' because she 'frets' the Adugu to change the note with her chin).  She would start each song singing and playing the Adugu and gradually the four other women would take over and the flutist would join.
The magic thing was no one could hear her or the other women, they sang so softly and it was such a big crowd.  But we gave her a lapel microphone and put a microphone directly on the Adungu and recorded.  Afterwards, when we turned her up in the mix a magical voice and sound emerged – the ancient lady sitting on the blanket in the middle of this village, surrounded by 100's had a beautiful, strong, pitch perfect voice.  Incredible.  She sang:
Two Man Dong
Lakee
Cok Mon Alwak
Munu Keya
Here's Two Man Dong:
Here's Lakee:
Here's Cok Mon Alwak:
And here's Munu Keya:
Moving on
The day ended and we drove an hour back to Gulu.  We then bought a snack (it was 6 PM and we had left at 7AM in the morning and had little food for drink) and set out on a 190 kilometer journey to our lodgings on the Nile near the Albert Nile Bridge next to Pakwach, Uganda.   A long drive through the national park.  We could say it was beautiful, but it was pitch dark.  After driving about 100 kilometers in the dark, we suddenly saw the hills ahead in a dark red.  As we got closer we realized the hills on both sides were on fire in a controlled burn.  We drove through black and dark red for about 15 minutes.  We then just we saw the back of four elephants crossing our path before we reached the lodge. It was like the sunset had spilled onto the land and kept the fields covered in its colors as night fell.  Lovely.