No journey today.  The groups will come to us.
The Recording Site
Our hotel is lovely.  From the rooms we can see the Nile.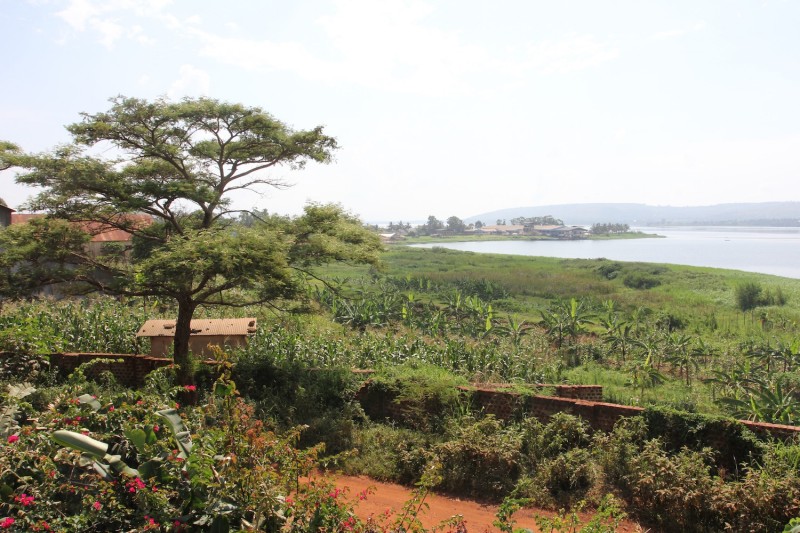 We are surrounded by high green plants and flowers and the sounds of birds and the occasional monkey.   The staff has been warm and helpful and offered the hotel today as our recording studio.  We have been able to set up the computers in the kitchen of one of our cottage rooms and have the groups either perform on our dining patio or our porch.     We had three groups today and the drivers were sent out to round them up from the surrounding areas.
The Bigwala Cultural Group
One of this group's primary purposes is to restore the Bigwala, the big Ugandan trumpet, to Ugandan musical culture.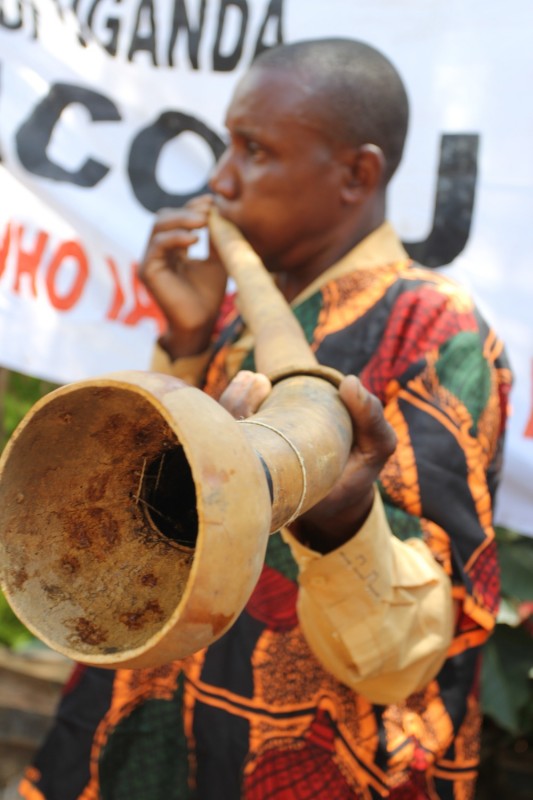 According to our local musical expert, James Isabirye, it was close to dead, but a Unesco project has helped to draw attention to the group by pointing out the instruments and its players are threatened with extinction.  He also says there is a horn shortage because people don't grow the right kind of gourds in the right shape – so he has a standing order throughout the area to buy any gourd that can be shaped into the horns (he is also trying to start a gourd revolution so people start using them again to store liquids and stop using plastic) The coordinator and lead female vocalist in the group is Irene Nabirye.    The group is made up of 6-7 Bigwala players and drummers, plus dancers and singers.  They performed four songs and then we did a magic moment with their instruments; these were:
Muwe Bwobona Asaba:   When someone asks you kindly assist them
Mperekera Omwana Womurembe:    When you are walking and living with someone by your side, they are the special one and you don't look at anyone else.
Mwene Wamwenda:  When you love someone even if they are poor or lame or sick or blind you just stay with them.
Wandyaku Vooto (Dindu)
Followed by a Magic Moment with Trumpet and Drums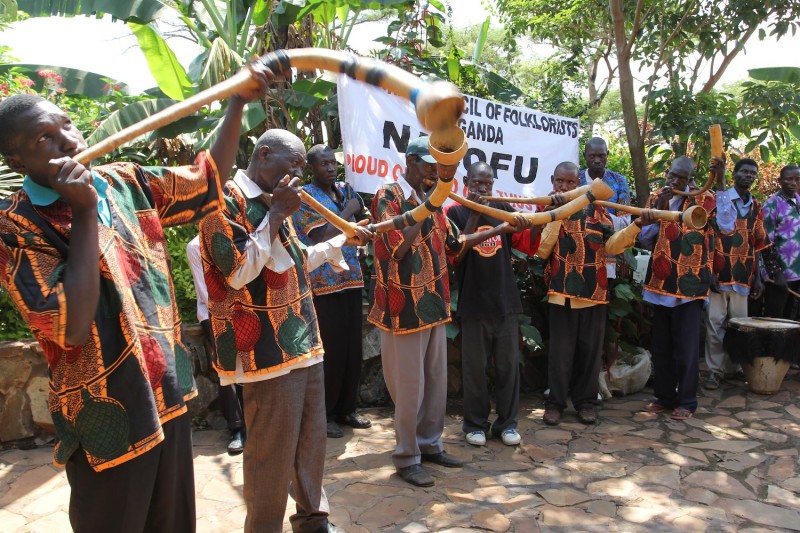 James Isabirye said of this group, "These are my darlings.   They are trying to reconstitute a group that will lead the savior of the trumpets. There are two old men and the rest are younger trying to learn from the old men, who were master players.   The National Council of Folklore for Uganda supports them.  The trumpets are royal music, meaning they were performed at the coronation or funeral of the king or any royal ceremony where the king would have guests.  The trumpets must lead the procession of the king.  But right now there are only three surviving master players who know the songs/traditions and can train the youths. One already died in May to move the number from 4 to 3 and one of the three surviving is very ill.   But it is almost certain, now that the trumpets won't disappear.  Young people have some interest, thankfully, and are learning."    Click here for further reading on the Bigwala.
Here's their music:
Adagha Nalya Drama Group
Our second group was from the Bukoona Village and called the Adagha Nalya Drama Group.  Their lead male vocal was the legendary Siragi Kirimungo, who very kindly offer to give a rare performance for us.  Their lead female dancer was Ndhote Prossy.  The group was made up of dancers/singers, drums, pipe flutes and Siragi Kirimungo also played the thumb piano.    They performed 5 songs for us; these were:
Ababusoga Nga Tukungaine:   When people assemble they agree on issues and speak one language.
Waiswa Mugudde:    A Dance song.  This is the name of a first born male twin (Waiswa)and the song is about a proverbial Waiswa of old who used to shy away from women.  It is a common folk song.
Omuntu Kyakola:   When someone is jealous about what someone else is doing.    When someone works hard, others want to bring you down.
Yoyenda:  The one you love  invites everyone to show the person they love to the rest of the community.  Performed at introduction ceremonies (a traditional party where girl introduces man to parents) but also the 'cultural' part of a wedding.
Nsomesa Nsomesa:  When a child goes to school and they don't perform well and come back with a bad report the parents will be very mad and sad. This song was the highlight of the trip.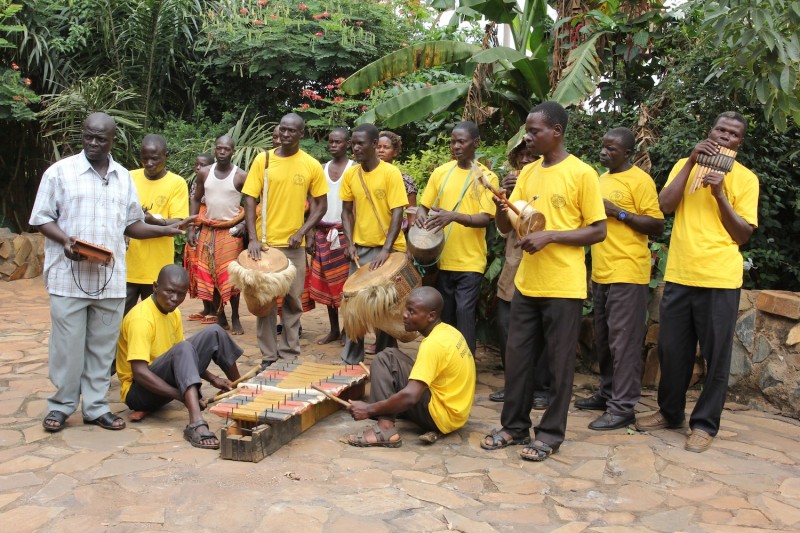 James Isabirye says, "This group is inspiring and its name means that only those who work will get something to eat.   The lead is probably the best Ugandan vocalist and he's been around music for a very long time.   His music is played by many people, but I do fear that people exploit his songs and don't give him what he is due.  He has the typical problem of illiteracy – he is a great musician but he's limited by the fact that he can't read.  He limits his opportunities.  His influence is local but amazing. He is a composer and he can compose a song on the spot – if you tell him the names and topic he will come back with a beautiful song, on the spot.  The challenge we have for him and for all like him is a) illiteracy, b) that the instruments are acoustic – if we could amplify our instruments we can then give him a bigger stage.  We are trying at the university to help amplify instruments.  Every time we try, we struggle but we have to get the solution."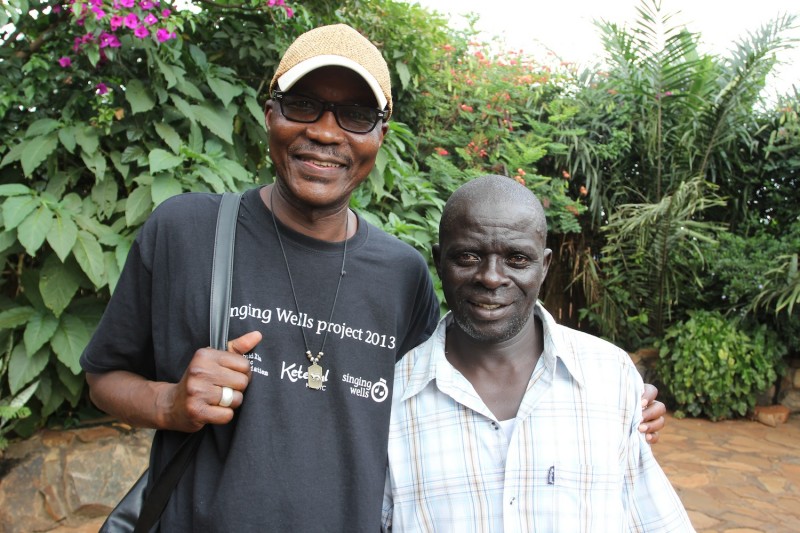 Here's their music:
The Bakuseka Majja Matta Group
Our final group was also a stand out act, with the legendary performer (yes, as Tabu said we had two legends of Ugandan music visit us today) – Natha Matta Nyende performing for us with his band the Bakuseka Majja Matta Group.   Nathan is 76 years old and has been blind since 1956.   He formed his group in 1952.  They play in the Kisoga style and are from Kasokoso in Iganga District.   They are four members.  Nathan plays the Endongo, which is the local name for the small thumb piano. Kirunda Awali sings and plays the Endere, which is a flute.   Fred Tavakumuwa is the main second vocalist and plays the Endingidi, which is a tube fiddle.   Finally, Kisame Ndaba also plays the Endongo (the thumb piano) and sings.   They played a number of songs and then we kept doing magic moments – but frankly, everything they did was a magic moment.   Even at the end, when we played back their music over the speakers they all stood and danced and sang harmonies to themselves.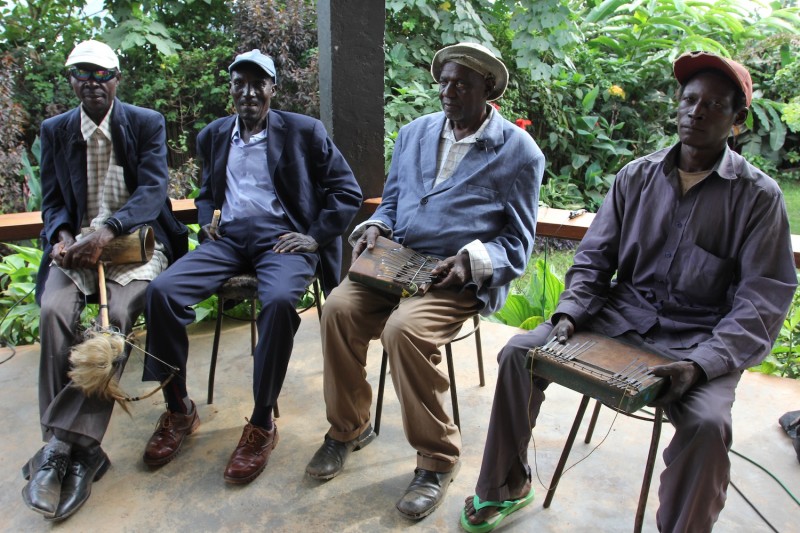 Their songs were:
Abalimperekera Baliba Muganda:  When I die, those that will escort me to be buried, will be many.
Enumba Y'eisubi Esana Buko . If a woman refuses you, you go with a match and burn down her grass thatched house.
Atyamiisa Asekerera Adagha.  A person who is doing well will always laugh at one who is struggling.
Otabona Bukaire  Even if I am old now, I'm still suitable for marriage.
Magic Moment, but actually beautiful song without instruments:
"Mbasaliza Ki?"  (What do I do that you envy)
Katonda Kyakulaga Nekikwita (God Shows You What Will Kill You)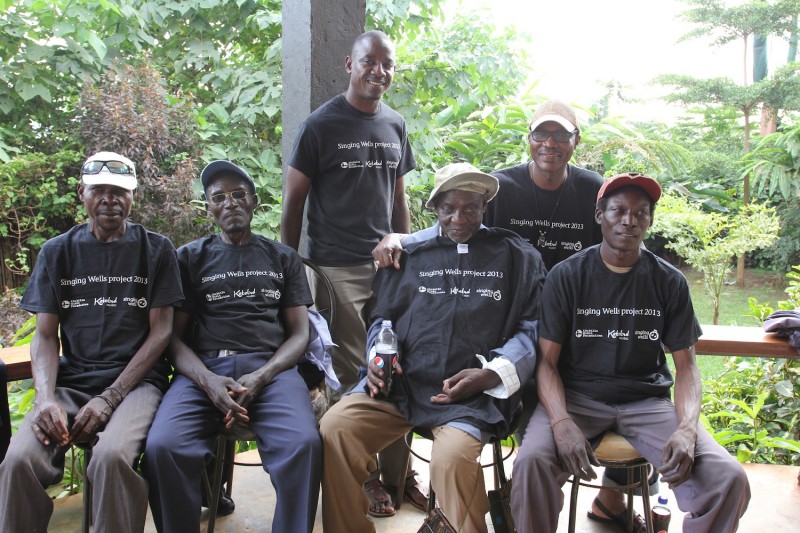 James Isabirye says, "He is THE philosopher of Basoga music.   When I hear him, I get goose pimples.  When we were young, we played these songs every evening in the village.  My mother would clap to us as my brothers and sisters competed to please our mother, dancing and singing these songs. He is at the top and we need to translate their songs.  If you give me a copy of the songs I will translate – I want them myself."
Here's their music:
After we said goodbye to the groups, we ordered a few beers and stayed in one of the cottages telling stories about our best Singing Wells moments, only some of which had to do with the music.  The group then divided roughly along age lines on the fundamental issue of fish vs. sleep.    Tabu, Jimmy, Andy and Vicki voted sleep and we had food delivered to our cottages, ate and went to bed early.   Steve, Patrick, Jacinta, Nick and Robert voted fish and went off the local casino for 'the best fish in Uganda.'   Tabu was smartest of all, of course, and convinced the kitchen to cook fish in the traditional Kenyan style AND went to sleep early.
We loved recording at the hotel so much that we convinced tomorrow's group, the Nile Beat, to meet us in the hotel gardens tomorrow morning so we could  record them before packing up for Kampala.  That's it, other than we enjoyed more spectacular thunderstorms and power cuts throughout the evening.  As it should be.