We woke up and ate tons of breakfast while watching very fit marathoners run past us.  The route was not closed to traffic which causes some interesting near collisions.  Throughout our recording and driving in Kampala today we were surrounded by limping groups of marathoners in bright yellow shirts.
The Recording Site
We packed and drove east, just outside Kampala to the Kyambogo University, where James teaches.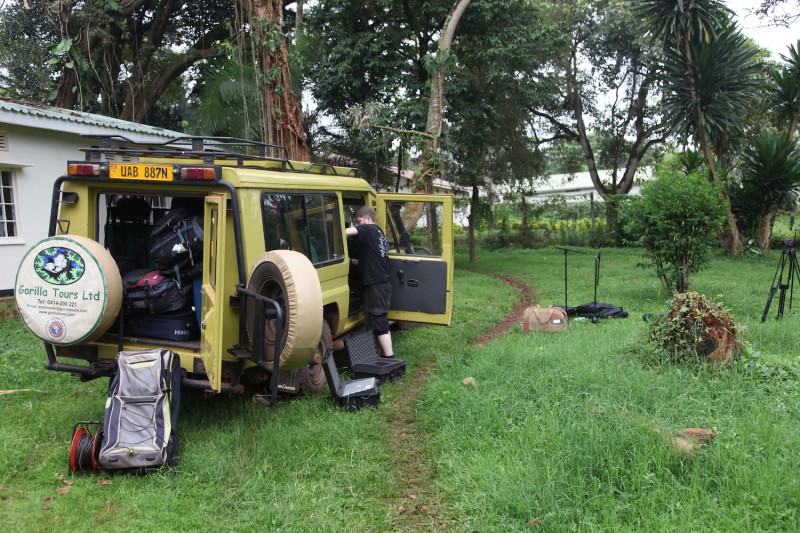 It was a beautiful gated campus, very quiet, big trees, lovely red dirt paths – it seemed to be a preserve for the lovely Ugandan greens and reds we've grown to love.   Students walked everywhere with packs.   We set up in the garden of James's class room, under big trees, in tall grass.  It had rained the night before and morning so everything was glistening.
The Music Groups
Bukaala Twesitule Troupe
Their Leader is Charles Ikula and they were started in 1991, with over 200 members, 50 of whom are active.  Musical style is Baganda.  Group performs in different areas, mainly engaged in advocation and sensitization on social awareness and theatre.
Their instruments  include:
Amadinda: Xylophone
Endingidi:  Tube Fiddle
Emlwanzi:  Pan Flute
Adungu:   Harp
Entongoli:  Bow Lyre
Drums:

Engalabi (Long drum, longest)
Empuny (Main Drum)
Entujza, 2 medium drums
Namunjoloba, 2 small drums, one pitched very high and one lower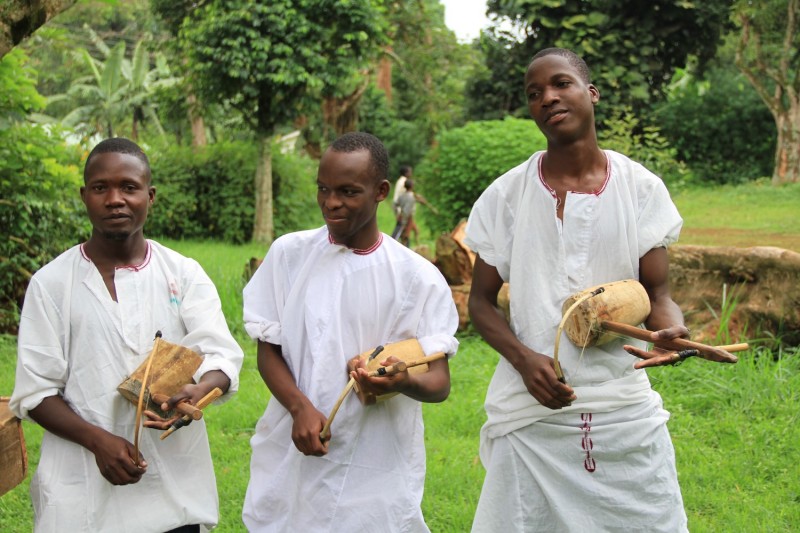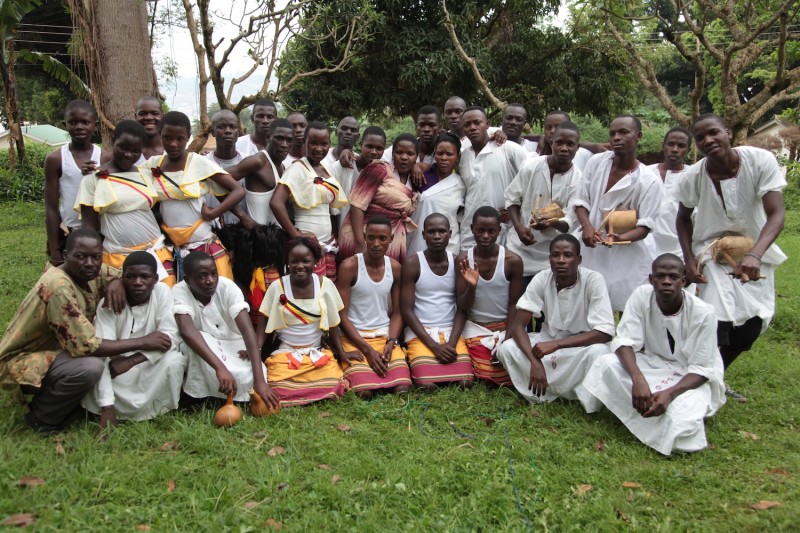 Their members include:
Ronald Muwonge (drums and dances)
Denis Kasasira (long drums)
Samson Basoga (Tube Fiddle)
Isabirye Basoga (15 slab xylophone)
Jane Babirye (lead vocalist)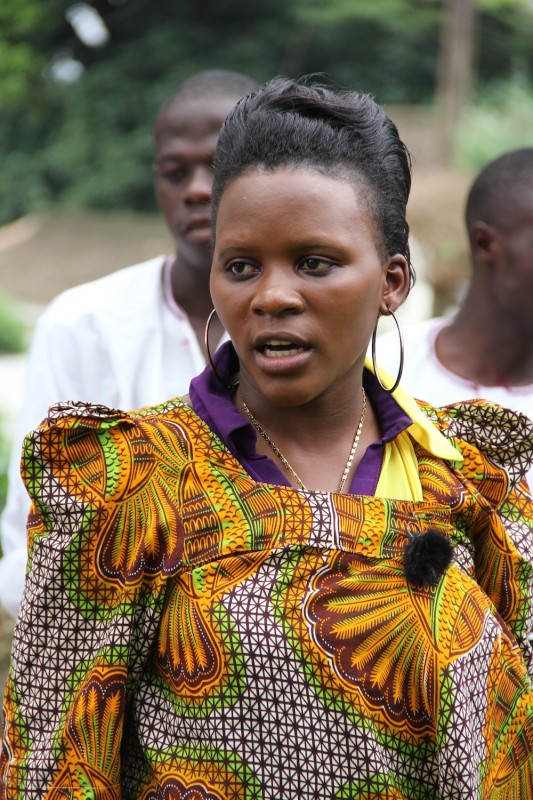 They performed 4 songs and two magic moments, which they referred to as 'Magic Dancing' and 'Magic Singing':
James Isabirye says of this group, that "it is from Rakai, which is a very significant area in Uganda. This is where HIV Aids was first recognized in Uganda.  Because of the culture, if someone passed away, the brother had to marry the widow and take care of her immediately. This was devastating for the spread of Aids because the surviving spouses, who were often infected, immediately partners with another and passed on the disease.   In late 90's you could only find little children and very old people because the disease spread so fast before it was detected.  It is only now that we have adults again.   As you noticed, this is a young group, with a huge future.   They are moving from amateur to professional with a lot of energy.  The lead singer is a wonderful performer, and really up and coming and will only get better.  They also have great instrumentalists.   They really gave a show today with lots of performers – but to these cultures folk songs demand actions and drama.  If you give them an open space they will bring much more drama to the equation."
Here's their music
The Journey to the Next Site
We then packed up and left the University Grounds and headed back into Kampala to the Uganda Museum.
The Recording Site
We set up directly in the Museum grounds and were surrounded by an open air museum which was a collection of traditional grass thatched huts from throughout Uganda.  Fairly surprised museum guests stopped to watch us. A slightly miffed grass cutter politely agreed to hold off on his duties.  We set up the band in front of one of the huts.   Oh, and there were no trees.  Oh, and it was sunny and hot.  We cooked.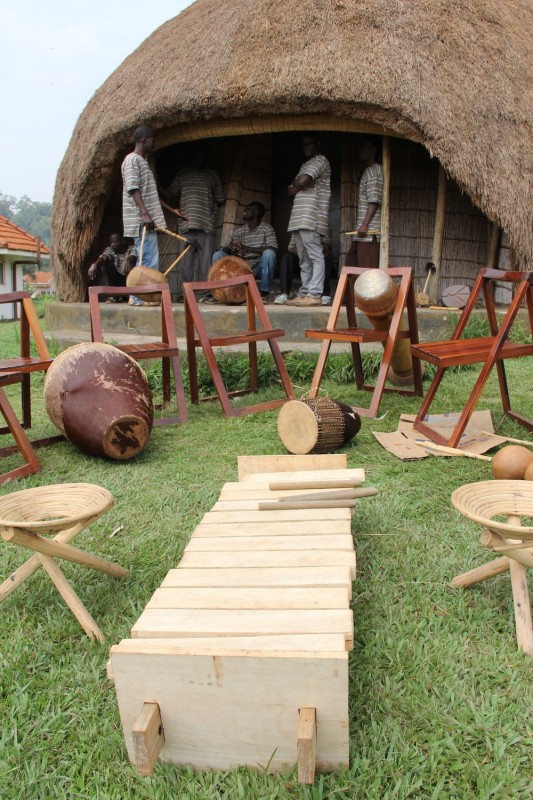 Buganda Music Ensemble
The Group was founded in 2004, led by Albert Bisaso Ssempeke Jr.  Son of Dr. Albert Senior, a legend.  Music style:  Kiganda.    Dr Albert Ssempeke, father of Junior was a legend. He was a palace performer for the King. Albert Jr's grandfather was a palace gatekeeper and flute player in the palace.   Albert Junior started to play at 10 years old and his father taught him all the main instruments – he plays the Enanga (harp, where there are only 3 master players) and the endongo (Bow Lyre).   His best moment was playing for Ronald Mwenda Mutebi's wedding in 1998.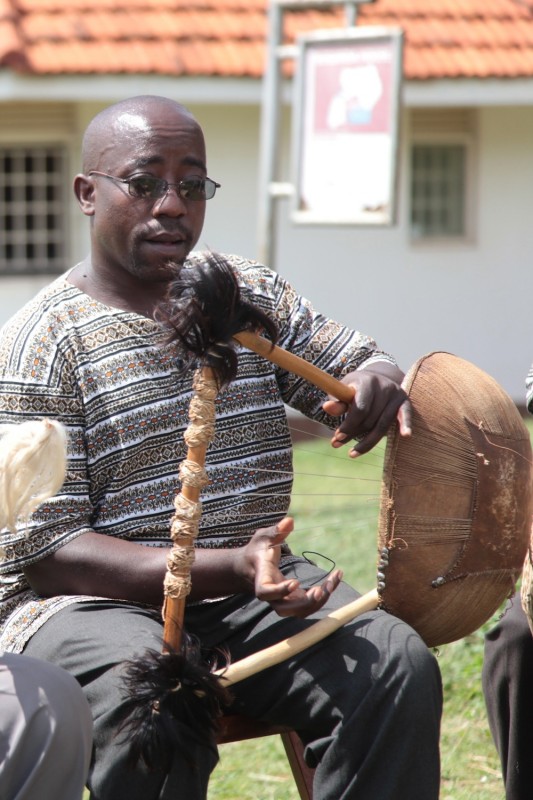 The band members include:
Kigozi Daudi:  Emburtu (big drum)
Steven Ssebuufu:  Amadinda and endingidi
Kyakonye dodovic:  Engalabi (long drum)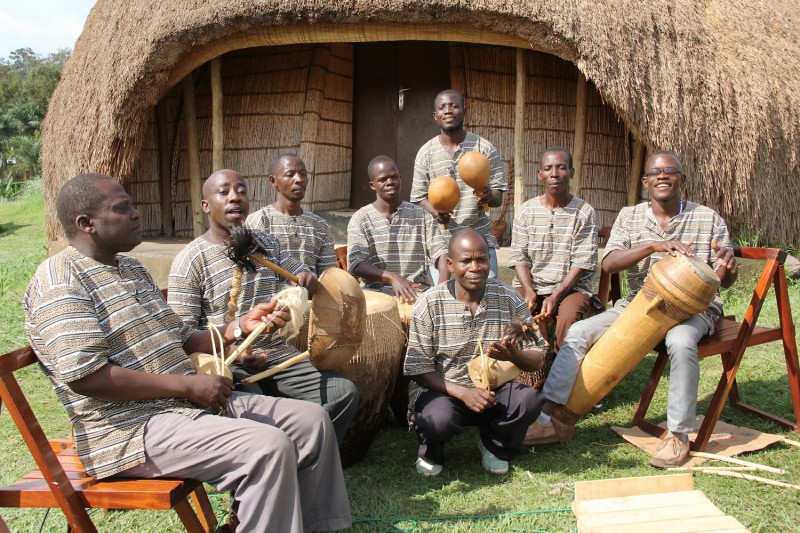 They played seven songs:
 Ggangalwa:  A king servant tried to play with the princess. All women in the palace, however, are controlled and possessed by the king.  He was punished by cutting off his fingers. His friends eventually found out due to all the rumors circulating the palace.  They tried to ask him about it but he kept denying that anything had happened.  Albert leads the song with the bow harp: The bow harp, or Ennanga, which was played by Albert Junior is a new instrument for us and he is only one of 3 master players.  It was played in solo performances and the Ennanga player was  the advisor to the king, as people would bring him messages for the king that he would turn to song.
Mulirwana:   it means neighbor and the song is about people who don't trust their neighbors and they believe that anyone that doesn't trust their neighbors is a witch.
Ssewaswa:  This is about twins Wasswa and Kato and praising twins.
Anamwinganga:   This was apiece composed by his father in 1945 and recorded in the 1960's.  It talks about who will attack the king.  He has all the security and people are there to protect him so he should be safe.
N'agenda Kasana, Instrumental
Ssematimba:  Magic moment instrumental
Tweyanze:  It is an appreciation song to say thank you.
James Isabirye says of Albert, "Let me talk about his father, Dr Albert Ssempeke.    Doctor Albert Senior was a great teacher, teaching many people how to play the tube fiddle and xylophone. He would showcase Ugandan music at the Ugandan museum, together with lots of other musicians of his time.    He gave dozens of workshops in Europe.   But he was illiterate.  Peter Cook was taught by him.   And his son Andy Cook who lives in Edinburough. "
Here's their music
And that was it for Kampala.  We packed and divided up.  Jimmy, Tabu and James drove together to continue to learn more about the music.   We all arrived at our 'home away from home,' the Airport Guesthouse, Entebbe, and we settled in for a fantastic BBQ to celebrate Steve's Birthday.  In the middle of dinner, Jovah and Henry arrived from Kisoro. We said hello's and played them some of our Batwa recordings.  We then gathered back around the table and told some jokes.    All of us were in bed by midnight as we knew the tomorrow was going to be very busy.