The next morning we drove about an hour to Kisesa (A) to record two groups:
Group 1: Mchele Mchele Sanaa Group:    This group, from the Sukuma community, was formed in 2010 and performs with a number of styles: Bukomia Lume, Buchheye, Wigashe.  
Their instruments are: Ng'oma (Drums), Pembe (animal horns, large impala), Firimbi (flute), and Njuga (shakers).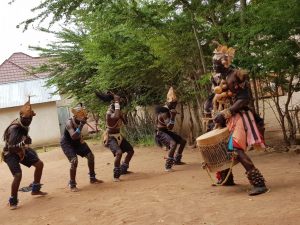 We recorded five performances:
They then did a lot of dances with 'modern' music on speakers.
Group 2: Camera: Camera, who has been performing since 1999, is from Nzega and from the Sukuma community, playing in the Kadete style.   Camera plays the Kadete (like the Zeze from earlier and Orutu from Kenya).  
He is an extremely cool cat, who we actually discovered walking the streets with his instrument during the RECCE.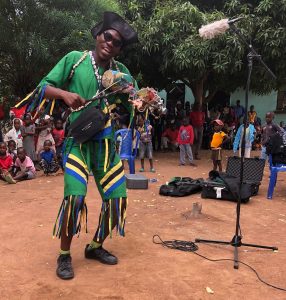 We recorded five performances:
Changamoto: This is about life's challenges
Mawazo Gakwira: About deep worries
Nkewane nsanja: girlfriend got pregnant and came to singer for papers
Tudumishe mila: about honouring our culture
Raisi Ametamka: politicians must support education
Sadly, we then got rained out and went back to hotel. We scheduled additional groups for same location the next day.