Here is my own report from the SWP trip to Uganda.
It's less about the music which is already well documented and more about my own particular reflections on what was a truly life-enhancing experience.
SUNDAY
The decision to join the Singing Wells team for this recording trip was a last minute one.  Kathy, one of our Abubilla Music Foundation trustees, had to pull out of the trip quite suddenly which left a gap in the team's resources.  Kathy was due to be videographer on 'Roving Camera 2' and also document the names and meanings of songs we would be recording.  On Tuesday Jimmy asked if I could make any part of the trip to take on that role; on Wednesday we changed the flights into my name and on Sunday I found myself on a plane to Nairobi to meet Jimmy and Andy who had flown out the day before.  It's midnight in Nairobi when I arrive at the Fairview Hotel – in torrential rain.  Jimmy and Andy have been working in the Ketebul Studio all day and are ready to retire for the night. We say a quick hello and arrange to meet for breakfast at 7.00am.  Tomorrow we are off to Uganda.
MONDAY
Tabu, Ketebul Music's founder, arrives at the Fairview to meet us. He's made the last minute arrangements for my flight to Kigali today, so I'm very grateful to him.  We've never met before, only spoken on the phone and emailed, but he's so welcoming I feel I know him already.  The complete Singing Wells team congregates at Nairobi airport.  After many months of planning the trip, this is the first time I actually put faces to the names. Steve has been integral to the planning – preparing the budget down to the last shilling and organizing the logistics of taking a team of 10 to Kisoro and beyond.  We have spoken on the phone and emailed many times. It's good to meet at last.
The flight to Kigali makes a stop-over in Bujumbura, the capital of Burundi.  I suddenly realize that by the end of the day I will have been in four different countries – Kenya, Burundi, Rwanda and Uganda.  I am already struggling to believe that I am in East Africa when 24 hours ago I was in South West London and this makes me want to pinch myself even harder to make me realize it's actually me here, doing this.
We arrive in Kigali and we are all immediately struck by the airport – it's calm, quiet and clean.  There are no delays at immigration.  It's a breeze.  It's hard to believe we are in Rwanda as we are all very aware of the traumatic recent history of this tiny country.
Our drivers arrive after a short delay.  Arun and John.  Jimmy hands me the Canon 60D – Roving Camera 2.  I am offered the front seat in Arun's Toyota van and so begins my role as videographer for the 'Making of the Singing Wells Project' documentary.
The drive though Rwanda to the Ugandan border takes about 3 hours.  The road is good and there is relatively little traffic – of the motorised kind at least.  Our van is right hand drive but in Rwanda they drive on the right which make overtaking a little precarious.  Arun is unperturbed and drives at some speed.  We have to ask him to slow down a few times so the other vehicle can catch up.  In the meantime, I have the camera in hand to capture the wonderful landscape of the Rwandan hills on our climb to the border.  There are some prominent themes on the trip which I noted down later that evening: bustling towns, people walking everywhere, women in colourful kikoys, children playing at the roadside, motorbikes, push bikes, sacks of potatoes, lush green hills, patchwork of fields, stunning lakes and lots and lots of rain!  But, surprisingly, very few animals.  The bicycle seems to be the object of choice to help transport heavy loads up and down those steep hills.  There was not one animal harnessed to a cart to take the load.
The border crossing goes without a hitch, despite some fears we were harboring about entering Uganda, ie. the possibility of customs taking a very close look at all our recording equipment and charging us 'import duty' plus the fact that I had not been able to get a visa in advance.  Our concerns turned out to be unfounded. My visa was issued without question (he didn't even want to see my Yellow Fever certificate which is listed as a 'must-have'). The officials at the actual border post (a rope across the road) took a good look at both us and the vehicles, but we were waved through and no money changed hands.
We arrived at the Traveller's Rest in Kisoro at 7pm.  Unfortunately, due to my last minute travel plans, there was 'no room at the inn' for me that night so I would spend my second night in Africa on my own at the Kisoro Tourist Hotel just down the road!
TUESDAY
The alarm goes off at 6.15am.  I slept relatively well despite the torrential rain and a random text from the UK arriving at 5am to wake me up.  And a single mosquito which appeared to have slipped through the net. I am glad to see that the rain had stopped and it's a beautiful early morning.  All good conditions for field recordings.
Here's the view from my bedroom window…the view from the Traveller's Rest (the following night) was more dramatic:
After breakfast and the loading of the vans we head off to the offices of UOBDU where we meet Henry and Alice who are to be our guides and translators for the next three days.  Henry has made all the arrangements for our visits to the Batwa communities in advance and his presence is invaluable. Alice is from the Batwa community and is the first and only of her people to gain a University education.  She has been working for UOBDU since January and now has a beautiful daughter Precious who accompanied us on all our recording sessions.  I enjoyed many cuddles with her over the next few days and on out last day in Kisoro found out that I share a special bond with little Precious – she was born on 3rd June – my birthday.  I love coincidences like that!
By mid-morning, after a few minor delays and diversions, we are on the road out of Kisoro heading towards our first Batwa community.  Henry is in our van and very soon he asks Arun to pull over.  He has noticed an elderly lady walking on the roadside and recognizes her as from the village we are heading for.  She gets in the van and we continue our journey.  It's should be far now I think – our elderly 'hitch-hiker' would not be walking too far home, surely (she looks about 80 year old).  An hour and a half later we reach our destination. Arun says it was about 35 kms, most of which was up and down steep hills.  I was completely stunned. Henry explains that this lady would need to make the journey to town 2 or 3 times a week, leaving her home one day, staying with another Batwa community overnight and returning the next.  Extraordinary. Getting a lift in the van saved her half a day's walk.
The van pulls up on the track and Henry says we are there – or nearly there.  The village is just up here he says, pointing to the top of the hill which looms high above us.  We can see a narrow path winding up the hill.  We're all silently wondering how we'll get the equipment up that hill.  Including the (incredibly heavy) generator.  But there's no choice, and in the light of what we have just witnessed with the old lady we can hardly complain. So we unload and vans and make our way slowly and haltingly up the hill. By the time we reach the top Steve has removed his shoes.  The path was muddy and very slippery.  With no grip, Steve found he was moving backwards faster than he was moving forwards.  But few of our Batwa hosts are wearing shoes so it works for them.
We eventually all arrive at the top and we are in the midst of the Birara community.  Shy children start appearing from the trees, young ones carrying even younger ones on their backs. The team sets up the studio and after a brief technical hitch with the power supply (a cabling issue apparently) we are soon recording the first 'welcome' song.  It's an extraordinary moment.  Here we are on the highest point on the hill, overlooking a stunning array of green hills, all covered with a patchwork of fields or lush vegetation.  Clouds settle in the valleys.  Willy can't believe he's actually above the clouds so I take a photo to prove it.
We manage to record three songs before the rain comes so we move everyone under the cover of a tin roofed shelter.  The kids gather round and are amazed to watch the dancing through the back of the video camera. Many of the children are wearing western style clothes – I assume they are donations from the NGOs and charities which support the Batwa communities in Uganda. I am shocked by how dirty they are and immediately feel pity for them. I realize that I am putting my urban, western values on this. There is no doubt that life is hard for the Batwa here and later in the day Henry highlights many of the problems facing the Batwa people today and I realize that wearing dirty clothes is the least of their problems.  Despite that, I speak to my daughter Nicola later in the evening and tell her about what I've seen and we talk about what we should do with our unwanted clothes from now on.
The Birara perform seven songs for us and the dancing becomes infectious.  By the end we are all dancing.  The children have become a little less shy, a little more confident about having their photo taken.  They all laugh self consciously when they see themselves on the camera's screen. On the way down the hill we have plenty of company and help with the equipment.  I am escorted down by a group of children, one of whom walks directly ahead of me, turning frequently to check I'm OK.  Henry asks him his name. He's called Nicholas.  We tell him my daughter is called Nicola and he finds this hilarious.  He asks my name and spends some time repeating it with his friend Dorothia, giggling when I try to correct his pronunciation. When we are near the bottom I can see Nicholas has been eyeing up my water bottle.  It's still half full and I offer it to him.  He's delighted and keeps hold of the bottle like a prized possession.  I realize that it's not the water he wants but the bottle itself.  There's no shortage of water herev- it rains a lot – but a vessel for collecting and carrying the water is a very valuable thing.
As we wait to leave, the children gather round me near the van.  They are peering in the window wondering what else I might have in there.  Another prized water bottle perhaps.  It's hard to turn away and leave when they are so expecting.  They've seen me give out a gift and hope I'll do so again.  It's an awkward moment – the first of many to come.  I left London with some gifts in my bag in anticipation of this but the reality of it is that what I have is not only too little to offer to such a large group of children, but also so irrelevant to their real needs.  A few skipping ropes, some Dynamo torches, harmonicas. Earlier on I gave one of the girls a skipping rope, demonstrating, rather badly, how to use it first.  She didn't need my lesson, she was already brilliant at skipping!  And I had given one boy a harmonica as we walked down the hill – he had a little trouble at first as he breathed in rather than blowing out, but soon he was making music.  But now, with so many expectant faces I couldn't offer them enough.  And I didn't want to favour any one child with my odd gifts.  In the end I gave everything to Alice, asking her to decide how best to distribute things, suggesting one of the schools in Kisoro perhaps.
Our session with the Birara had extended longer than we anticipated so when we arrived at the next community we were too late to start recording.  Instead, we headed back to the Traveller's Rest for a late afternoon recording session with Francis and the Birara lead vocalists who had joined us on the drive back to Kisoro. The journey was an interesting one, for different reasons.  We took another route back, joining the main road between Kampala and Kisoro.  The road is a good one under normal conditions but was currently being resurfaced.  In many places it had been completely dug up and was a mix of loose stones and soil.  And it was raining heavily again.  Water and mud was gushing at speed down the hillside onto the road.  At times we were negotiating a small, fast flowing river.  And the rain made visibility out front pretty poor too.  Luckily, I was deep in conversation with Henry who was telling me a bit more about the plight of the Bawta.  Consequently, I was largely distracted from the peril of the road conditions.  Later Andy confessed that, in the van in front, he had been in fear of his life, convinced they were about to slide off the road into the valley below. Here's a video clip of the journey: The road to Kisoro
A scary experience indeed (only to be matched the next day by a plague of locusts in his bedroom!).
Back to my conversation with Henry.   I asked him some questions about life for the Batwa in Uganda today.
Me:  Was there any violence when the government evicted the Batwa from the forest?
Henry:  Yes. When you try to remove people from their homes there will be conflict and so they used some violence, and guns.  Some people lost their lives.
Me:  What happened next?
Henry:  The Batwa had nowhere to go.  No land to settle on.  The government had just not considered that.  Some NGOs and other supporters came to help.  They bought and rented land for the Batwa to live on, but it is not good land so it is difficult for them to live there.  It is often a long way from the town and the market. Sometimes the landlord does not allow them to stay and they have to move on.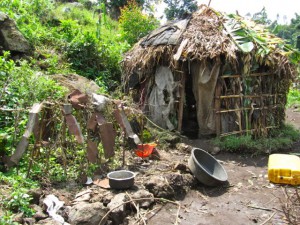 Me: How do they live in these remote areas?
Henry: They have struggled to adapt to life outside the forest.  They had all the food they needed there.  They would hunt small game and they had many plants which they used for medicine.  Now some of the Batwa keep dogs which they use to hunt small animals but the locals often kill the dogs as they think they will harm their livestock.  Many of the children are malnourished.
Me: Is there any conflict between the local community and the Bawta?
Henry: Yes there is a lot of prejudice against the Bawta from the local people.  They have no respect for them and treat them as third class citizens.  Local farmers exploit the Batwa for cheap labour, using them as porters to carry things for example.  And the men often exploit the girls sexually.  If there is a pregnancy the girl may be excluded from both communities.  She might move to the town but she has nothing.  It often ends in prostitution for her.
Me: What does the future hold for the Batwa?
Henry: At UOBDU we are working with other NGOs to establish proper land rights for the Bawta.  We want to buy good land for them so that they can farm for themselves and take their produce to the market.  We hope that the government will give them access to the forest again.  They would like to be able to use the plants for their herbal medicines and to visit the burial sites of their ancestors.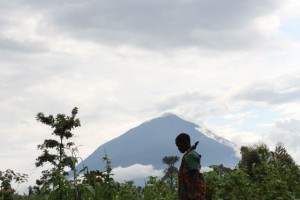 WEDNESDAY
We travel back to the Mperwa community which we had planned to visit yesterday but ran out of time.  It's only a short drive from Kisoro this time so no hair-raising driving conditions, although the road does get a bit bumpy and we need to give way to other road users:
Thankfully it's also only a short walk up the hill to the 'village'.  We still need help with the generator though.  We are rewarded with the most fantastic view.  In spite of this, it's difficult not to be taken aback by the impoverished lifestyle of the community here.  I can't imagine living in this way – tiny grass huts, mud floors, a basic latrine, a mother washing her baby in a small washing up bowl.  I realize that I would be equally unable to live a nomadic life in the forest, the way the Batwa lived for centuries.  The Bawta heritage is one of a simple life living off the fruits of the forest and surviving without any of the modern day comforts we know.  The sadness is that this lifestyle was abruptly taken from them and they have had to adapt to a new life on the fringes of Ugandan society.
I am buoyed by the fact that our visit will provide an income for the community, as we have offered each group a payment for their performances to be shared amongst the whole clan.  Henry is responsible for distributing the money.  Every time he explains about the payment we can hear cheers and clapping from the assembled throng.  He tells me later that it's more money than they can believe and they ask if it really all for them.
The recording session is, once again, an extraordinary experience.  There is no sadness, only wonderful singing and energetic dancing.  The mood is infectious and soon we are all joining in, watched by a growing crowd which has gathered on the hillside to watch the spectacle.
After leaving the Mperwa community we drive a short distance to our next recording location.  This time we are on the site of a UN refugee camp, thankfully free of refugees.  The group from the adjacent Batwa community are assembled at the top of a small hill and, as we get out of the vans and head towards the 'stage', they begin a rousing welcome song.
Once again, I have the Canon 60D in hand and concentrate on the 'behind the scenes' footage.  We are soon surrounded by an audience of women and children.  Many are reluctant to have their photos taken but some of the boys become bolder and then insist on seeing every photo I take of them, posing unashamedly for each shot.  Some remain shy and slightly distrustful of me.  Later on, as we drive back to town, I take a photo of a local boy on the roadside.  He asks me for money.  I feel very awkward and embarrassed and put the camera away.
Back at the hotel we start the late afternoon recording session. I hand over the camera to Winyo as I make notes on the day's recordings so far – the meaning behind the songs, which Alice takes time to translate for me.  I am struck by how positive the songs are.  One song entitled 'Mubirunga Harazamuka' is about how the Batwa think it is good that people come to see the mountain gorillas because they pay money to do this and the government can use the money to develop Uganda.  They hope that one day the Batwa will benefit from this money.  Another is in praise of the President, asking him to work with the Batwa to develop their country. Others are in praise of God thanking Him for having given the forest to the Batwa. (Christianity has been largely adopted since leaving the forest).  I ask Alice if there are any songs that relate to their eviction from the forest and the bitterness they must feel.  There doesn't seem to be any, although one, Inzara Igiye Kutwicya, alludes to the plight of the Batwa since the eviction. The lament is 'dear friends, see that we are dying of hunger'.
Dinner is at 8.oopm.  We decide to eat in front of the fire in the bar area.  Everyone reflects on another incredible day.  Winyo gets out his guitar and there is an impromptu 'gig' starring him, Andy, Jessie and Steve with Willie on backing vocals.  Eventually we decide it's time to retire.  Little do we know that there's an army of locusts waiting for us in our rooms….
THURSDAY
Today we all have a lie-in as we are recording at the hotel all day – the groups are coming to us. So breakfast is at 8 (much talk about the locust invasion – sounds like Jimmy suffered the biggest attack) and the studio is set-up for a 9.00am start.  Things run a little late (we're becoming accustomed to delays) as we wait for people to arrive and when they do we start another full day of recording.  As we are at the hotel, some of the other guests gather to see what's going on outside under the verandah where we have set up the 'studio'. They can hardly believe their eyes – and ears – and are delighted to witness the Batwa performances.  The irony is that they have come to Kisoro to see the mountain gorillas and are, quite possibly, completely unaware that the privilege of seeing them in their mountain habitat is at the expense of the Batwa people who they are now enjoying listening to.
This is the view from the Traveller's Rest Hotel with the Virunga mountains in the distance – still the home of the mountain gorillas but not the Batwa….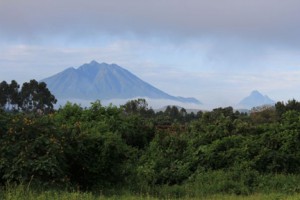 We record Francis and his lead vocalists again, plus 2 groups from Alice's community in the afternoon.  Armed with my trusted 60D, I concentrate on taking photos of the different performers and the many children who accompany them.  And make sure we have plenty of group shots of our star performers before we say goodbye for the last time (little do I know that there will be a reunion at the Ketebul Music studios in Nairobi the following week, but that's another story…)
After recording is over I sit down with Alice to make sure I have all the names of the songs and their meanings.  It's been raining heavily since about 4pm and the power has cut out.  There's no back up generator so we sit by the fire and as darkness descends we chat by candlelight.  Alice tells me the story of her education.  She started at Gitovu Primary school but after year 3 she had to leave as her parents were unable to pay the fees.   The Adventist Development Relief Agency (ADRA), an NGO supporting the Batwa, decided to sponsor a group of Batwa children to study at Mabuyemeru School.  Alice was chosen as one of those children.  ADRA then continued to sponsor her through her first year at secondary school.  Another NGO, the Bwindi and Mgahinga Impenetrable Forest Conservation Trust, then supported Alice to the end of Senior 4.  During her A Level studies she was supported initially by UOBDU and the ADRA once again.  Finally, Alice attended Bugema University near Kampala where she gained her diploma in Development Studies.  Alice now works for UOBDU as their Tourism Officer, has married and is the mother of a beautiful little girl, Precious.
Henry sits with us and he tells me about his work with UOBDU and about his wife and family. He was born in Kisoro and began his career in local government.  He came to UOBDU when it was founded in 2000, initially as a volunteer, and since 2006 he has been their Capacity Building Officer. He tells me about his six children – 3 boys and 3 girls, aged between 14 and 26.  The younger three are at school in Kampala and Henry works hard to pay for their education.  He's now a grandfather – his oldest daughter who lives in England has a three year old son who he hasn't met yet, although his wife is actually in England as we speak, visiting them.
The time comes for Alice and Henry to leave.  We all say our goodbyes and just before they go Henry makes an impromptu speech.  He thanks us for coming to Kisoro and giving the Batwa community the opportunity to be professionally recorded.  He hopes this means that more people will now know about the Batwa, their story and their music.  He tells us that the communities were all very appreciative of our support and they could hardly believe how much money they had received for their performances.  It was going to make a big difference to their lives.  He asks us to not to forget our time with the Batwa. He asks us to tell others about what we have experienced.  As I said, there's a power cut and it's pretty dark in the room for which I'm grateful as Henry's speech has left me in tears.
FRIDAY
It's an early start.  Breakfast is at 5.30am.  We want to get the border as it opens to avoid any length queues which might hold us up.  It was a good decision.  Despite leaving a bit behind schedule (a familiar scenario) we are first to the border and get through pretty quickly, just as large crowd is forming behind us.  We get to Kigali in good time, which means we can visit the Genocide Memorial Centre before the flight back to Nairobi.  We all remember watching the news at the time but nothing we saw on our TV screens portrayed the full extent of what happened in Rwanda in 1994.  The exhibition was harrowing.  The chain of events difficult to take in.  Impossible to understand.  Images too graphic to dwell upon.  Stories from survivors too upsetting to hear.  We were all left numbed by the experience.  In 1994, all civil life in Rwanda had totally collapsed.  The country was dead.  That was just 17 years ago.  It seems inconceivable that a country could recover from that horror in such a short time.  But Rwanda appears to be in full recovery – Arun (our driver) says that the country is doing well, developing at a rapid rate.  Our experience was a wholly positive one.  It's a beautiful country and we felt very safe and welcome there.  I hope their troubles are over – for good.
We board the flight to Nairobi and, for me at least, there is an overwhelming sense of an ending.  I say goodbye to the Ketebul team at the airport.  My week in Africa has come and gone all too quickly.
This trip has been important for me in so many ways.  Firstly, it's never a bad thing to be taken out of your 'comfort zone' and be shown life from a completely different angle. It puts a new perspective on your own life.  Hopefully it prompts some positive action.  Secondly, it was so good to meet the Ketebul team after many months of emailing.  And now I understand much more clearly about the impact the Singing Wells project can have in East Africa.  I can see that it's so much more than a project to record and preserve the traditional music of the region.  It's about helping communities, celebrating their pride in their music heritage, giving them a voice, showing them that their music is valued and valuable. And, of course, it's also about providing a new source of income for them.  And there was no better place to witness the impact of the Singing Wells project than with the Batwa communities we visited.  The Batwa have very little of any material value but they have their songs and dance which give them strong spiritual values.  Their music binds them together. It gives them an identity and allows them to keep something of the forest they have lost.
Victoria
November 2011