Dec 30th: the flutes and the closing of the circle with Albert Ssempeke
This is our final day in the field in Uganda. Tomorrow we head back to Nairobi to record in the Ketebul Studios: we identified a whole set of extraordinary musicians from our 2013 visit to Uganda and have invited them back to do studio recordings. But today, we focused on two things:
1) Discussing in detail some of our observations from our time exploring the royal instruments of the Kingdoms of Uganda.
2) Recording again Albert Ssempeke's Buganda Music Ensemble. Given that we first decided to rediscover the Royal Drums after recording Albert's group in 2013, we wanted to end this field visit with his recordings.
Part two: the flutes
So, let's close this chapter of Singing Wells with music and here we've come full circle. We are back with Albert Ssempeke. His father was one of the last royal flutists of the Buganda kingdom, and Albert has dedicated his life to rediscovering Buganda music through his Buganda Music Ensemble. We first met Albert in 2013, when we recorded his Ensemble playing various Buganda string-instruments. During that recording, James Isabirye, Tabu, Albert and I committed to restoring the Buganda Royal Drums.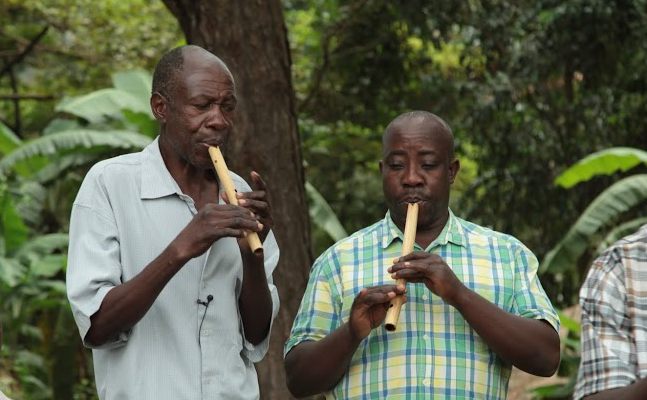 Left: Richard Sewanyana, Right: Albert Ssempeke
Albert is here this time to record the Royal Flutes, the Endere. He then followed the Bigwala Model and has worked with Richard Sewanyana. Now, keep up here, remember we met Richard on December 2, in the village of Bamusuta B Kimuzula. His was the amazing story of his father pretending to play the flute to stay in the palace only to be discovered by his fellow musicians. His was the story of being left for dead in 1966, when he actually escaped with Musisi's half brother to a local village.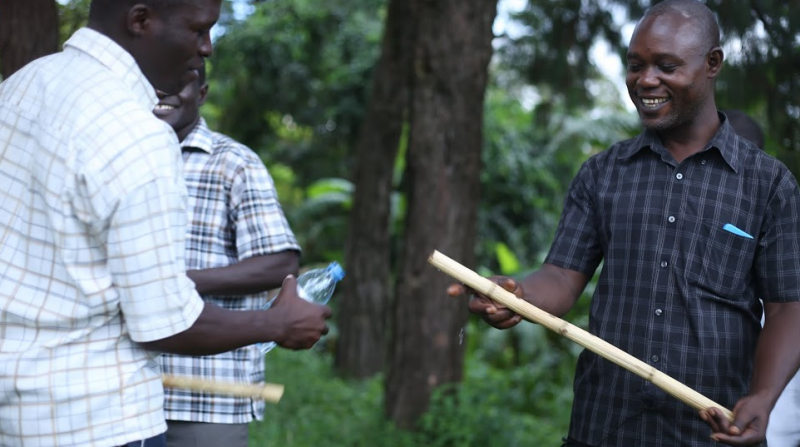 Flute being tuned with a bottle of water
An Endere Group is made up of six flutes, moving from longest to shortest, following again, the notes of the Pentatonic scale; these are:
The Enkologi: the longest
The Ekiwuuwa: the second longest.
The Entengezi: the third longest
The Ensaasi: the fourth longest
The Entabitabi: the fifth longest
The Entemyo: the sixth and shortest, sharing the same note as the Enkologi, but octave different.
Today, they were supported by the royal drum, Mbuutu (not to be confused with the 15 drum ensemble of the Entenga). They played the following songs:
Anamwa Nganga (with accents over the 'g's')
And with that, we faced a thunderstorm and packed ourselves up for the hotel, and packed in the hotel for our flight on December 4th back to Nairobi. We will not provide a field report for December 4th, but stay tuned for December 5th, when we continue recording Uganda musicians, but not in a field. In a studio. To a click track. With other professionals. As we seek to revive these sounds…