The team woke with our thunderstorm alarm clock at about 4:30 AM.  Rain pounded down on the tin roofs and thunder crashed on our heads.    After a breakfast of fruit and Spanish Omelets (although not real Spanish Omelets) , we joined our two drivers Musa and Ronnie.  We drove to the outskirts of Kampala and picked up James Isabirye, our Ugandan music expert.   Throughout our trip, he will be commenting on the groups we meet and, of course, he'll be performing with the Nile Beats Artists and helping with "Influences" sessions on our last day.
The Journey to the Recording Site
In three cars, we drove from Entebbe towards Kampala and then took the road southwest toward Masaka.  We turned north at Kammengo onto the Mbarra Road to Kindinda – the trip was about 110 kilometers.  From Kindinda, we turned right at a trading center and went another 10 kilometers into the fields, to a small village called Kidinda.
The Recording Site:
The village had one cement single story home, one stable (with a small and very loud cow tucked in the back) and one angry bull tethered to the middle of the grounds.   Chickens hung about ready to provide backing vocals.   Children began to gather as we un-loaded equipment.   Most of them smile widely when our cameras turned toward them.  Most came running to us to see their pictures show up on our camera screens.   The musicians had built a performance hall, with a grass floor and tapestry ceiling and were busy practicing when we arrive.  Given the rains, the village grounds were covered in about 3 inches of sticky beautiful Uganda red clay/mud and our crew was soon sliding about trying to set up (and stay standing up).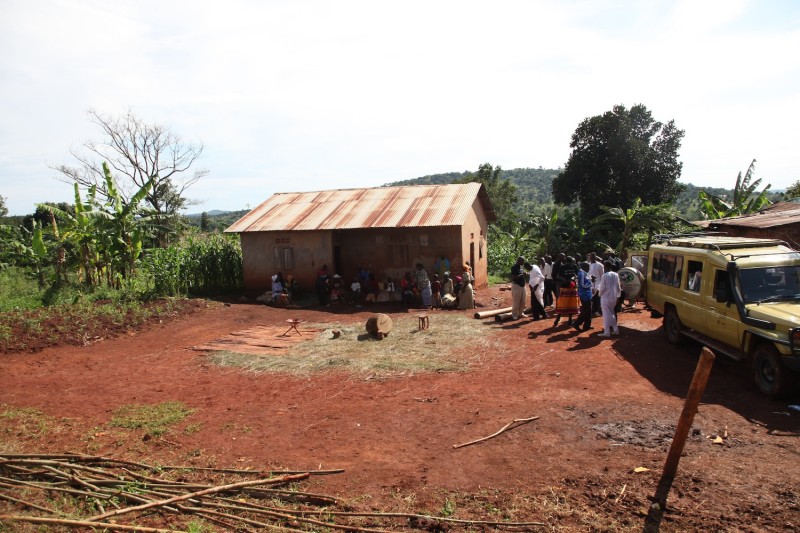 We were here to record two groups today.
The Kidinda Cultural Group
Our first group was the Kidinda Cultural Group, which were 8 men who collectively played the Amadinda, a 22 key wooden xylophone.  There total group size is 15.   The musical style is Kadinda.    The group lead is Waswa Hood and he started playing when he was 17.   There were two other original members:  Kiwuwa Buruhan and Sulayiman Sserubiri.   The group started in 1939 performing for the Kabaka (the Ugandan King), but then stopped performing in the king's palace in 1966 when the king was removed.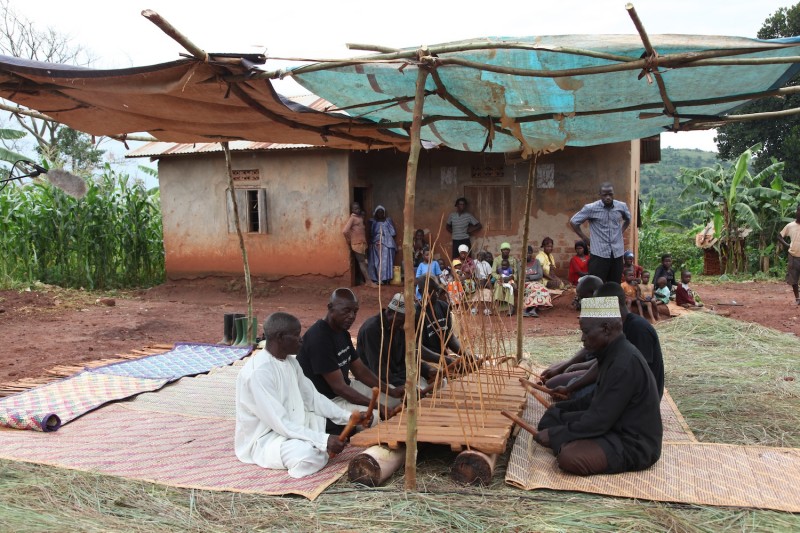 The 22 slab instrument was the only one that was allowed to be used to play for the Ugandan king (Kabaka of Buganda), and this village has been performing on the Amadinda for at least five generations.   They played three songs:
The Amadinda percussion reminded us a lot of the Likembe bands of Northern Uganda— very soothing and seductive rhythms.  For the last two songs they were joined by Passy Nassonko the lead female singer of the Kika Boys Cultural Troupe (our second group).
We talked to James Isabirye, our musical expert, about this group.  "This group does not perform formally anymore, because they have no platform.  The King invited them to play but no longer does.  They have great songs, they have a great history but today they are silent. No one asks to listen to them.  This is so sad.   How do we revive demand for what was one of the sixth great ensemble bands commission by the king to play exclusively in the palace?"
The Kika Boys Cultural Troupe
The singers from the Kika Boys (and Girls) Cultural Troupe joined the Amadinda players for the final songs, featuring Passy Nassonko on lead vocals.    They were a fantastic youth band who has competed in dance/song competitions throughout Uganda.  They had 27 members join us (32 in total), roughly divided between instrumentalists (drums/shakers/Endingidi – the Luo Orutu) and dancers/singers.    Their leader was Charles Dumba and they are from Masaka Nyendo.   They have performed for roughly six years together and their musical style is Nganda from Buganda.   They are called the 'Boys' band, but there are girls in the group too.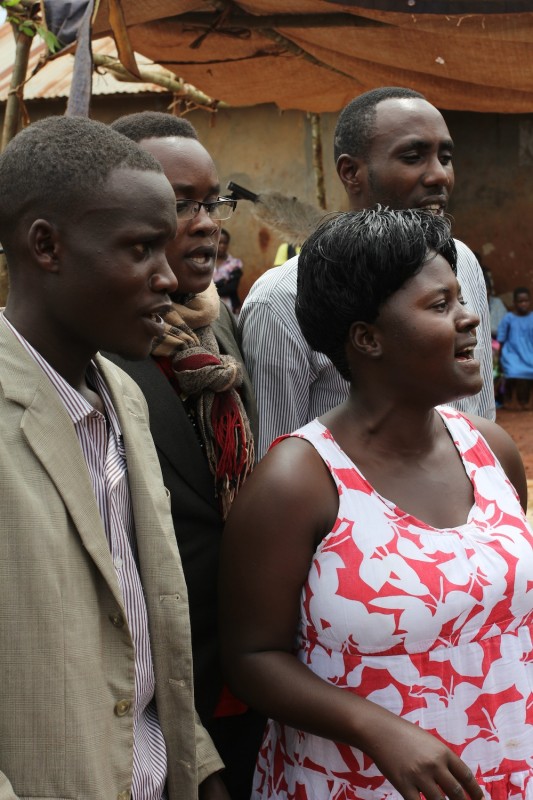 They sang three songs:
Butuuse:  The time has come for cutting down the bananas to make local brew
Zisobebwe:  It means it is time to collect the Mbidde (bananas)
Zitandikwe:  this means the bananas are now to be buried into a hole dug in the group so they can ripen
Siwa Siwa:  This talks about grinding the millet on a stone while other people bring gourds in which the local brew will be poured and served
Mbereju: This is the name of the drunkard and drinks excessively. He starts to abuse people and pee himself.
Sivve Wano: This song is sung by the town drunk and it means, "I will not leave this place and he will not go back hom becauase he is enjoying too much his drink.
Empawo:   This is  the gourd that has abigger opening because it is cut from the neck. It is usually given to those who had not had alchol yet. The would also drink too much and talk about everything that came  to their heads.
We then had a 'Magic Moment' where the troupe drummed and danced for a minute playing Nankasa Drumming Style.  The lead dancers were: Fred Namuguzzi and Shadia Nalwadda.    Other group members included:  Cosmas Waswa, Huzairuh Ssembusi, Frank Kalema  and Hakim Katongole.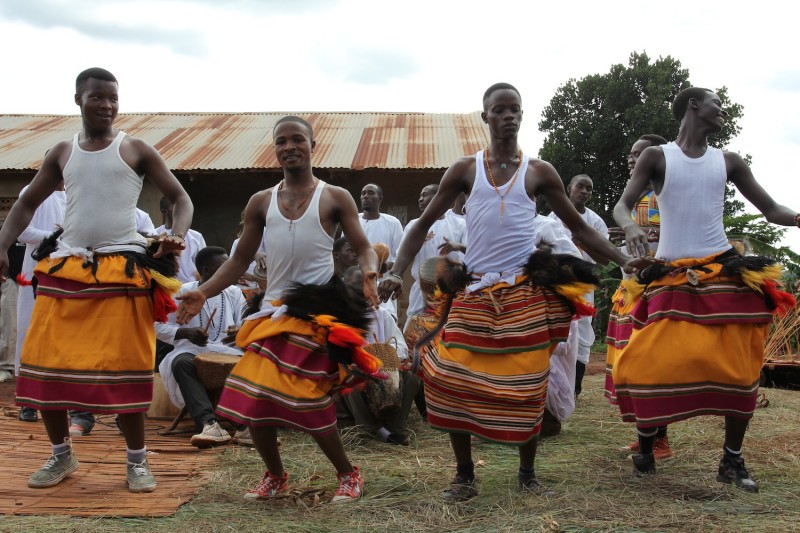 James Isabirye said the following: "This is an up and coming youth group which is at the meeting point of typical Ugandan folk music and the modern appropriation of the village music.  They are at the meeting point of modern performance and are hired all the time.    I think they have a future because they are growing and feel modern and young.   The kids are attracted to the group because they have talent.  They are good at it.   My parents tried to stop me from music and I refused to listen. They are the same.  It is a higher calling."
We agree with James.  This group is fantastic, energetic and committed to their music.  Again and again in our trips to Uganda we find that the rural youth of Uganda are passionate about tribal music; sadly, this is in direct contrast to Kenya, where we find the interest of  the rural youth in their tribal music waning.     In both countries, the urban youth has mostly abandoned village music, but at least in Uganda, the passions and commitments of the rural youth is alive and well.
The Journey Back
We then drove 60 kilometers back to Kampala and stayed at the Kampala Imperial Hotel, which had air conditioning which was highly valued by those of us from London, but treated with disdain by those of us from Nairobi!
We had a quick shower and joined Rob Marshall of Sony for a quick drink to talk about African music and distribution.     One of the big issues we face at Singing Wells is how to distribute monies for our artists efficiently.  We discussed various pilots for music distribution that are being explored and sadly concluded there are no easy solutions in the near term.
We split up in the evening into our normal tasks – sorting the next day, fixing equipment, backing up files, writing blogs, etc… and agreed to meet in the morning.   Some of us enjoyed a wonderful spicy cheese burger.  And Uganda French Fries and Nile Specials are always a welcome end of the evening.