The Journey to the Site
We woke for 7AM breakfast and were on the road by 8:30AM, a half hour AHEAD of schedule.   We drove about 210 kilometers from Kampala through Jinja toward Iganga and then turned north toward Mbale.  We went directly to the Budaka District, Lyama Sub County, to a small village near the Budaka Progressive School.
The Recording Site:   Given our early departure we arrived before our groups were ready to perform so we had plenty of time to set up, interview the group leaders, the school head master, etc… The site was on two levels.   Our 'stage' was on the lower level, with two small brick single story homes and a little kitchen cleaning area.   On the second level to the right of the houses was a hill, with the school and a couple large trees, under which our two bands rested and changed clothes – each song brought new and more beautiful costumes.   Before the performances started we also spent quite a bit of time filming 'drum tuning', which involves a lot of fire, a lot of water, some spitting and very careful brick placement.
We had two groups.   The "first group" started with a drum solo, but then handed over to the second group to give a full performance.   So, for story telling purposes, we'll move the drum solo to later in the narrative and switch the first group to later.   Are you following this?
The Music Groups
Busolwe Post Test Club
Our first group to perform fully was the Busolwe Post Test Club, a reference to aids testing.    What were really striking about this group were the beautiful vocal harmonies; this was some of the best choral singing we've heard at Singing Wells.   The group started in 2001 and perform in HIV sensitization sessions twice a month and other ceremonies such as weddings, introductions, and Cultural Competitions, the most well-known of which is sponsored by the beer Senator.   Their trainer is Paul Mwima and they originate from Bunyole, Butaleja District.   Their style is Mabega Dance. Their costumes were the Gomesi, Ebikooyi, and then they had skirts for traditional dances with animal skins.   Their members included:  Zabula Hunguna and Aggrey Gwari .  Their chairperson was Musa Malinywa.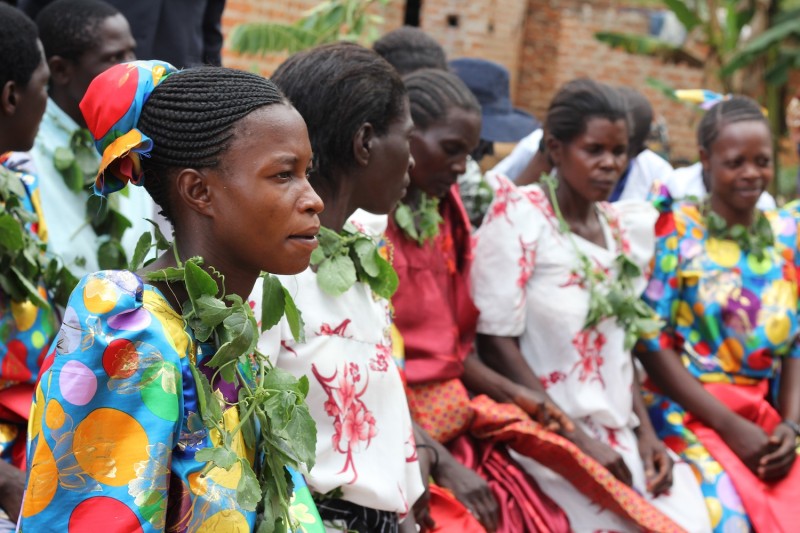 Their instruments were:
Ekongo:  Thumb Piano
Embaire (13 slab xylophone)
Endingidi:  Tube fiddles
Omulere:  Flute
Engoma:  Drums
Efumbo: Long drum
Engalabi:  Shorter drum, but still 'long'
Ensasi: Shakers
Ekwanzi:  Pan Pipes
They performed four songs:
Here's their music:
While the dancing and percussion were fun, this was a beautiful singing troupe, with haunting harmonies.  In contrast, group two was all energy, all drama – more of an acting troupe, with drummers, than a chorus.  This didn't mean the vocals weren't good, but to say they were not central to the performance.    At the center, were the group's stories, their actors and drama.
James Isabirye said of the Busolwe Post Test Club , "They are a meeting point between formal education and village music.  Although they perform traditional music, they also will also work in different formats, and are more formally trained.   They act as music judges and help to identify new talent.  Most of the members are teachers that are being trained and are training.  They are highly creative and dramatic."
The Namaddu Troupe
The second group was the Namaddu Troupe, with 28 members and was formed in April 2009, led by Ndoboli Ramathan, and from Lyama Sub County.  Their style of music was Namaddu Dance.  Their costumes were Gomasi, Kanzu and skins (emondo-cheetah and antelops).  Their instruments included:
 The Ngoma (Drums).  There were seven drums, including the Mudiri (Long Drum)
The entongoli (the 6 string Adungu)
Ankle bells
Their songs were:
 Drum Solo:  There first song was a drum (generic term for drums is Ngoma) solo. The drummer was dressed in animal skins and surrounded by roadies who helped organize and tune his collection of drums.  They fiddled over each drum, heating it, pouring water on it, spitting on it, adjusted a bring left and right, all the while the drummer hit each of the 9 drums tuning them.   This took a long time but he wanted the perfect sound.  His solo itself involved him playing and then moving his body and feet into different poses which made drumming and keeping the beat progressively harder – it ended with him on his back, feet over his face, still drumming.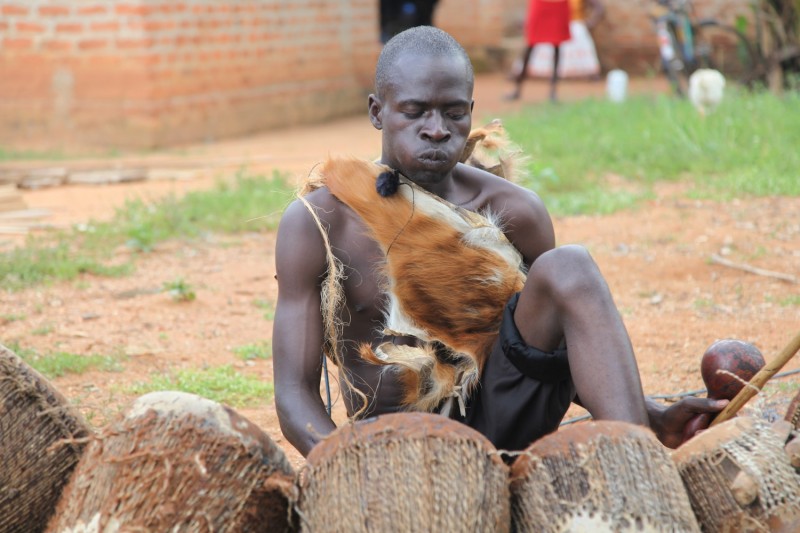 Lwaki Ndamba:   This song is roughly translated to "Why do I have to suffer?"  A woman can't have a baby so husband beats her and sends her to witch doctor who ensures she gets pregnant.   She then returns to husband, who has been off drinking, and reunites.  The performance was wonderful and, as was quickly pointed out to us, this is about reflecting the truth of village life not necessarily endorsing it.
Kwakira Wiita:  This is about eating newly harvested millet and staying close to the village.  In the song, the children don't stay home and are out all the time partying.  As a result they suffer from bad spirits – each of the dancers becomes possessed and rolls around a lot or stabs their spears pretty violently.    The lyrics of the song advice the children to be home in the house, with their families, to bring the good spirits. Gradually they return home and all is well.
The Namaddu Dance:   this is simply a wild dance that half resembled a football match.  Lots of romancing, fighting, prancing and general throw-abouts.  Lots of fun.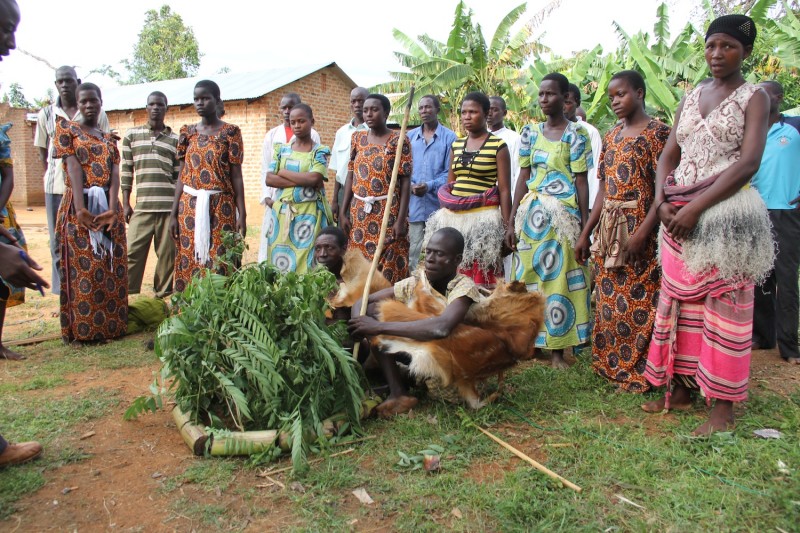 James Isabirye said of this group, "This is group is the culture symbol of Namaddu – everything they do is a ritual.  They will never perform without a drummer, without a specific conflict during the ritual.  They must bring out props and everything means something.  Everything is hugely symbolic.  While there are many people performing, there is always only one person singing AND they must also be to play drums.  The rest of the group only dances when there is a lead singer.   They also don't want short cuts.  They don't want you to sing one song and then next.  They expect to give you the full ritual.  When they act out being possesses, they are possessed.  They can't just cut the song.  They have to live the experience.  Remember, for them these spirits are real.  You can't ask them to invite the spirits in and then expect a musical performance.  You will get something very different."
Here's their music:
Journey Back
After a full day of wonderful dancing the groups loaded into big trucks and headed off.   So did we, making it the 30 kilometers to Mbale to stay at the Elgon Mountain Hotel, a great hotel with wonderful fish fresh from Lake Victoria.   And as always, French Fries with Nile Specials.  And it was early to bed for all of us.