During our field recording visits there is invariably a magical musical moment when we discover someone or something extra special and very memorable.  Here's the story of one of those moments.
Our story: discovering Anyim Lac
It was day 3 of our field recording visit to northern Uganda.  We were staying at the Acholi Inn in Gulu and, as usual, gathered in the early morning for the day ahead.  We travelled about an hour from Gulu to Awach and the small community of Paibona Tuga which is well known for the music of the likembe, the thumb piano.  We found the ideal setting for the performances – under the shade of a large tree which not only served to protect the recording equipment but was also the ideal viewing platform for the younger members of the audience.
We recorded four music groups that day, starting with the Rubanga Kingom Awach Boys, champions of the likembe.  Two further groups, Kal Ker Kware and Waroco Tewkaro, gave us loud and very energetic performances featuring the pulsating rhythms of the bul (drums) and agwara (calabash drum) and some highly charged dancing.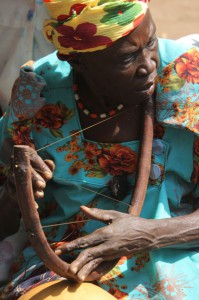 But sandwiched in between these two wonderful dance bands was something truly special – Anyim Lac, a small group made up of 5 women and a male flutist.   The lead was an aged and gorgeous lady who sang and played a single string adungu (shaped like a bow) in the 'tik tik' style which means 'chin chin' because she 'frets' the adungu with her chin to change the note.  She would start each song singing and playing the adungu and gradually the four other women would and the flutist would join in.
During the first song we noticed an immediate problem – no one could hear her or the other women, they sang so softly and the single stringed adungu produced an eerily quite sound. We didn't want to interrupt their performance but we knew we had discovered something very special and we couldn't miss the opportunity to capture the true sound.  With a lapel microphone on our lead lady and another microphone directly on the adungu, we asked the group to continue.
At the end of the session we played the recording back and a magical voice and sound emerged – the old lady, sitting on the blanket in the middle of this village surrounded by her whole community, had a beautiful, strong, pitch perfect voice.  Incredible.
Click here to go to the Anyim Lac band page