Group Information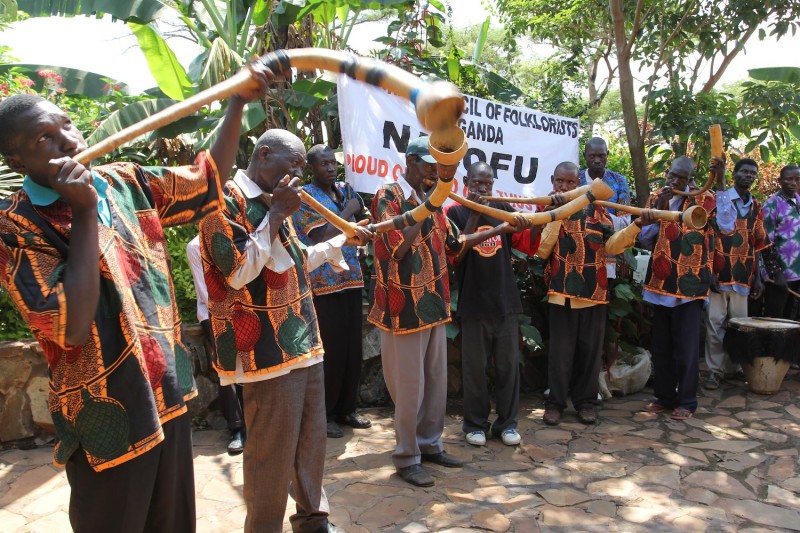 Bigwala Cultural Group: The coordinator and lead female vocalist is Nabirye Irene.  The group are from the village of Bukoona and travelled to the Gately on the Nile Hotel in Jinja for the recording session.  The Bigwala is the name of the trumpets they play.
Song Meanings
"Muwe Bwobona Asaba":  When someone asks you kindly assist them.
"Mperekera Omwana Womurembe":  When you are walking with someone by your side they are the special one and you don't look at anyone else.
"Mwene Wamwenda": When you love someone even if they are poor, lame, sick or blind, you just stay with them.
Further reading
UNESCO: Bigwala, gourd trumpet music and dance of the Busoga Kingdom in Uganda. Inscribed in 2012 on the List of Intangible Cultural Heritage in Need of Urgent Safeguarding.  Click here for the link to the UNESCO website.
Recording Information
22nd November 2013
Recording location:
Gately on the Nile Hotel, Jinja, Uganda
Audio by:
Steve Kivutia, Ketebul Music & Andy Patterson, Abubilla Music. Mixed by Andy Patterson
Video by:
Patrick Ondiek, Ketebul Music; Jimmy Allen and Victoria Denison, Abubilla Music