Dozens of children and the Bigilia
From our hotel, we drove a short distance to the village of Nia Njema, where we stayed all day recording Bigilia. They were cooking fish under the main tree and the women were sitting on the Mbuzi, which is used to cut the coconut for Wali (Coconut Rice). The dancers all had lovely necklaces (Usalu), hats (Kigarama) shakers (Mbugu), whistles (Firimbi), and 'brooms' (Usinga). The group leader was Asha Saidi Kazidi. The style was Unyago.  Here is the group: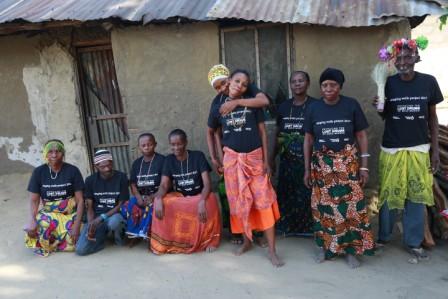 They played 12 songs, including Magic Moments and Influences Sessions:
Zakulola: You've come to see us play
Wake Kwa Ume: Female to male
Nataka kusema kasi naogopa: I would like to say something but I am afraid
Umpati Ng'o: You're never going to get them
Magic Moment 1
Utalikologa Utalinywa: If you mix it, you'll drink it.
Tueheze Zembwela (local dialect)
Bonanza
Nataka Kusema: Includes a song with Leo, which is 'I want to say'
Utalikologa Utalinywa: If you mix it, you will drink it.

Kiingereza

(English) This is Leo's song from his album, Bangili (bangles)
This was a wonderful day of recording for three reasons:
We had the whole day so were able to record a large number of songs and do an "Influences" session. This gave the village children time to get to know us and understand our mission. By the end they were singing along to all the songs. In addition to being a professional musician, Leo also teaches music to school children so he is a natural with kids. On all the songs that he did, he had the whole village singing and laughing.
We learned about the Bi Kidude and Unyago style. Throughout this trip we will encounter multiple stories about 'women for women' songs. In this case, the women in the village have a special dance that is performed by women only for women. It is all about teaching young girls to prepare for womanhood, be it how to behave in the village, how to behave as a wife, and how to be a mother. The women invited Sophie into one of the huts to watch their dance in private. In Uganda and Kenya we have a lot of recordings of rites of passage, mostly around male and female circumcision rituals – happily the songs survive but not the rituals in the places we visited! But we have far less on the theme of 'women for women' songs of instruction, or the rites of passages of women preparing for adulthood. We encountered these in three separate villages and all the women talked about their importance to the culture and education of young girls entering adulthood. All expressed sadness that these traditions are dying.
The dancing was wonderful. In this case we were reminded of Uganda, where all ages participated and you had a feeling that the young people still really enjoyed the traditional dances.
Here, the women are discussing how best to perform their dance for Sophie: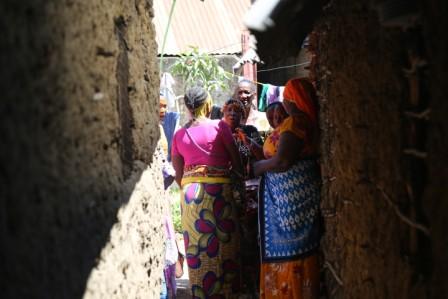 And that was day two. A short drive back to the hotel.