On our first day of recording, we follow Siti Binti Saad's footsteps to Bi Kidude and to Amina Abdalla, a performer we met on the grounds of the Ngawala Hotel (Coincidently, Ngawala is another name for Dhow), where we recorded three groups.
Nyota Za Meremeta –   The group's name means 'twinkling stars'.   They play in the Taarab style and are led by Professor Mohamed Ilyas, who played at the Serena Zanzibar Hotel for over twenty years and teaches at the Dhow Countries Music Academy.  For 50 years he's taught music in Zanzibar and promotes other musicians.    Other members of this group include:   Ramadhan Muhidan (accordion), Ali Ibrahim Musa (Kanan or Qanun), Tatu Hamisi Amur (accordion), Asha Khemisi Amur (violin) and Malick Anas (fiddle).  Malick is 75 and has played with the Professor since 1961.  All songs were very Arab influenced by all the lyrics are Swahili.  They played five songs:

Bashraf Ilyas:  An instrumental song written for the Professor's father
Na Munikome:  This means 'leave me alone.'
Mungwana:  This means gentle person.
Dhana:  This means 'thoughts' or reflections
Tulibembeleze Pendo:  This means nurture our love.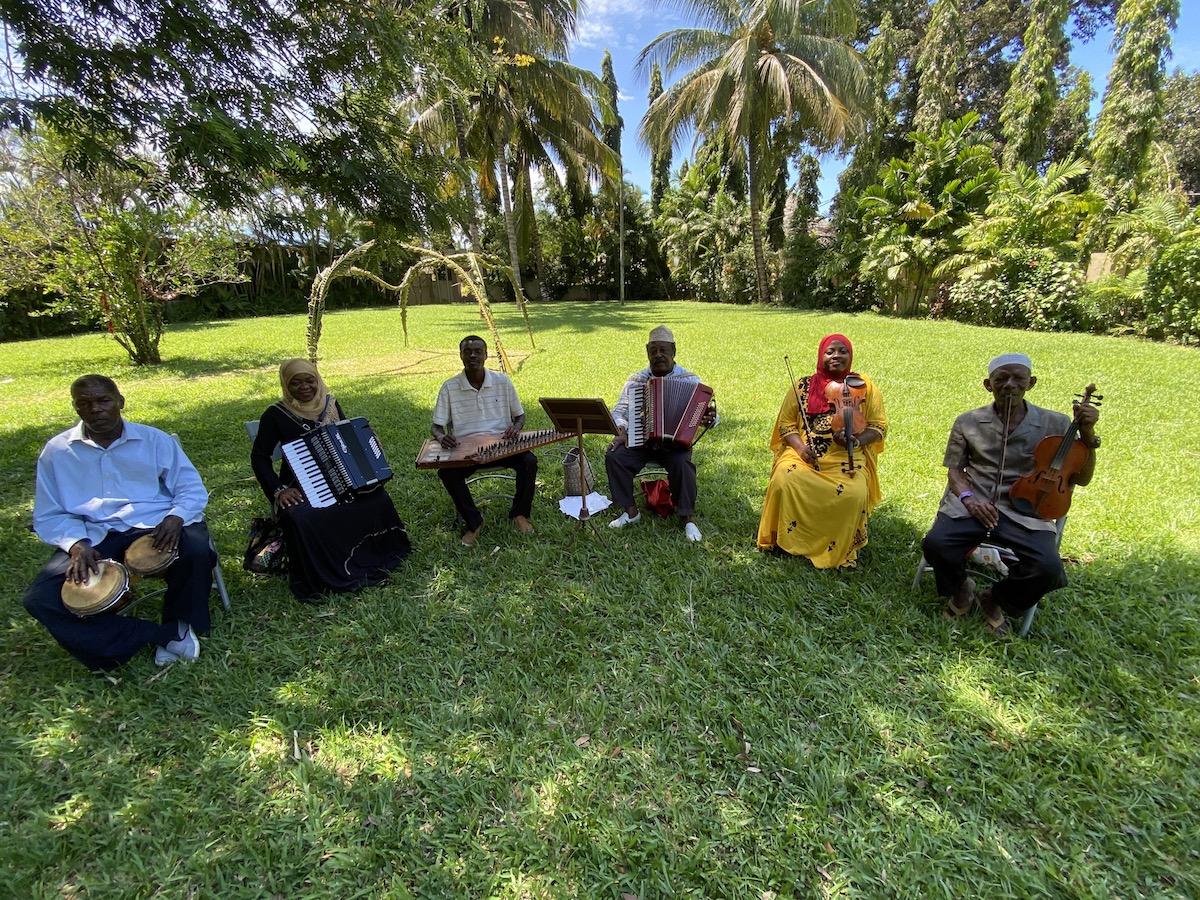 Tausi Women's Taarab:  The group leader's name is Mariam Hamdiani, who is chair of the Arts and Censorship Council in Zanzibar.  She plays the Qanun.    The group is from Rahaleo and normally they have 28 members but brought 9 for the performance.  The members included:   Topsy Surrie (Oud, a beautiful version with inlay), Asha Khamisi Amur (violin and background vocals), Tatu Hamisi Amur (accordion and backing vocals), Ummy Suleiman Alli (violin and background vocals), Mtuswma Makame Seheli (percussion), Zainabu Wazari (tablah drum), Zainabu Mdiliko (accordion) and Fatima Yuma (bongos).  The group has been together since 2009 and play traditional Taarab.  All songs are about love (love lost and gained) and all secular   They usually perform in Kisawandui.    They played five songs:

Bashraf of Alia:  Instrumental
Usione Chaelea:  Means that you don't really see the subtlety in something.
Mbiyo Za Sakafuni:  This is about too much haste and costs of being too fast (literally it translates as 'speed on the floor.')
Hebu Uone Aibu:  Means 'witness the shame.'
Wanawaki Afrika:  A Celebration of African Women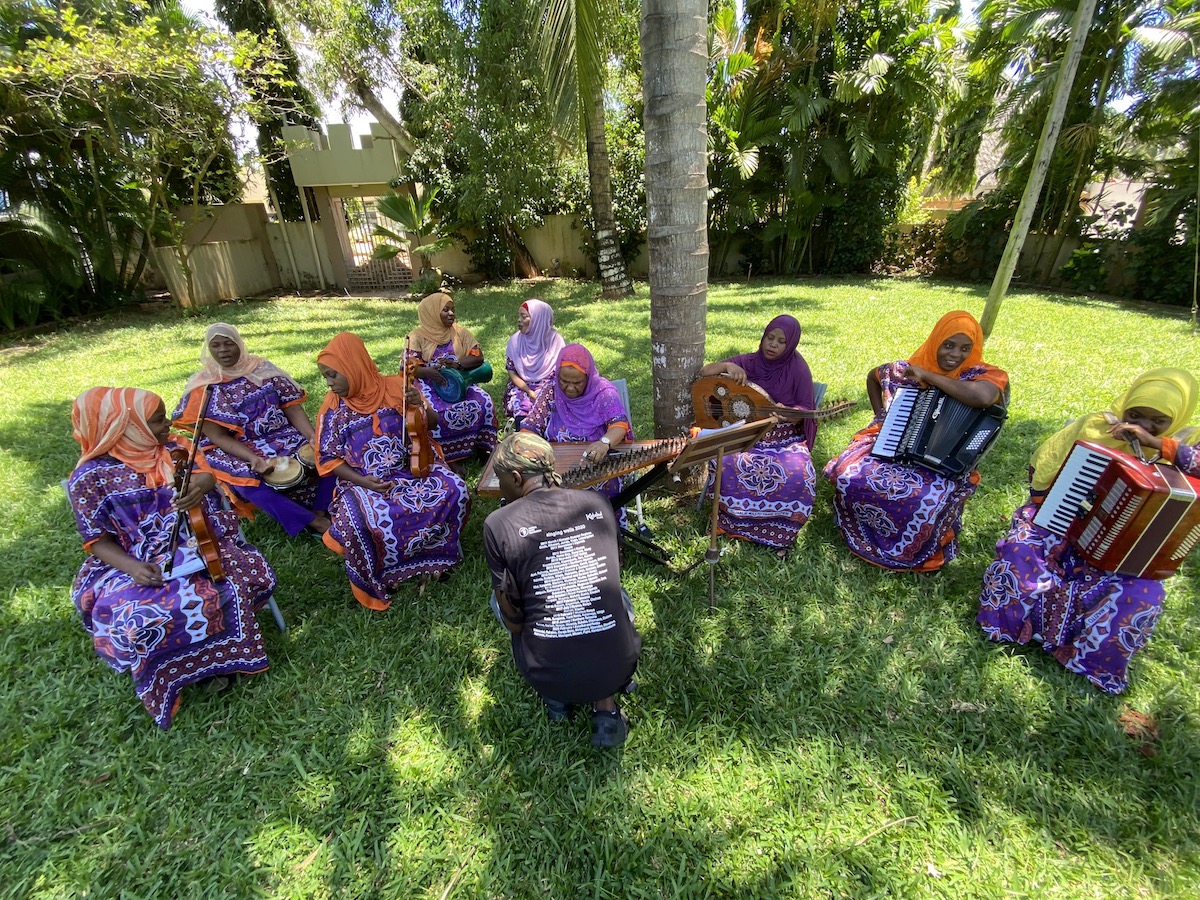 Unyago:  the group is named after the drums they play and the style.  This style is all about 'Rebels' and things that women talk about to themselves – very suggestive songs but using innuendo, so all deniable if called out.  Traditionally, these were all songs that were part of wedding rituals and used to prepare the bride.  Songs about girls becoming women.  The singers come from the Wagindo people, who came from Malawi to Zanzibar, probably through the slave trade.  When the British stopped the slave trade they then stayed.   This band has a strong African influence.  The main leader, Amina Abdalla, studied and sang with Madam Bi Kidudi, a legendary singer in Unyago style (a chain-smoking rebel!).    She followed Siti Binti Saad as a major Taarab vocalist and  was considered queen of Taarab and Unyago music and died at 103 in 2013.    Amina Abdalla still performs in her house, which is called Raha Leo.   Folks go to see her there from all over.   The other members included:  Fatima Juma (dancer and singer), Raya Abdalla (drums), Fatima Hamza (drums) and Tatu Hamisi Amur (please note she was in all three groups).  The drums include:  the small squat drum (Fumi), a very tall drum (msondo) and medium drum (Kinghaga).    They played 8 songs, including:

Aiche:   Introduction Song
Mamae Mwari:    Mwari's Mother
Mpanda Waya:   Someone who climbs a wire/cable, but really is very suggestive about a man
Sikia Msondo:   Listen to the Msondo, which is the tall drum
Unyago Wangu:   A song about the drums.
Magic Moment 1:   Sikia Msondo drums only
Magic Moment 2:   Unyago Wangu, drums only
Magic Moment 3:   Song with 360 degree camera, Mpanda Waya.