James Isabirye
James is a very passionate, hard working man. He has dedicated his time and efforts to multiple projects, across the world, in order to support traditional Ugandan music; he is a lecturer and music researcher for the Department of Performing Arts at the Kyambogo University, Uganda, he founded the Nile Beat Artists, whose members are not only musicians but passionate about tribal music, works as part of Selam, a non-Governmental organisation based in Stockholm that promotes world music, and NACOFU (National Council of Folklorists of Uganda) .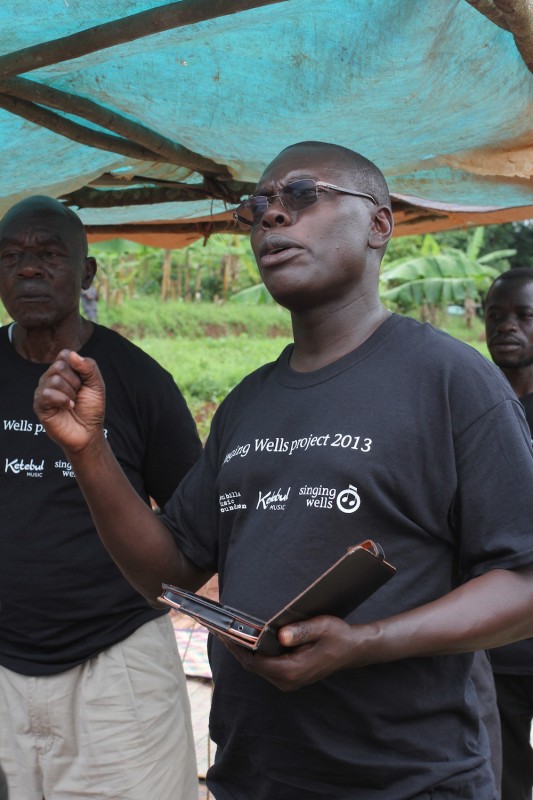 A Ugandan himself, the preservation, recording and archiving of his country's music is very close to his heart. He believes "Ugandan Folk Music is the sincere, honest expression of my country's values, feelings, thoughts, musics, history, aspirations……not copied from any where, not just learned but inherited." He sees music, traditional music with history, as a way to educate the Ugandan people about who they are; he is adamant that he is "not about to come from a society that does not exist, that does not know who it is, that has no values, no human beings that believe in who they are, without future; coming from no where or not aware of their origin and past and going no where..", which makes it easy to see why, with his emotionally-fuelled words, he works so hard to breathe life into Ugandan folk music for the current generation. He is especially concerned with teaching Ugandans values, and allowing them to value themselves, through music; music teaches people "values, patriotism, humanism, love, hope, faith, hard work, discipline, science, leadership…. teach them all. The best place to preserve values, and music does this, is in the hearts of people."
When asked how large a problem is getting funding for music related/cultural projects? Do you feel people generally in Uganda understand the importance of such projects? His reply was striking…
"The African problem has been seen to be economic & political rather than cultural by our leaders,  partners, the UN name it. They focus support on health, military, roads etc and all development support is placed in hands of politicians who do not share values with their predominantly rural populations. Therefore, there is no political / economic will to support " waste money on mere singers and dancers… culture, what is culture, how does it contribute to development; job creation, tax revenue?". This is because they do not understand the value of culture in providing employment, promoting patriotism, love, hard work, name it. Music for instance speaks to the heart of the person..goes beyond the ears and brain as you might know, science has proved this already. Now, we have a festival annually that singly gives joy to the people in the villages but nobody around here would see value of entertainment in the villages, to the people. Why would anyone conceive support to a cultural project in the face of poor roads, HIV & AIDS, Violence against women. Nobody sees the value of culture in moving all those spheres. Nobody can see the connection of culture and HIV/ AIDS, fighting non patriotic thieving government officers, name it. Do you know in Uganda, culture is relegated to a department in the Ministry of Gender, Labor and Social Development. The name of the ministry tells it all. where is culture? How much support would one expect?"
Words that truly reinforce the crucial work of many of the individuals and organisations explored throughout this series, along with all the work that James does himself. His students at the university perform at carol services, annual university graduation ceremonies to a crowd of over 40,000 people, and perform every Wednesday to each other during a recital hour. However, when asked if they record their own music, James says "We lack good equipment to record the music professionally but it is an idea that requires serious and immediate consideration. " NACOFU, which he is a member of, is attempting to address this problem – to document folk music – but is currently looking for a partner to help fund the project, as is Selam, through a project for music of marginalised people, but again is also looking for funding – though finding funds could prove to be a difficult task, as highlighted by James above.
However, Singing Wells has been lucky enough to be able to make recordings of the Nile Beat Artists, which was founded by James. They performed five songs for us during our last trip to Uganda, which can be found on Soundcloud, and one of the performances has been uploaded to Youtube (see the video above.)
Tabu Osusa
"Rather than embrace our identify we aspire to be something else.  In Kenya, all the young musicians want to play Hip Hop and want to become like a musician from LA, all gangsta style.  But that is not them"
Our fantastic partner, Tabu Osusa, founded Ketebul Music: one half of the collaborative effort with the Abubilla Music Foundation that brings you Singing Wells. Described as a 'key part of the East African music industry',  Tabu has been a promoter, producer, composer and band manager and, since 2007, the founding Executive Director of Ketebul Music. However, the projects in which he is involved reach far and wide, with his expertise and passion not just being limited to the invaluable work he does at Singing Wells and Ketebul Music. Tabu co-chairs the committee of the "Spotlight on Kenyan Music" project – a video from the 2013 festival can be seen below – and is the project coordinator of the Retracing Series, documentaries which aim to to research, archive and document the musical culture of Kenya, the latest of which 'Retracing Kenya's Songs of Protest — Music as a Force for change in Kenya 1963-2013', was released recently. His extensive background of involvement in the East African music industry can be found on his About Page at Ketebul Music and his thoughts on some of the central issues surrounding East African music are here in his interview with James, with more to be published on Singing Wells soon. He also gives insightful commentary on the artists that we record, in our field reports.
Wolimbwa Julius
Julius founded the Elgon Ngoma Troupe in 2009 and, shortly after, the Elgon Hero Brass Band. We at Singing Wells were lucky enough to meet Julius and have both bands perform for us on our latest trip to Uganda on Day 3; take a look at our field trip report to hear about Julius' past and both groups.
Here the Elgon Ngoma Troupe are performing Isongja, a song about the circumcision ritual for which the Bagisu tribe are well known.
Julius appreciates and is an ambassador for what music can achieve in Uganda. As an orphan himself, struggling to pay the university tuition fees, he saw how he could create a better life for himself – but most importantly others – through the power of both traditional and Western music.
"Do I want another semester of education, with no promise I will be able to fund another, or can I take this money and start to make a difference?"  
He took the money and invested in the traditional kadodi drum. From only two members with drums, Julius now oversees two groups made up of 160 members, of which 100 are performers. With the youth centre, although Julius primarily wishes to provide a stable support system and income for his previously disadvantaged band members, he also prioritises preserving traditional Ugandan music.
"We perform as  Africa's Dancing Encyclopaedia.  In Africa, written words did not exist thus Africa's cultural history literature, knowledge and wisdom were recorded and passed on to succeeding generations through the medium of performing arts, music, dance, storytelling and poetry. This helps these young performers to have confidence in the Ugandan culture in the community."
The amount of music and dance the Elgon Ngoma Troupe keep alive and well practiced is vast: the troupe performs over 40 authentic Ugandan dances and songs accompanied by various indigenous percussive, stringed and wind instruments. However, Julius also feels it is important for Ugandans to experience music outside of their own culture; "it is the only way to test the other western cultures and learn from them. Also it helps Ugandans to improve on their culture and adding more creativity in music."
The Elgon Hero Brass Band produces music outside of the spheres of traditional African music, but according to both James and Tabu, this is not to its detriment: James Isabirye said the following, "Young people need opportunities to experience what is in and out of Uganda.  I don't think Julius is trying to say the brass band is Ugandan.  He is very good at respecting Ugandan traditions but he is also letting the children experience other things.   He is opening spaces.  By the way, brass bands are very important for certain occasions, like marches.  He is providing a great service.  Brass music is very good and I love it."  Tabu argued, "He knows the traditions.  It is not what you play, but how you play it.   He is so steeped in Ugandan music that he will create a very interesting fusion over time."
David Odwar
David Odwar founded the TAKS Centre in 2005, along with his sister Joyce Laker, who Steve and Patrick met in 2012 on their recce for a later Singing Wells trip. The TAKS Centre (Through Art Keep Smiling ) is 'a grassroots non-profit organisation whose services are for the benefit of the community.' They saw the desperate need for a centre to provide space for Northern Ugandans to nurture their artistic talents, as "for over 20 years the people of Northern Uganda have been victims of a cruel civil war between the Government of Uganda and the Lord's Resistance Army (LRA)." Odwar points out that Jan England, the UN under secretary for Humanitarian affairs, stated that 'Northern Uganda has suffered from one of the most under published and holistic humanitarian disasters of our time' (14th April 2004). For Odwar, creativity is the best way to help Northern Ugandans overcome this hardship, "In times of trouble, art has helped us to come to terms with our situation, to express our hopes for the future and to keep alive the artistic values of our culture." It is especially applicable to the areas that the TAKS Centre helps, as "Creative art is important to the people of Northern Uganda. They have a rich cultural heritage of music and dance. Pottery and woodwork are traditional crafts, using locally sourced natural materials. In times of trouble it is important to reaffirm one's culture and celebrate life."
Hence, providing a creative space was a priority for Odwar, as even though Northern Uganda has been riddled with war for decades, he sees the how effective using "traditional methods of creating peace and reconciliation" are, citing the use of arts in South Africa as a way of peace building in the post-apartheid era and the use of theatre in the 1990s to settle and integrate war veterans in Kabale, Uganda. For Odwar, art has the ability to "rebuild shattered lives", which is exactly what the team at the TAKS Centre are trying to, and succeeding in, doing.