Group Information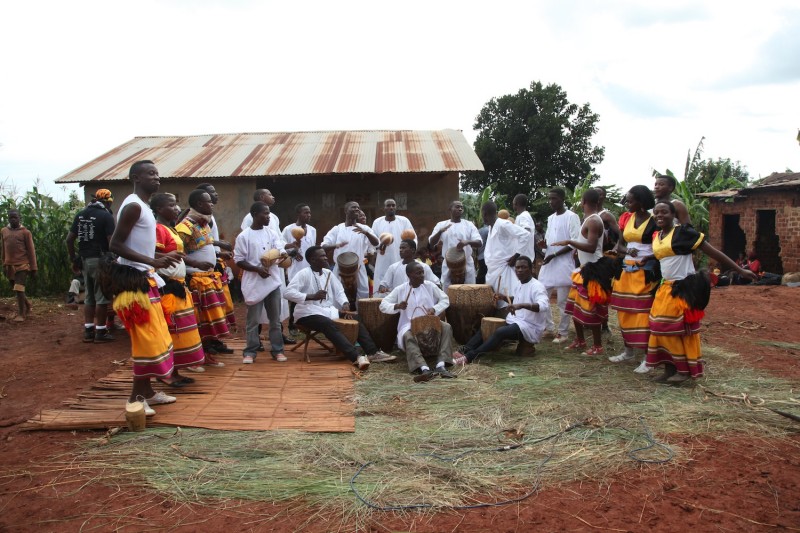 The group comes from Masaka Nyendo and have been performing together since 2007.
Group Leader: Dumba Charles, other performers include: Nassonko Passy (lead vocals),Waswa Cosmas, Ssembusi Huzairuh, Kalema Frank, Katongole Hakim, Nalwadda Shadia
Style of Music:  Nganda from Buganda
Song meanings
Mbidde (A medley):  The Mbidde is the banana plant that makes the local brew and the song talks through each step to make the brew that locals consume:
Butuuse:  The time has come for cutting down the bananas to make local brew
Zisobebwe:  It means it is time to collect the Mbidde (bananas)
Zitandikwe:  this means the bananas are now to be buried into a hole dug in the group so they can ripen
Siwa Siwa:  This talks about grinding the millet on a stone while other people bring gourds in which the local brew will be poured and served
Mbereju: This is the name of the drunkard who drinks excessively. He starts to abuse people and pee himself.
Sivve Wano: This song is sung by the town drunk and it means, "I will not leave this place and he will not go back home becauase he is enjoying too much his drink.
Empawo:   This is the gourd that has a bigger opening because it is cut from the neck. It is usually given to those who have not had alcohol yet. They would also drink too much and talk about everything that came into their heads.
"Katonda Bwakuwa Kyoyagala":   If god gives you what you wanted, in your heart you become very thankful but not telling everyone who might be envious.
"Tweyanze":   We are thankful and appreciative.  Sung when someone has been given something.  It is an appreciation song.
Recording Information
19th November 2013
Recording location:
Kidinda, Uganda
Audio by:
Steve Kivutia, Ketebul Music & Andy Patterson, Abubilla Music.
Mixed by Andy Patterson
Video by:
Patrick Ondiek, Ketebul Music; Jimmy Allen and Victoria Denison, Abubilla Music