Group Information
Music of the Luo
The Kagan Kochia dancers are a group of traditional dancers from the Rangwe Sub-County in Homa Bay, Kenya. The group has a strong history, being found in 1965, and since then its members have dedicated themselves to entertaining guests at countless national celebrations and holidays, private events, as well as internationally as part of the Folklife Festival in the UK and in the USA at the Smithsonian Folk Festival.
As well as this they are determined with their performance to preserve the incredible Ramogi dancing, a mainstay of traditional Luo culture. Ramogi was the patriarch of the Luo people, and this centuries-old dance is performed by mature men to beseech his spirit to possess them. Some moves of the dance represent the movements of birds, reflecting the ostrich feathers that the dancers wear.
Lead by Alfred Migure, they have built a reputation for themselves as one of the most exciting groups to perform traditional Luo music, with their vibrant regalia and dance moves to match. Their brightly coloured outfits (replacing the more traditional clay colours that dancers would adorn themselves with) are augmented by attention-grabbing ostrich feather headdresses (the ostrich, a symbol of beauty and courage, represents the courage they will need to entertain) and monkey fur. They are accompanied by drumming, and the Tung', the Luo horn.
You can contact the Kagan Kochia group for bookings on +254 700 600881
Sources:
Homa Bay, Kenya
Leader: William Odero Ondiek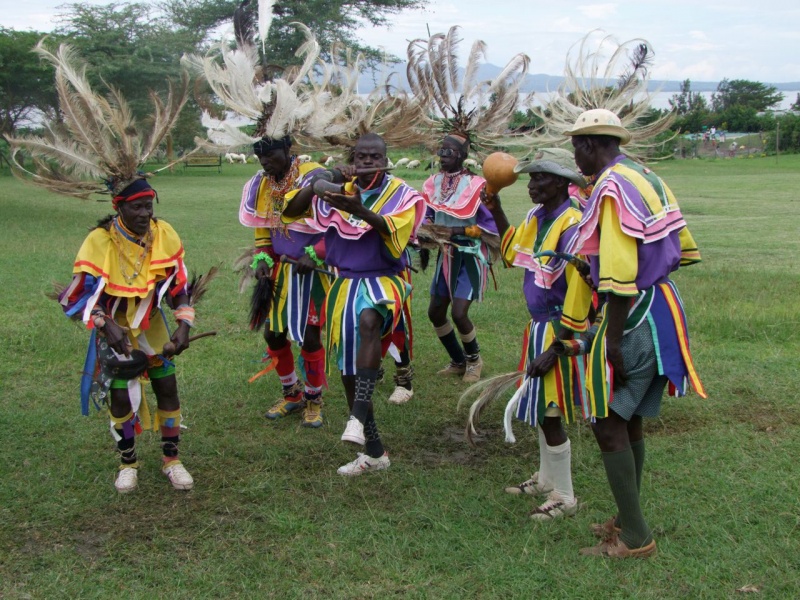 Recording Information
Date of recording: 30th November 2011 Location: Homa Bay Tourist Hotel, Homa Bay, Kenya Audio by: Steve Kivutia, Ketebul Music. Video by: Patrick Ondiek and Winyo Shipton, Ketebul Music and Jimmy Allen, Abubilla Music