On our journey from Nairobi to Kitale we are joined by Chelagat Lebo (Chela) who is making a documentary for Custom House Education Trust about  Kenya's elite athletes.
An interview with Chela Lebo
Chela was born and raised in Kitale, Kenya. She works with the Content House Education Trust to archive the history and progress of Kenyan runners.  Chela has been working on the documentary project for the past four years. The programme follows two main runners – David Rudisha who won the 800m in the Beijing Olympics and Edna Kiplagat who is the world cross country champion. They are focusing mainly on their coaching and what it takes to get to the Olympics. Both athletes will be running at London 2012.
Most Kenyan runners come from the Rift Valley, in particular the town of Itan where there is a strong culture of running. The high altitude enables runners to develop and maintain high levels of fitness.
Chela has worked on various documentaries, in particular the Water Project for Unicef and her current documentary on Kenyan runners. I talked to her about her impressions of today as a first time observer. She was surprised these groups existed because she had never heard of them, even though she lives in the area. She was particularly impressed by Ben Kisinja who had a unique and animated way of performing. He played the pokondit, the guitar-like instrument, very well. She felt the older men were more soulful and she liked to hear their stories. She was also surprised how far some of the musicians had come to perform.  She was talking to some of the singers and, for example, the young woman in Ben Kisinja's group came from Kitale, about an hour's drive away. She was happy to see that people of all ages were committed to this tribal music. She's interested in using some of this tribal music in her documentary. She was also impressed by how well the Singing Wells group worked together, especially when it rained and we had to pack up fast!
An interview with Jackie Lebo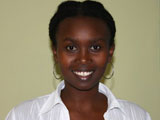 Jackie works alongside Chela at the Content House Education Trust on the documentary about Kenyan runners. Her book 'Running' has been published by the Kwani Trust. Jackie is currently awaiting publication in the UK.  She spent six year researching and writing the book spending  spent much of this time in Iten, the home to many Kenyan elite runners.
Jackie was born in Nairobi and moved to Kitale when she was two. Her father is Maasai. His family come from Rift Valley near Iten. In 1911, when the British took Laikipia, his ancestors were chased out of the Rift Valley to the south of Kenya. In the 1920s they eventually made an agreement with the British to allow their cows to graze in the Rift Valley again. After World War II, the British allowed war veterans to buy land in the Rift Valley and the Maasai were pushed out again. In the 1960s, after Independence, Jackie's father moved back to the Rift Valley once again. He was a career soldier and her mother, from Tugen, was an agricultural scientist and worked for the Kenya Seed Company.
Jackie went to primary and secondary school in Kitale. Her father became a military attaché in the Kenyan embassy in Washington DC when she was a teenager. She moved there and went to the University of Maryland, College Park majoring in Art History and Archaeology. After she graduated, she worked in a computer company during the .dot com. boom. She then worked for a production company where she helped make programmes for Discovery Channel and National Geographic where she developed a passion for film.
Four years after university Jackie went to Johns Hopkins University in Maryland and Washington DC to gain her MA in creative writing. She thoroughly enjoyed this programme and her education in the US. She feels that in Kenya children are taught well to memorise and take exams but not taught as well about to think and analyse.
Jackie moved back to Nairobi in 2005 where she worked for a media company and also was head of a magazine, using her writing skills. In 2011, she moved to Kitale where the pace of life is slower and she was able to focus on writing her book about Kenyan running.
She grew up listening to Western groups including Madonna and Michael Jackson. She only heard traditional music at weddings – it 'wasn't cool' to listen to it otherwise! She started appreciating traditional African music from Western Africa. Now she is much more interested in learning about traditional Eastern African music and her roots. She has been following the Spotlight series produced by Ketebul Music and first met Tabu in September 2011. She is interested in using traditional music from the Kalenjin tribes for her documentary about Kenyan runners. She says that other film makers have not been able to find the traditional music to use in their movies about Kenya which seems a shame.
Posted by Kathy
5th March 2012