After a quick breakfast, we loaded up and departed at 09:00 for a 10:00 session in Kangema.  Here's our map:
Our first joy was the site of Mount Kenya as we hit the road. We met our local contact, Jane Kagai, and then travelled to the KCC area, a lovely field about 100 meters below the road.  While a lot easier than the hill we faced in Kisoro (SW Uganda), we nonetheless had to take our 44 bags down to the site. We set up under a tree and recording 4 separate groups, all of whom stayed for the day.
The 80 or so band members, all in full costume, were scattered across our 100 meter field.
Unfortunately, the field was also shared by biting red ants – this created some interesting video moments, trying to keep the camera steady, while large chunks of your lower leg were being carted away.
We recorded four groups.
The Music Groups
Gacharaigu Gitiro Women Group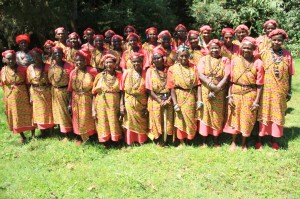 The group is led by Fidelia Nyambura Mwangi. They are from Munuga Village, Munuga sub location, Muguru Ward, Muguru Division, Kamgema District and was formed in 2006 and dedicated to self-help.  Their style is Ndumo, an old women's dance purely for entertainment and preservation of culture.
For all their songs, the ladies used the Kigamba (leg shakers). The group played 6 songs:
Ndumo: sung by Wambui Mwangi.
Ngucu: sung by Charity Muthoni and Grace Njuguini
Muthuo: sung by Mary Wambui
Kimunya: sung by Grace Njuguini
Gitiro: sung by Mary Njeri Njagi
Magic Moment:  We then recorde a magic moment of the ladies and their leg shakers (Kigamba) – we did this twice, once with and one without the ladies humming (they needed to hum to get the beat right).
Kangema Urban Women Group
The group is led by Jacinta Njoki Mwangi and formed in 2006.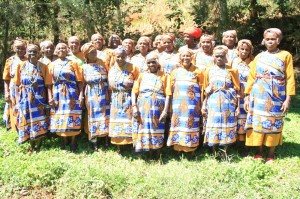 The group plays in thee Gitiro style – the dance performed by women during ruracio, a dowry payment occasion.
Kangema Mwomboko Dancers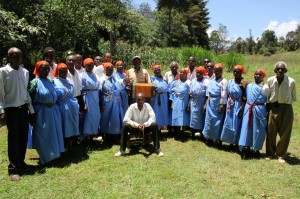 The group is led by Maina Kirhoro.  From the Kikuyu ethnic community.   They are from Kiangunyi Village, Muguru Sub-location, Kangema District.  The group has 45 members and was started in 2000, but the original Mwomboko style was started in 1943.  This is a 'pairing' dance style, inspired by colonial masters but adapted locally. Mwomboko, Peter Mwangi is the lead singer and plays the accordion.  George Kinyua plays the Karing'aring'a (the metal ring).
The group played 5 songs plus one magic moment:
Ndaiga Muchiri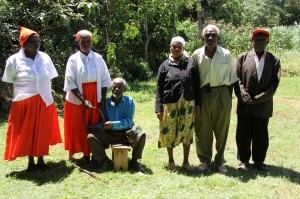 Ndaiga Muchiri was a founding member of Kangema Mwomboko Dancers.  He started singing in 1943 and loves to entertain.  He is a Kikuyu and plays Mwomboko wa 40's style.
Mwomboko:  a traditional song where he plays the Karing'aring'a (the ring)
We then lugged our equipment up the hill.   We were extremely embarrassed to find ourselves chatting in the field at the foot of the hill, only to see that two of the older women were hauling our generator up to the vans.  It took slightly too long for any of us to go help them.  Shame.
We then drove four hours from the field to Nkubu (route map below), where we stayed at the Heritage Hotel.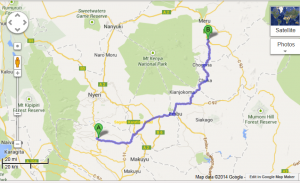 For the next two nights we became Lillianna's (our waitress) worst nightmare.   We arrived one at a time to our table, and never were coordinated enough to order a round of anything.  Someone from our group was at the table from 18:30 to 23:30 each night.   We counted 478 individual trips to our table she made on one night alone.
Working Practices: A Typical Field Recording Session
The basic steps we use in a typical session are as follows:
Arrival/introductions/set-up
The interview team immediately sits with the groups and talks through how the session will work and then collects information on the group, the songs and the instruments and musical styles.  While this is being done, the video team picks the site (for best visual impact, performance area, quietness) and then audio and video set up as a single team.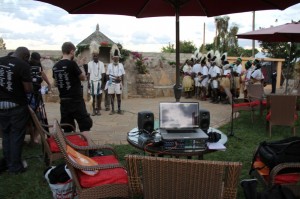 Song Recording
The interview team then gives the gives 'Mr Clapperboard' the song list and introduce the group to the audio/video team.  Mr Clapperboard then confirms each song with the group leader, writes down all group/song/take information, and kicks of song.  In order, audio, then Video 1, 2 and 3 confirm they are 'speeding'. Mr Clapperboard then announces song/take and 'claps' us all in.  We keep audio/video rolling for entire take – this makes file management and preparation of videos far easier. Audio 1 and Video 2 keep their own log lists of songs, takes, times and special notes (like when someone walks in front of one of the cameras during recording).  In our case,  Jimmy then keeps a master sheet that he completes each day of each  location, group, and songs that he circulates to full team so we get all names/spellings correct.  Finally, audio and video need to sign off that it is a good take and we move on.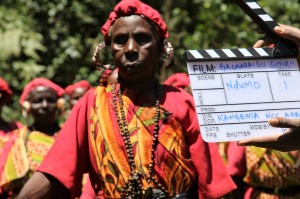 Breakdown
Typically,  the interview team is continuing interviews during recording, preparing      the next take. They also handle the end, usually asking a whole new set of questions about the songs.  The video and audio group then break down most of the set, but Audio 1 creates a mix of the session and plays back key songs, while creating a CD of the performance to give to each group.  Very often this is the first time the groups have heard themselves over speakers and will be the first recording they have.   We then breakdown final mixing desk and depart.