There was no journey.   We were in our home away from home.
Recording at the Airport Guesthouse, Entebbe
The Recording Site:    The guesthouse has a lovely garden and we set up in one corner so we could run the recordings from one of our rooms.    The setting is generally quiet, but it is in the name really – we are near the airport.  Every day for an hour or two, the local military facility likes to start up all their helicopters. This is noisy.   We had to shift recording at that point to inside one of the rooms.  Hot but quiet.  We are also joined by bird noises (loud, but surprisingly they often keep the beat) and an occasional hotel guests that finds it surprising that there is musical recording happening next to their room.   We thank them now for their patience with us.   It is also important to say that today will be more unstructured.   We have one formal new group, which we'll describe below, but we have also invited artists from two of our trips to join us and create new music.      For part of the session we were joined by Brad Gibbs from The Mara Group, who had sponsored part of this trip and wanted to see how things were going.
Brad was joined by a colleague, Nicolas Farah, who was also very supportive of Singing Wells and in exchange for a copy of our Sampler CD gave a personal donation to the project. It was great to see them and hear about their charitable goals for Africa.
Group 1:  Matia Kakumirizi:   Matia is 70 years old, plays the guitar he bought in 1972 and knew Dr. Albert Senior in late 70's. Matia was taught to play guitar by a priest called Father Mugambe from Mulajje Parish in 1966. He is living in Kampala and sings in Luganda and Kirwahdi, C&C Busega, C&C Kibuye.  He has recorded in 1971 in Polygram studios in Nairobi.    His peers include Dan Mugula, Christopher Ssebaduko, Vincent Muwunge, Sulayiman Mayanja.  Dan influenced him hugely.  Matia stayed with us all day to play lots of songs, but for his 'set', he played 5 songs; these were:
 Abapangisa, featuring Passy Nassonko from the Kiki Boys Cultural Troupe.  The song talks about challenges you face when you're renting a house.  Someone should work so hard to build his or her own house. The neighbors might be difficult to deal with if you rent.
Najjemba:  It is about a woman who was his love but left him and walked away.  She us to work in Uganda Hotels but when she was in Mbale he worked so hard to meet her.
Ensubuko Y'Obwavutulo Twakunkya: This song talks about morning sleep and about hard working women. Unlike those days when women used to wait for men to provide for everything, nowadays, they wake up early and go to work.
Olugend'olw'ebukakkata:  He went to visit a village called Bukakkata.  He found a girl who was seeing two men who didn't know each other.  She was still in her parents' home so she was not allowed to be seeing men.  One day, the parents found a man peeping through the window and canned him because he was trying to disturb his daughter.   The second boyfriend was also about to peep but they both ran away on discovering the parents had found out.
Malaika:   He did this song solo and then did it again as an influences session with Jacinta.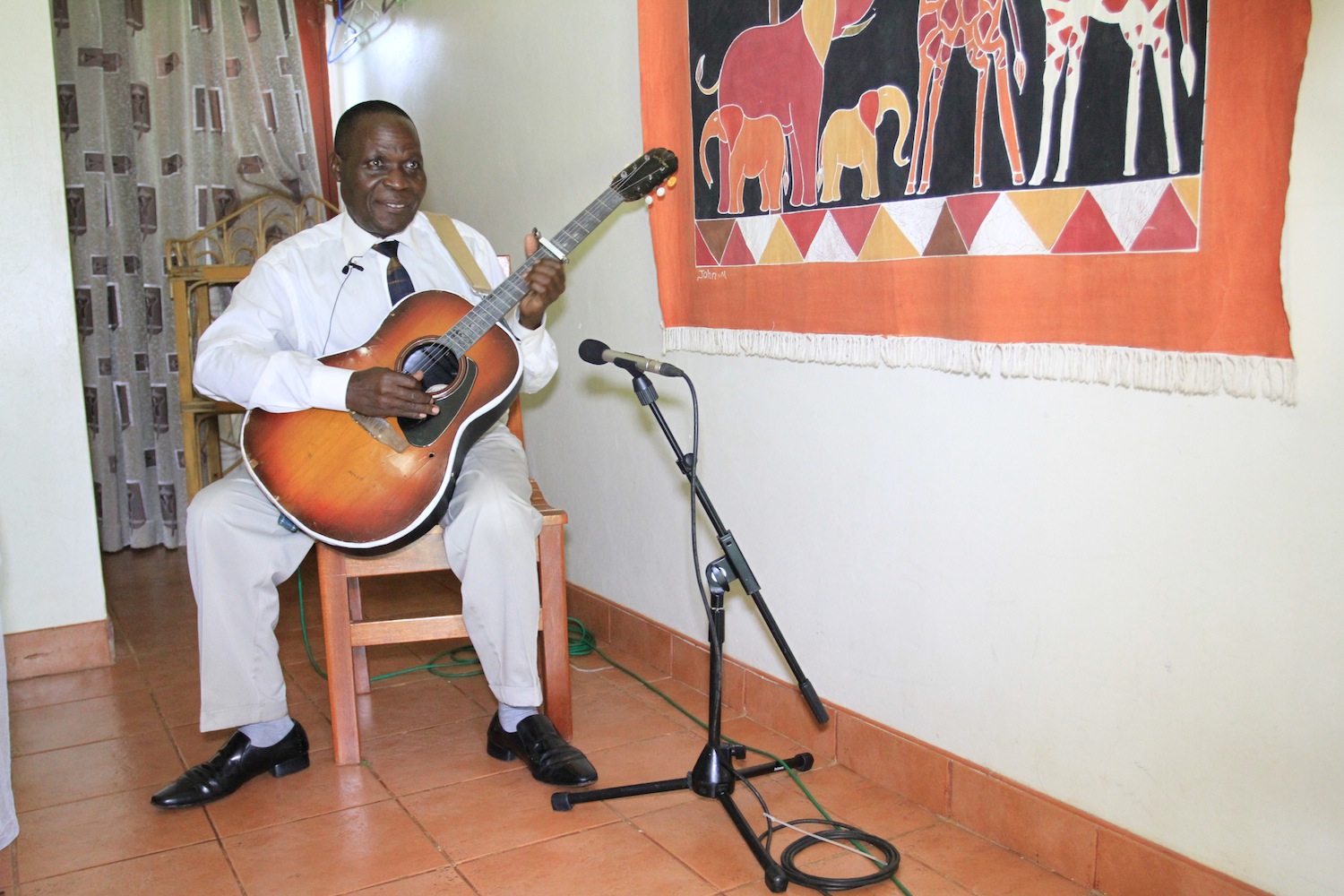 Here's his music:
Group 2:    A Sub-set of the Kika Boys Cultural Troupe.
We really feel like this trip came full circle for us.  One reason is  we invited two members of the Kika Boys Cultural Troupe to join us on our last day to record more music.   They are:   Passy Nassonko and Charles Dumbo.     Passy has an extraordinary voice for lead and Charles harmonises beautifully with her.     We wanted to bring them back to record a few tracks on their own and to have them work with other artists.    They took the lead with two tracks:
Ayomba:    This song is about the fact that the husband always cheats on the wife.
Tweyanze,featuring Matia:   This is a traditional thank you song that they had performed to us on our first day as part of the Kika Boys Cultural Troupe.  Maita joined the two of them with guitar and backing vocals.
Here's their music:

Group 3: The Entebbe Airport Guesthouse Ensemble
Okay, we'll work on the name.  But this is our first super group.  The Crosby, Stills, Nash and Young of East Africa.   We had Passy, Jacinta, Maita, James (our musical leader in Uganda and co-founder of Nile Beat Artists) and Jovah, the wonderful female singer we first listened to in Kisoro and then again in Nairobi.   We will talk more about Jovah below.      The group practiced and performed two songs:
 Ugandan Lullaby:   We knew that Jovah and Maita knew lullabies and James came up with the idea of doing a combined lullaby involving each of the singers, using a traditional song from their village.    James directed the group through rehearsals and Maita played guitar to three separate lullabies:   from Jovah, from Passy and from James.    We did one with guitar and one version without.
Here's the Lullaby Song:
I Hear the Sound:    Jacinta had written song inspired from her time with us about hearing the sounds of African music.  Last night, she and Andy played together, with Andy working out a guitar part.  So first, we recorded the two of them.    Then, we decided that if she was writing about hearing the sounds of African music, she should hear the sounds.  So James worked with Jovah on a beautiful line, where she sang about the Batwa people being driven from the parks.  Then Passy worked on a separate melody line followed by James.    So Andy started, Jovah then sang her line for a while and Passy joined followed by James.  And then Jacinta started her part of the song about hearing the sounds of African music.  By the end we had four separate melody lines all playing off Andy's guitar line.  Wonderful.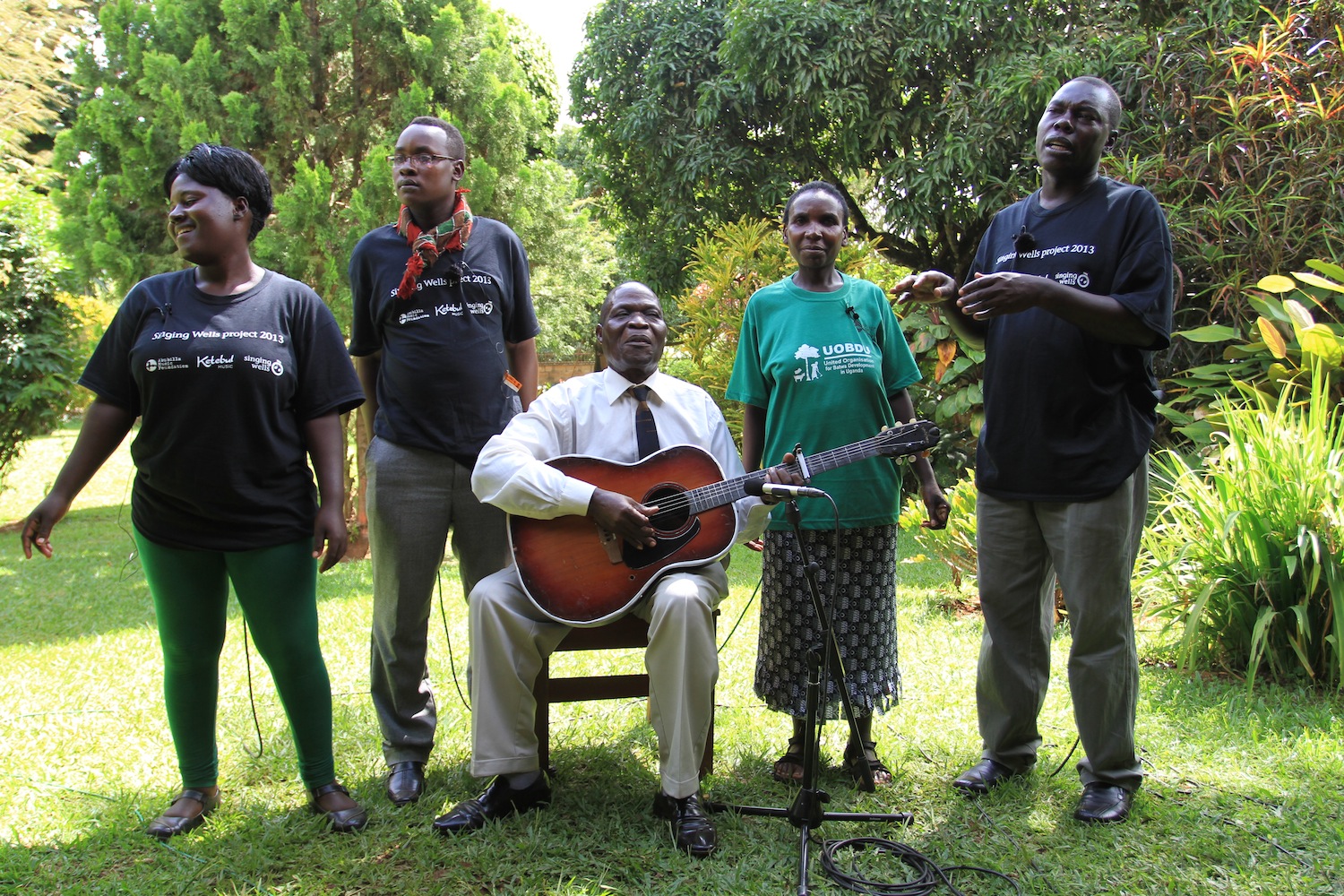 Here's 'I Hear the Sound':
Group 4:   Jovah
Followers of Singing Wells know a lot about Jovah.  We first heard in during our first trip to Uganda, where she was the lead singer of her group, Mperwa Dancers.    We then invited her and others from Kisoro to join us in Nariobi for a set of songs.  She was amazing and we've recorded two separate influences sessions with her: Bashitsi Bahire with Winyo and Inyange mixed by Abubilla Music, both of which feature on a sampler of music we gave away at Womex this year.
Here's Inyange mixed with Abubilla Music:
She finished the day with two songs of her own:
Barabasuhuza:  The song talks about passing greetings from home (Batwa) to visitors
Imparake: This is the heart-breaking song of the Batwa, about the loss of their forest home.   Henry Neza from UOBDU who travelled from Kisoro with Jovah and her four month old baby Gerald, help translate the song for us.  This is how Jovah described the song: 'During the eviction everyone was running and crying out "our forest has been taken from us".  They lamented the fact that the animals that they shared the forest with and cherished had also been taken from them.  Having been evicted the Batwa became scattered and the children were hungry – they could not find fire wood or food.  We miss all the things that we used to find freely in the forest.  That's why I appear sad when I sing this song.  I sing with sadness and cause other Batwa people who hear my words to be sad too.  I am telling people what I am missing.'
Here's Jovah's music:
Jovah then told us what Singing Wells means to her and her community.  She said, 'When you came things changed for us.  We received money which we used to buy household things, chickens and clothes.  We now have a plan to buy goats, a male and female for every member of our community.  You changed our lives and we invite you to come back and see us again so we can show you what has changed for us.  You have invited me to Entebbe and I want to jump up so high!  I feel so good from deep within me.  I am no better than the other Batwa so I thank you for choosing me.  I am happy 1000 times over.  My message represents the rest of the Batwa people.  I listened to the recording of my song – it was so nice, so sweet.'
But we had one last special treat of music.  We then played for Jovah an influences session with Eddie Grey, where he produced Inyange.    We played it back to her and she danced with her new baby, Gerald, for the full song.  She said that her heart was so deep with joy she had no words – and she chose to dance.    And she danced and danced.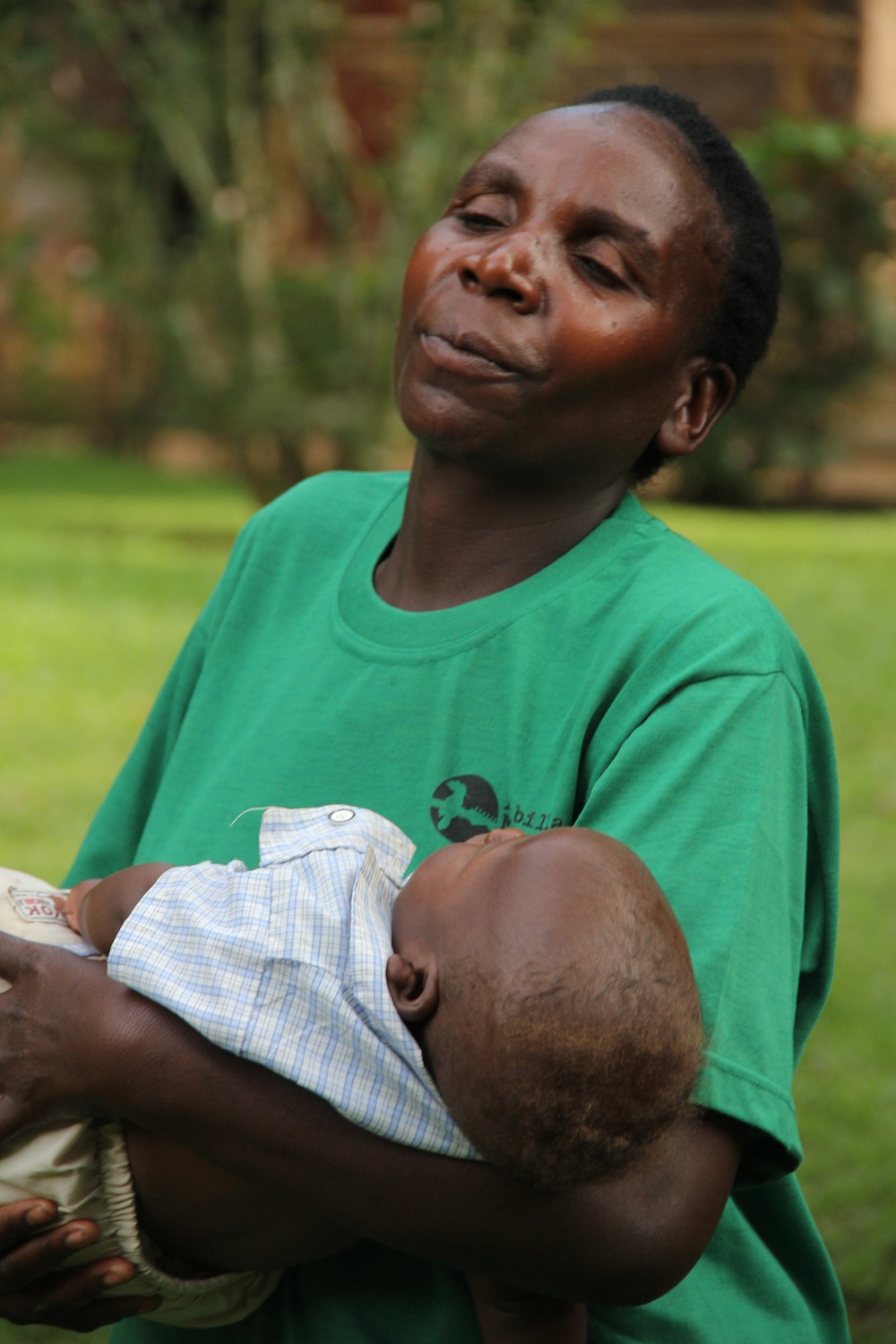 And that's how we ended this trip.   An artist that we had discovered in our first field trip to Uganda, listening to her vocal she had recording during her trip to Kenya to record in a studio (which had then been produced by an influenced artist we had brought with us to the Rift Valley) and dancing alone in the garden of a hotel with her sixth child in her arms.
The rest isn't interesting – we packed and went our separate ways.  There will be time to reflect, but we would rather end the day with that image.
SWP Team
Uganda 2013