Today we drove from Nairobi to Kitale, passing through Nakuru and Eldoret on the way.  Last night, we agreed a late fee of 1,000 bob a minute for anyone arriving at the studio after 9 am.  Money talks and the whole crew were there by 09.00.  Everyone.  That's the good news.  The bad news was no one brought a key for the studio, forcing Tabu to have to drive home and back.  We left an hour later. Drive good, but long (roughly 400 kms) with a few little thunder storms and the normal fun with roadworks and trucks.
Nice chicken grill in Nakuru for lunch with full team.  Fun fact, Nakuru is the birthplace of Nakumatt, the most successful retail chain in Kenya.  It started as Nakuru Mattresses, hence 'Nakumatt'.
We arrived in time for dinner at the Kitale Club, where we are staying for the next two nights.  Tomorrow we will drive another 200 kms to record the Sabaot.  A wee bit too much time in the jeeps…..
Singing Wells – The Crew
Tabu, Ketebul CEO, Driver, Interviewer, Fixer Briefer
Steve (Stevo), Singing Wells Project Manager and Chief Sound Engineer, Throat to Choke
Patrick (Pato), Chief Video Engineer, Camera 1 (fixed centre)
Willie, Sound Engineer
Eddie, Sound Engineer, Influences Musician
Nick, Intern & Trainee Video Engineer, Photographer (stills)
Jimmy, Video Engineer, Camera 2 (instruments)
Hunter, Video Engineer, Camera 3 (performance, context, audience)
Kathy, Video Engineer, Stills and Interviewer
Kiplagat, Fixer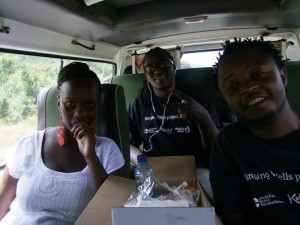 We are also joined for the first couple days by Chelegat Lebo who works with Content House in Kitale and is producing a TV documentary on Kenyan Olympic athletes. (Pictured in the photo with Willie and Eddie).
Interview with Patrick 'Pato' Ondiek
We used the car ride to interview Pato about his background and his work with Ketebul Music. Pato is from the Luo tribe, from the village of Bondo (450 Km from Nairobi) , although he and his father were both born and raised in Nairobi.  He is one of 6 children – he has one older sister and two older brothers and a younger brother and sister.  He lives with his three brothers in an apartment  in the Umoja district of Nairobi.
Pato graduated from Pumwani High School in 1999 where he was always the 'camera guy', volunteering for every school project involving photography.  He then worked in computer software before founding Foxhole Entertainment with some school friends – they focused on making videos,  doing studio recording and renting out PA equipment for DJs.  His focus was relatively typical for young Kenyans at the time – Hip Hop inspired by US rappers.
He joined Ketebul Music in 2006 and built up the video department there.  While there, he was exposed to the Spotlight Series.  He began to really love tribal music and so when we started developing the Singing Wells project he jumped on it, keen to head up the video recording department .  We asked him what he liked most about the project and he gave two answers:
"First, I love the exposure to different cultures – even my own.  I have never heard a lot of the tribal music, even around my own villages.  Our trip to Nyanza in November 2011 blew me away.  I have never heard music like that.  My favourite was the performance from Okumu K'Orengo.  I was so moved.  He was singing about death, about his own father, about his grandfather.   He forced you to think about all the people you've lost.   Secondly, I love the confidence it gives me to expose my friends to new music. They all love the music I bring home – it is so different from what they listen to and so much like 'home.'  In Kenya, no matter where you live, your village is always 'home.'  I was never raised there, but it is where I will retire.  And the focus of Singing Wells is village music.  It is about home.  And my friends love that."
We asked Pato his favourite Singing Wells moment and he said it was Jovah singing Ye Warararaye with Jessie at the studio last December.
"That should be a massive song that everyone knows.  It is a song about home. I don't know a word of Batwa but it just is."  His worst moment was in Nyanza at the home of Josef Kokeyo. "Our fixer had accidently picked up the wrong group – they were terrible and didn't care about the music and performed songs which are just performed for tourists.  Not real music and not good.  I knew the second it started.  I was so glad it started raining and we could get out of there."  [Editor note:  we did not include this group in any Singing Wells materials.]
So here is Pato's favourite Singing Wells track – Jovah from the Mperwa Batwa community in Kisoro performing with Jesse on piano at the Ketebul Music studios This track is also on our album Best of Singing Wells 2011
Jovah – Ye Warararaye by singingwells
We asked Pato whether he always knew he would be involved in music.
"No, but from high school I knew I was going to be working on videos.  And music is my life.  I started listening to Joseph Kamaru when I was growing up in the Ngara Estate, another part of Nairobi.  He was the biggest Kikuyu artist around and would walk around our area with a guitar and play to all the little kids.  My brothers all love salsa music and I grew up listening to Ochieng Nelly, a huge Benga star". 

Singing Wells team, March 2012