Our day really started at 7:30am when Tabu discovered the Jeep had a flat tyre.  This moved our departure time from the two hotels (Eldoret Club and Pine Tree) from 8am to about 9.30am.  The tyre had a damaged tube that just wore out.  We reassembled and headed off for a spectacular trip from an altitude of 2,800m down to 1,114m at one of the floors of the Great Rift Valley.   The roads were more winding and steeper than on our trip to Rwanda last November but there was no rain and there were guard rails on the roadside which made it all feel safer.
The Journey
Jimmy was in the Jeep with the GPS and kept the table below and felt strongly it should be published!  Please note how we hit a 'floor' and the climbed back up almost immediately: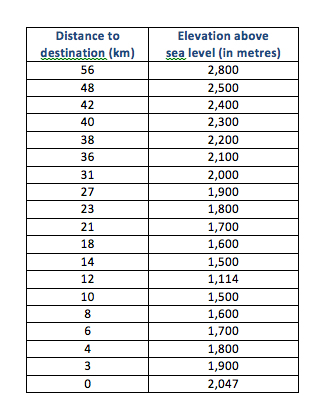 The lower we went the hotter we became, which means we were delighted when we arrived at the Kabarnet Museum which was surrounded by beautiful tall trees which blocked the sun. There were two all-female groups waiting for us, which seems appropriate given it is International Women's Day.
The Music
Our first group was the Elimu Cultural Promoters from the Tugan tribe.  They are a collection of women from little villages scattered around the Kabarnet area and they want to promote good values of culture and education.   They were all dressed in brown, almost terracotta, outfits looking like the red clay we love so much.  They make all their own costumes and sew on all their own beadwork.  They wear a belt of 5 rows of cowry shells sewn on, symbolising peace.   When a woman lays it down on the ground it means a ceasefire (see Kathy's separate interview with 50 Cows to learn more).  They have long beads hanging down from their skirts – these are worn by older girls and women.  They have a headband made out of cowry shells that is called a 'nariet'.  The other bead work is used for all ceremonies.  They also carry a big hollowed out gourd to carry milk.   Finally, they have a stick with a tail on the end that denotes the leader of the group. They all carry black and white sticks which are mainly for herding the animals or used as a walking stick.  When you get engaged you should always carry a stick, they warned, or you would look aimless.
Song translations: Elimu Culture Promotors
'Chamgi': a greeting song which ends with handshakes
'Chebet' : about a beautiful girl from Tugen. It's done in four parts, the first part when her mother presents her, the second part where she sings, the third part when her grandmother presents her and the fourth part when her mother sings her praises.
'Rirenech' : a prayer from mass. This is started by the song Kim about God being great and strong. He has created mighty things.
'Ribwech' : about handing over responsibility from older to younger generations. The walking stick is handed over from oldest to youngest during the song.
Photo Gallery
Our second group was called Kewamoi Women Dancers from the same area.  These women have been singing together since 1982 and sing in a lot of events in the area.  They focus on traditional songs.  They wear white blouses with blue patterned sarongs, decorated with golden designs and lines, looking like trees and fruits.   Hunter felt the costumes represented the landscape.
Eddie did three Influences sessions – two with the first group playing guitar on 'Ribwege', a song about protecting their culture, and on 'Rirenecg', a prayer song.  With the second group he focused on the song 'Chang'aomen' – a song about a woman who gets married and moves away from home and brings special gifts back to the village.
Song Translations: Kewamoi Women Dancers
'Tarkok' : about a woman who ran away from home. The man is singing about how he can't live without her and he will travel as far as he needs to find her.
'Chesaina' : this is a person who can hold the hind leg of a donkey. This is highly unusual because a donkey kicks so hard, no one could hold his hind leg.
'Arap Oloo' : about a wife who thinks her husband is lost. She wants to look for him because she can't be responsible for all her children and animals without him.
'Chang'komen' : about a woman who is married to a man in a different village. She comes home bringing specialities to eat and drink.
'Nerekan Evyline' : Evyline was left by a man who flew away. The song is asking about what she's going to do. She'll tell her father to build a house.
About Everything Else
The team
We are pretty experienced now at this recording business and have learned a lot.  We have divided things into seven key roles, 3 on audio, 3 on video and one interviewer.  All play secondary roles, the most important of which is our Influences artist who must be either a second assistant for audio or video.  We have written a second blog on lessons – we felt it is important that if others want to launch a Singing Wells project of their own they benefit from our learning.
The Scenery
This was our last day of recording and we all thought it was one of the best. The drive down the Rift Valley and along its floor was beautiful.   Long windy roads, going straight down the hills, with hills looming tall above us from behind and the valley sinking low in front of us, through a series of canyon steps.   We arrived at the bottom of our step, with a canyon still to the right going down another 700 meters or so.  Having arrived at the lowest point, marked by a small stream we immediately climbed back up the other side.
The second car bites the dust
From Karabaret, we travelled to Nakuru and then half of us travelled on in the pitch black to Nairobi.   The Nakuru crew, in the white van, was stopped cold by a broken alternator belt.  The other car was able to flag down a matatu (small van public transport that fill the roads everywhere) and head back.  We agreed to take off the belt altogether and get them to Nakuru before dark (with no power they had no lights).  They made it.  The second jeep soldiered on to Nairobi, trusting our now loved GPS to take us 'home.'
The

Equator

We passed the equator four times in this trip – well at least some of us did.  The working 

 jeep (which had the flat tire in morning), had just crossed the equator heading home when the first van called for help.  So we got to cross again to arrange rescue and then again went crossed to head back to Nairobi.   That brings to six the total Singing Wells Equator crossings in the last 12 weeks.
Arrival
We arrived in Nairobi safe and sound at about 10pm, having survived the wonderful horrors of the road.  We actually breezed through a traffic free Nairobi, although Tabu was at war with the GPS and decided to go his own way.  The GPS, which had served us well for 1,000Kms, was not happy and yelled at us for the last 6 kms.
Singing Wells team
8th March 2012