Wednesday, 21 February 2018
We drove from our hotel, in Kakamega, to Shiriese Ikolomani to record the Super Phoenix Band.   The band was founded originally by Jacob Luseno, who mentored the current band leader Julius Intenya.   The musical style is Mutibu. They played roughly 8-10 songs, including several goes with our influences artist.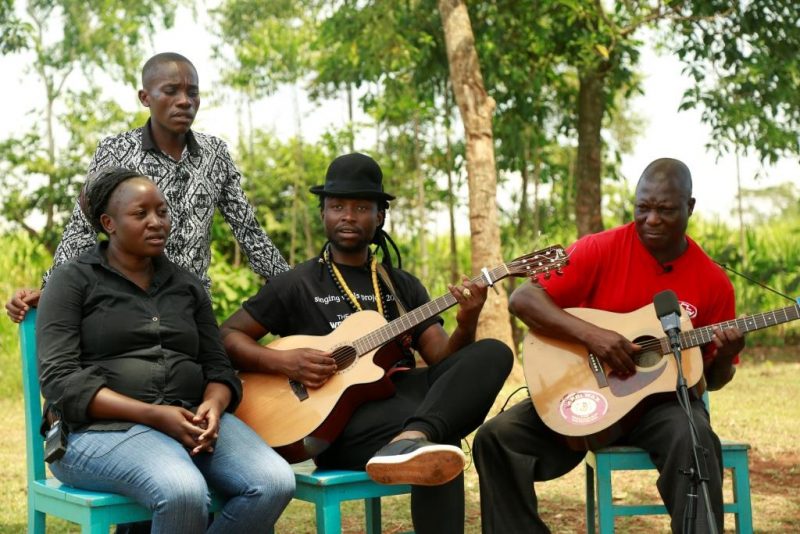 These songs included:
Shapeless:   A song about a women who lost her shape, lost her curves.
Alusiola: A song about a neighbour that gave his cow to someone else. But the receipient then took care of the care and it had calves. The original owner than seized by the cow and all its calves with no warning. Alusiola is the name of the original owner.
Modesta: A long song about a girl that left her husband because he was too poor. She went away and earned lots of money and returned to him. He realized that she did love him but needed them to have more money so he was grateful on her return.
Imbalekha: This is about very bad men who chase all the married young women from their village. They make life very difficult for the women and gossip all the time.
Achitsa: About a father who was very proud of his daughter and wanted great things from her including a good education. But she got pregnant after spending time with a cow herder and the father was so disappointed in her.
Mukangala:   This was a song made famous by Jacob Luseno and Julius Intenya when they first played together.   Specifically, it refers to a rich man who askes a young man to watch after his house while he travels constantly for business. Soon the young man starts to pretend the house is his and also propositions the man's wife to be with him. More generally, it is about many Kenyans that are asked to watch cars, or trucks or possessions and begin to tell others that they are the real owners.
Mukangala instrumental as influences session with Fadhilee, our influences artist.
We don't know: Fadhilee then taught the band to play his song, We Don't Know. This is about politicians who pay lots of attention to voters when it is election time but then are never around to be accountable for anything once elected.   It is about the frustration of so many people with their elected officials who do nothing for them.  There were two versions:  here's the second:  We Don't Know. 
We finished this session and drove on to Amalemba, which is next to Crying Rock. We recorded the group Matende Culture Isukuti Youth Group, which is led by John Stone Khakabo Asutsi in 2006. There are 35 members of the group. The soloist is Stanley Liai.   Their instruments include:
The Isukuti Isatsa: The Big Bass Drum
Mutibo: The bigger, 'mother', of the smaller drums
Mutiti: The smaller, 'son', of the smaller drums
Imbati: The horn
Shirili: Single string instrument
Tsichenjele: The rings
The group dances in 'processions' for different ceremonies, so we asked them to play a couple songs for each type of ceremony. They performed the following:
And with that, we returned to our hotel.