Tuesday, February 20th, 2018:    
Today, we returned to record Wilbert Wanyama in Bungoma Town.   As mentioned, we met Wilbert on the evening of February 19th, but were unable to record his band due to thunderstorms. So we returned to Santa Maria Resort to record him the next morning. And the weather was sunny and crisp, following the previous evening storms.
First, Wilbert told us the history of the band. The band, Bungoma Roots Band,  started in 2005 when all the members were young men at the Kumugui Secondary School, in the Michimeru Village. Wilbert and his school friends formed a band and competed with other school bands. They were quite good and had all their school fees paid for.   During breaks from playing at the school they took up 'Marketing' and showed up at any events that were being held.
After graduation, the band left their village and travelled to Bungoma Town. They rented a small house and lived and played together. This was about 2007. The band members held day jobs, mostly in construction, and then would gig in the evening, often in clubs filled with drunkards. Wilbert worked as a butcher and others road Boda Bodas.
Eventually, they also started to gig at the Rengekha Bar.   They were paid 200 shillings a night. As a band, they agreed they would pool all their day job money and gigging money and between them over two years saved 50,000 shillings. They were too young to open an account at bank so saved their money under their pillows. Wilbert then travelled to Nairobi to find someone to record their first songs. They went to Sawa Studios and in 2009 recorded their first album, Khabere Wefwe (these were songs dedicated to their heroes).   They turned these recordings into cassettes to sell at the bar for 100 shillings per tape. After a year they also did videos to their songs.
Then they met John Charles Kapanga (who attended today's Singing Wells recording session). He was a local business man with a house in Malinda. He invited the band to the house to rehearse, write and perform. Wilbert says that they were driven to the house on the back of a pick up van. During the drive when they came close to the Village, they played music and all the villagers followed them into John's house. John took them to local market that was packed with people and they were a great success. John helped fund a second CD and from that they had a big song in Kisumu, Chapailale. This was 2011.   They recording the song in Soundcheck in Kisumu and had a big local hit.   This made them stars and allowed each band member to buy their own home.
Wilbert said at this point they were too big for the small bars and were invited everywhere to preform. They brought in other musicians to form a much bigger band.   They then produced their third CD in 2013, Namusia, again with Soundcheck in Kisumu.   They started performing all over Kenya.   They are now very well established with houses, and Wilbert is married to a nurse and just had their first baby. The continue to take their work very seriously, with professional costumes tailored to the type of event. Wilbert is now returning to education and getting a three year business degree at Dominion Training Center.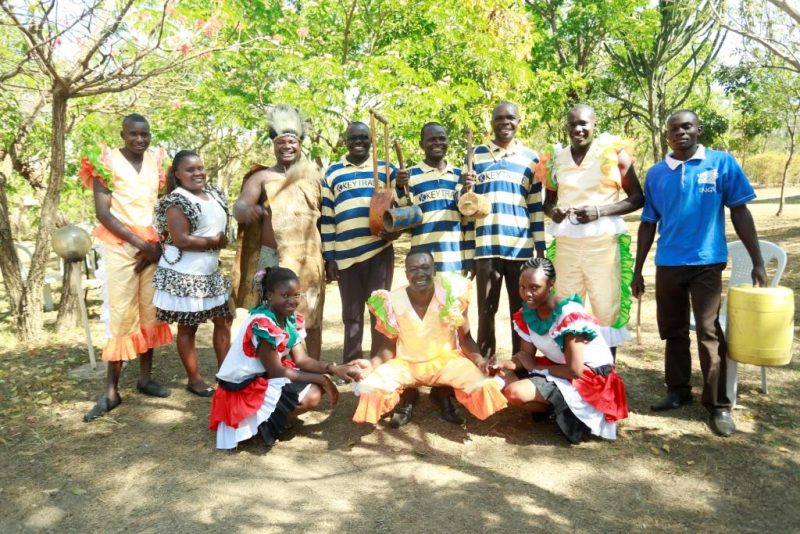 We then spoke about the songs they were performing:
Chapa Llale: This is a love song.
Nasenya: A song about a man that gave his girlfriend special potions to love him more. But it failed to make her love him more and only led to more friction and fighting.
Namusia: This is about a group of people known for their witchcraft.
Magic moment 1:   Ndirenje:   Wilbert plays on his own while group is changing.
Magic moment 2: Nisiri Mulamu Another solo as group changes.
Nambacha: This is about a 'loose woman' who spends time with too many men in the village.
Alandire Mwitala: A traditional song in three parts where a man goes to visit his daughter in her new home
Influences:   Fadhilee Itulya, our influences artist, joined Wilbert to play acoustic guitar on another version of Ndirenje.
We travelled from Bungoma Town to Mumias (which was a lot longer than it should be as we travelled the wrong direction for 30 Kms, initially.) But we eventually arrived in Mumias to record Mumias United, a very large dance group.   The group was founded in 1997 by Francesca Odour.  They have 38 members and 22 showed up for our performance. They perform in the Imbira style.   They are part of the Wanga tribe, which is a sub-group of the Lua, known for their Kings (Nabongo). We performed next to the mausoleum where four kings were buried, dating back to 1700s.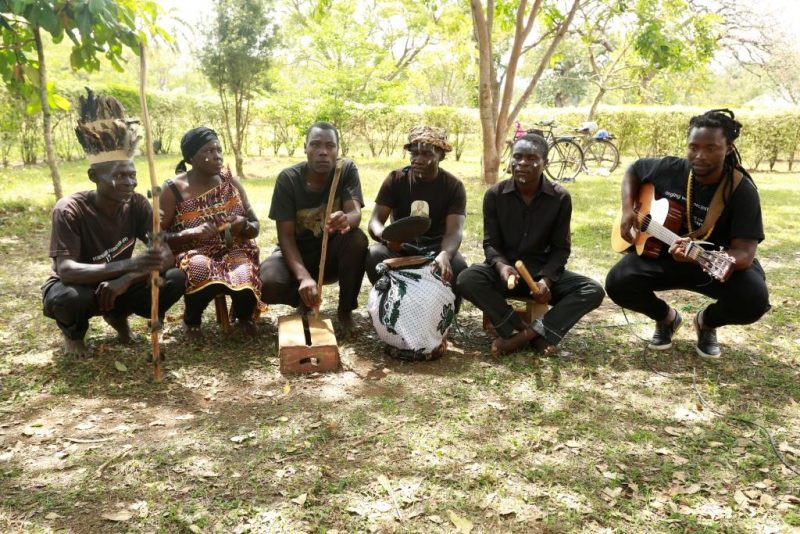 They had lots of dancers and instruments, including:
Sukuti: Three drums
Ikdengele: Ring
Inyungu Isiongo: a pot with a cool 'drum stick' like a rubber plate.
Ing'oma: skinned drums
Manyanga: bottle top rattles
Tsisala: Sticks
Lisanduku: A wooden box on which you scrap a stick. Out of context, this sounds like finger nails on a chalkboard. But in context, it creates a great percussive sound.
Shimuka: Shaker
Kurungu or Kutur: Root from tree on a stick, used to symbolize the witch doctor.
Omushinga: The fly whisk used by lead soloist singer.
Tsinebe: Traditional stools for elders, used by percussionists (single stool is Indebe)
They ended up performing 11 songs for us:
Imbira: A traditional dance song that celebrates a woman seeking more education.
Isuna: Its about drinking Busaa (a Lua beer), which is made sweeter from the mosquitos who accidently drop in and drown.
Shikumba Shingokho: A special traditional song about a chicken, who has one particular bone that is very sweet.
Milembe: The song is about peace.
Esiendilenje: This is literally "I'm Crying" and is about a young women who loses who mother and is left with little children that she doesn't know how to take care of her young ones.
Atako: This is a many with many wives but he did not treat them well. He was a bad man and all the wives left him.
Minayo: This is about an educated woman that was only interested in finding a rich man for a husband and ignored all her own age.
Khamete:   This is a story about a woman who left her husband after lots of rumours. She then came back and he celebrated.
Influences song with Fadhilee Itulya, performing his song Amina with percussion group on Magic Moment for Imbira.
From Mumias, we travelled about 10 kilometers to another village to record Matungu United.   Matungu United was founded by Richard Ometi, who is a Head Teacher of a local school, teaching sciences and also teaches students in traditional African instruments.   The band was filled with various students, each learning to dance, sing and/or play a traditional instrument, including on the day:
Fimuka: Shakers
Lidungu: stringed instrument
Isiriri: Single string instrument (is this really the Shirili?)
Mirembe: Xylophone
Olwika: Horn
Isukuti: Hand-held 'conga' drums
Kayamba: shakers
Likata: sticks
Ikengele: Ring
Chapuo: Big bass drum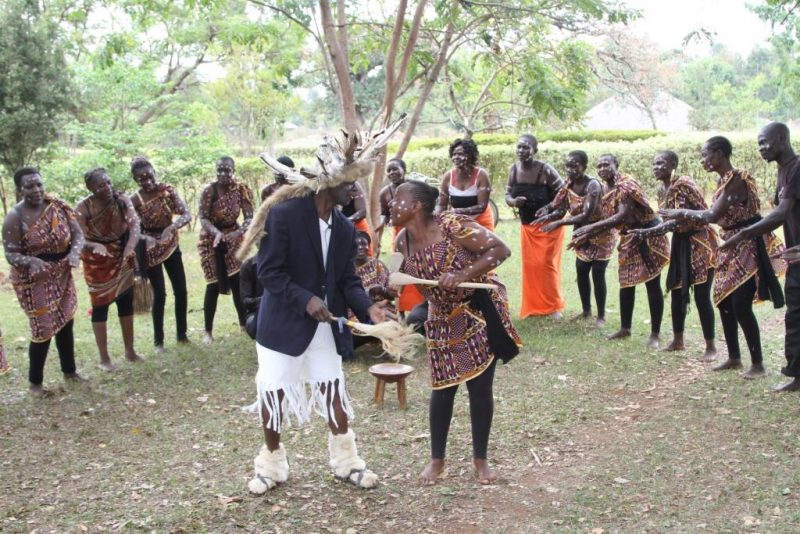 They performed six songs, with the sixth song finishing exactly when the rains came crashing down on us. While they had a couple of traditional songs, most of their performances were to allow students to feature specific instruments. Songs were:
Mwana Wa Mbeli: famous Lua Song about first born child.
Luseno: a song to feature the Shirili (which are these?)
Pelele: A local beer, this was great song sung by band leader solo.
Isukuti Drums: song featuring the drummers
Tsing'oma:
Shirili Instrumental
We rushed to get all equipment stored and drove to our next destination a bit wet…