We drove back to Stone Town and the DCMA to record our first group. After we finished there we drove to Mpendae, about 20 mins from Stone Town to record the second group. From there we drove for another half an hour to Maungani to record the third group:
Tarajazz – This group was formed by the director, Suleiman Makame, who studied classical piano and music. He became interested in Jazz and created an African fusion of Taarab and Jazz about two years ago. The name of his band changed from Mansule to Tarajazz. He combined African rhythms such as Msewe and Kyaso (both from Zanzibar) with Singeli (a new tribal rhythm). Taarab came from early 1800's as Egyptian music. In Zanzibar the Mother of Taarab, Siti Binti Saad, made Taarab more popular in the 1920's to 1950's. We spoke to Hassan Mahenge, the assistant director of this band. He is a teacher at the DCMA. He teaches the Oud and plays the saxophone. All the students at the DCMA study traditional music such as Taarab as well as Western music. 
Members of the group: Suleiman Makame (keyboard, director), Hassan Mahenge (Saxaphone, assistant director), Mahsin Basalama (contra base), Christopher Weston (Cajon and high hat), Regina Juma (singer). There was supposed to be a violin player but unfortunately he couldn't make it.
Songs:
Alamina Dura – The orbit of the Gods
Pakistan – written by Siti Binti Saad who loved Pakistan when she visited
Kasha – Kenyan Taarab love song. A man singing about his "chest being opened and empty" In typical Taarab style this has sexual inuendo
Hijjaz Solo – Jazz solo without the singer
Ashikibaya – name of a city.
Magic Moment of Christopher Weston on Cajon and High Hat
Magic Moment of singer Regina singing Kasha
Magic Moment of singer Regina and Hassan on Sax performing Kasha.
We really enjoyed this group. The drummer, Christopher, had to improvise on the Cajon because he didn't have a complete drum kit. He played beautifully. Hassan also had a great solo on sax.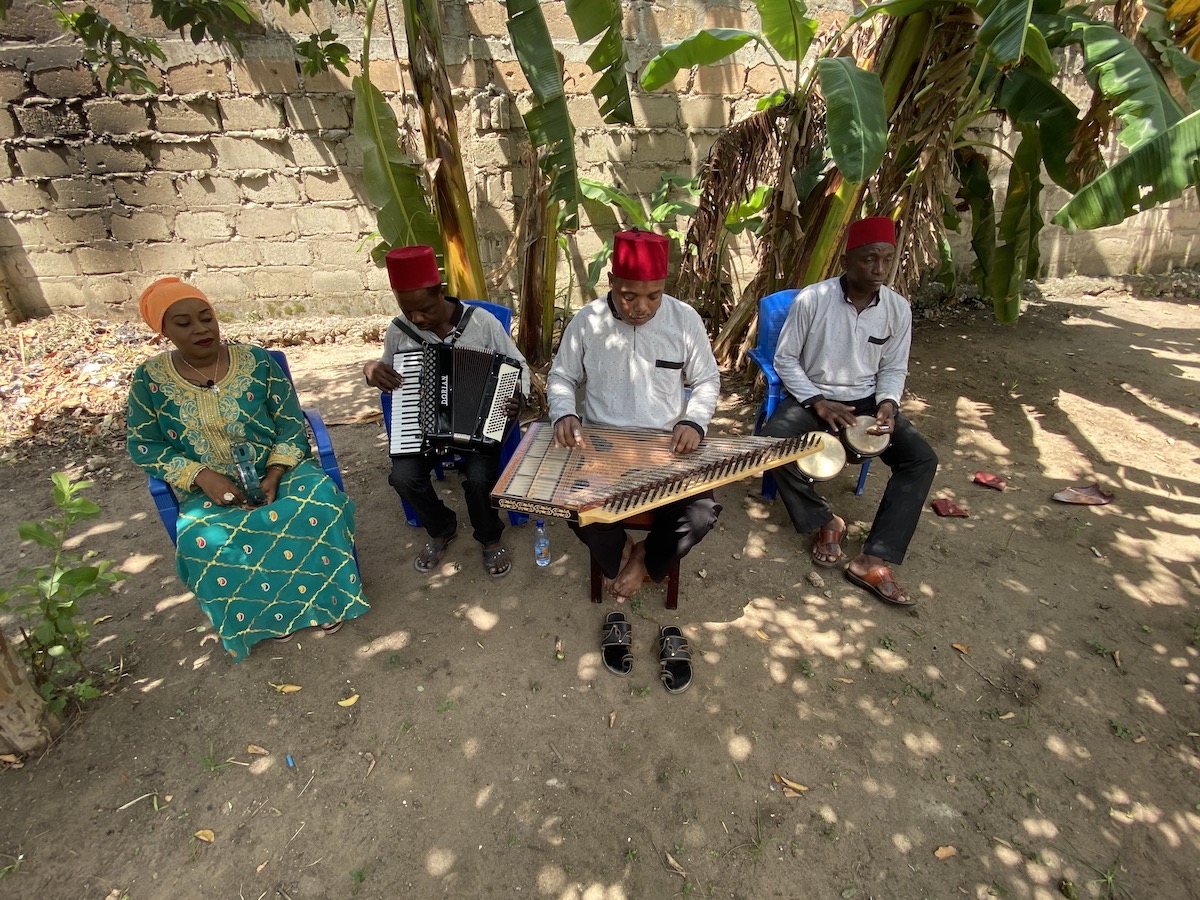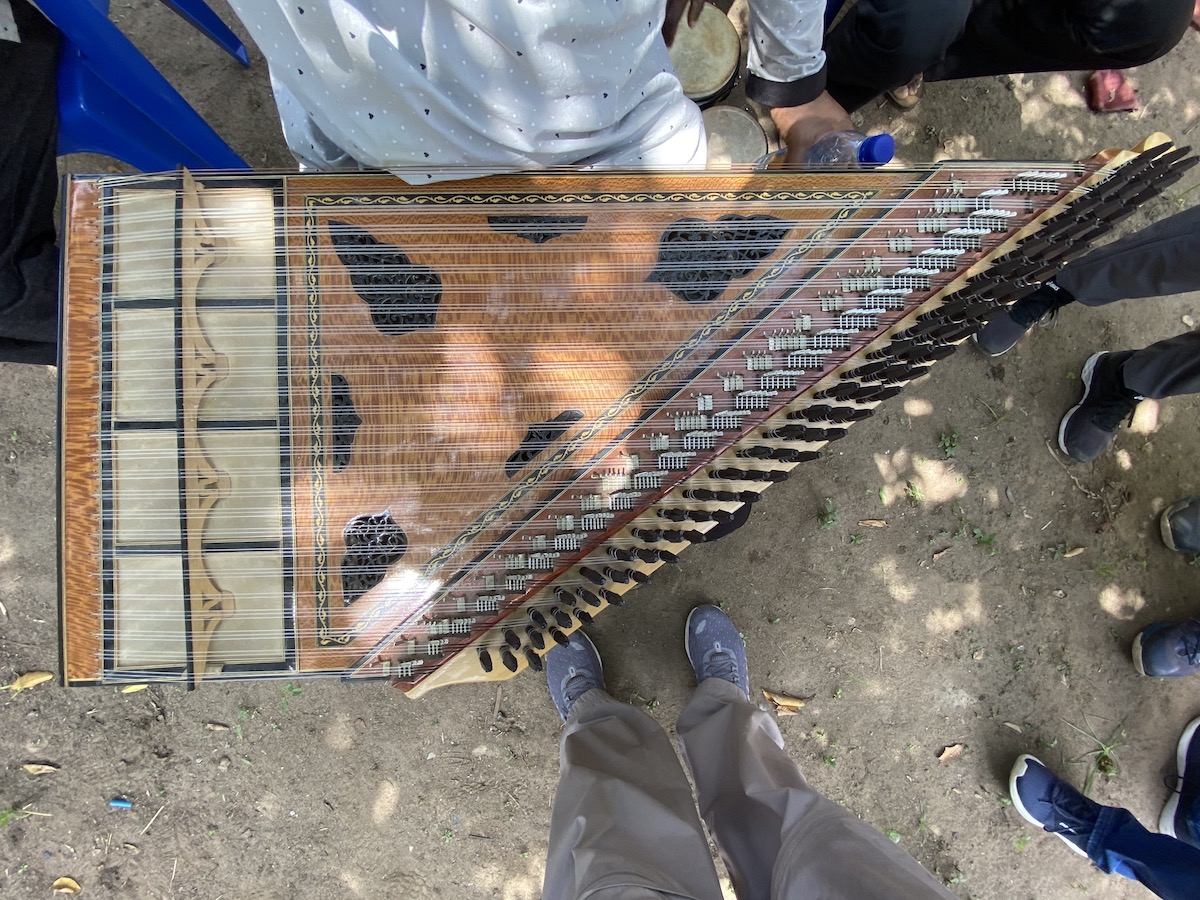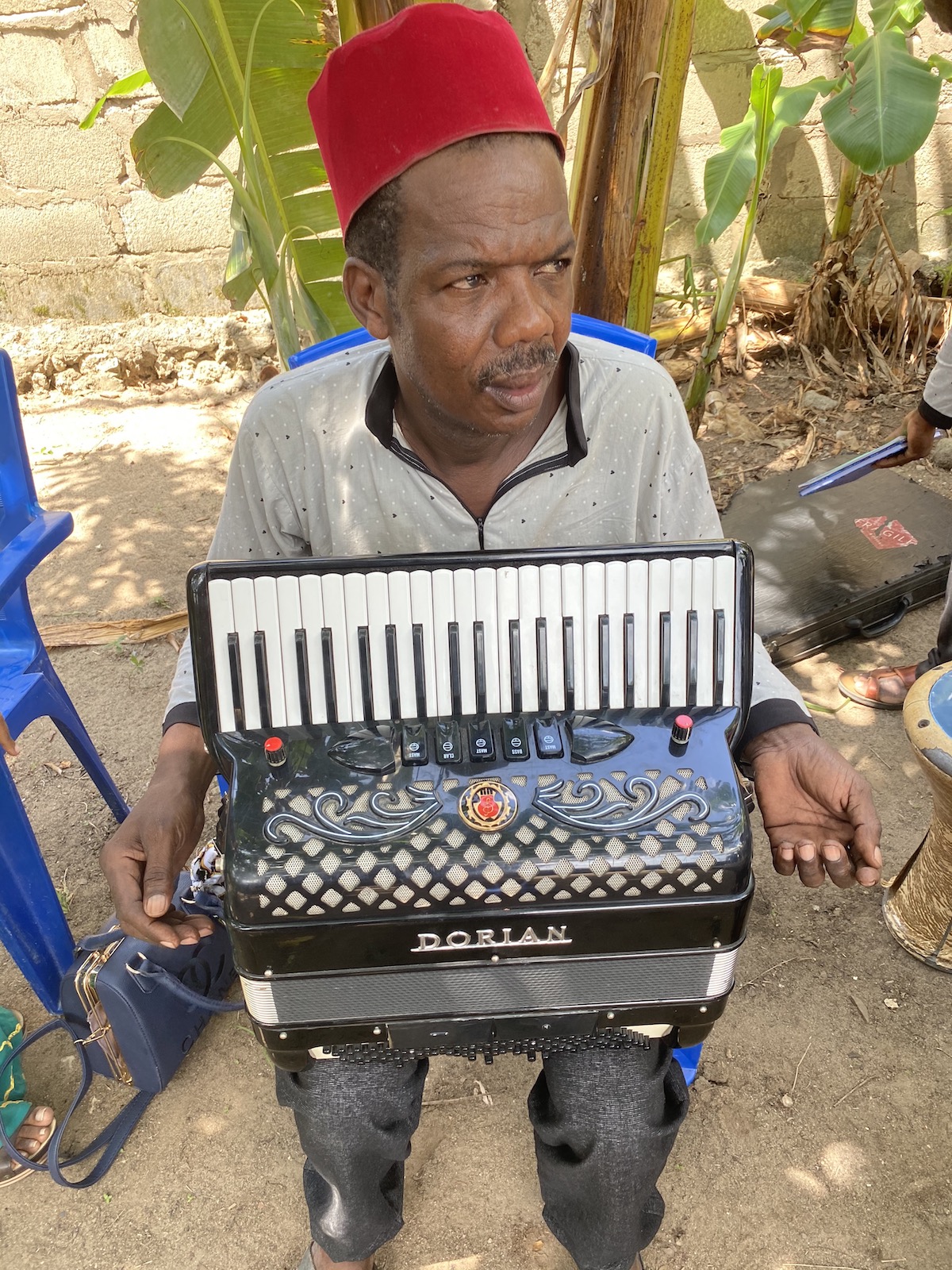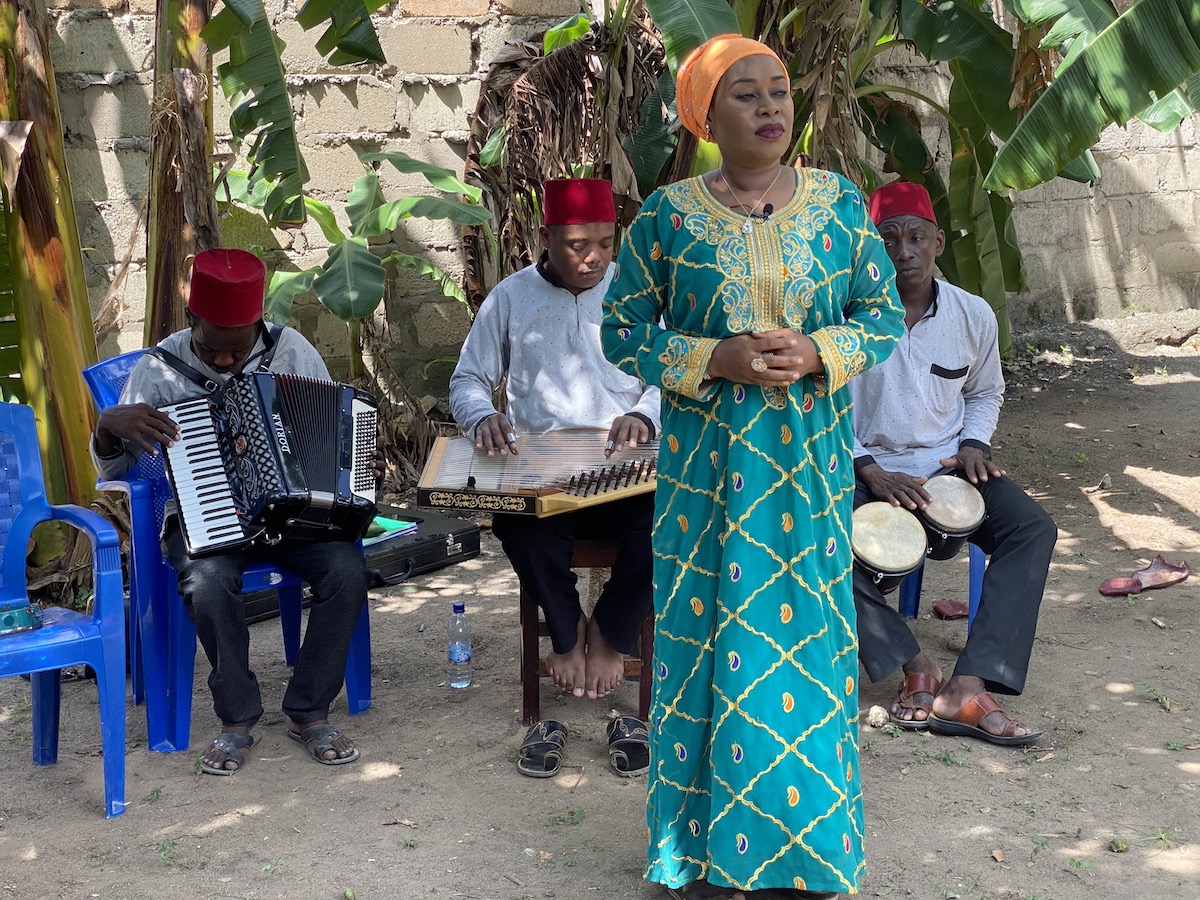 Kithara – This group was formed by Rajab Suleiman. They have played together for 20 years and all live in the same neighborhood. They play for weddings and festivals. When we got to their village in Mpendae we had some difficulty finding a place in the shade that was quiet. There were airplanes and motorbikes going by occasionally. We managed to record one song but had to stop after that due to noise. We hope to have this group come to the hotel on our last recording day. We felt bad that they only were able to perform one song but they took it graciously. 
Performers: Rajab Suleiman (qanun and director), Mohammed Hassan (accordian), Fum Faki (bongo and tabla), Tatu Khamis Haji (singer)
Songs:
Chungu – means Pot, composed by Said Ali 10 years ago
Usikhofu – means "Don't Worry" Composed by Rajab 8 years ago
Pendo Langu Ledhibiti – means "Keep it Well"
No 7 Instrumental – traditional old song of the community.
Beni Kachoka – Beni means band and Kachoka means tired. This is a joking way of referring to a brass band that is smaller and more worn out than one would expect. Their music is based on the Brass Band style of the West. The Africans used to make fun of the Big Band sound from Europe by exaggerating the sound and having people with learning disabilities play. Over the years they have come to enjoy it and have created their own brass bands. This band has been together for 20 years.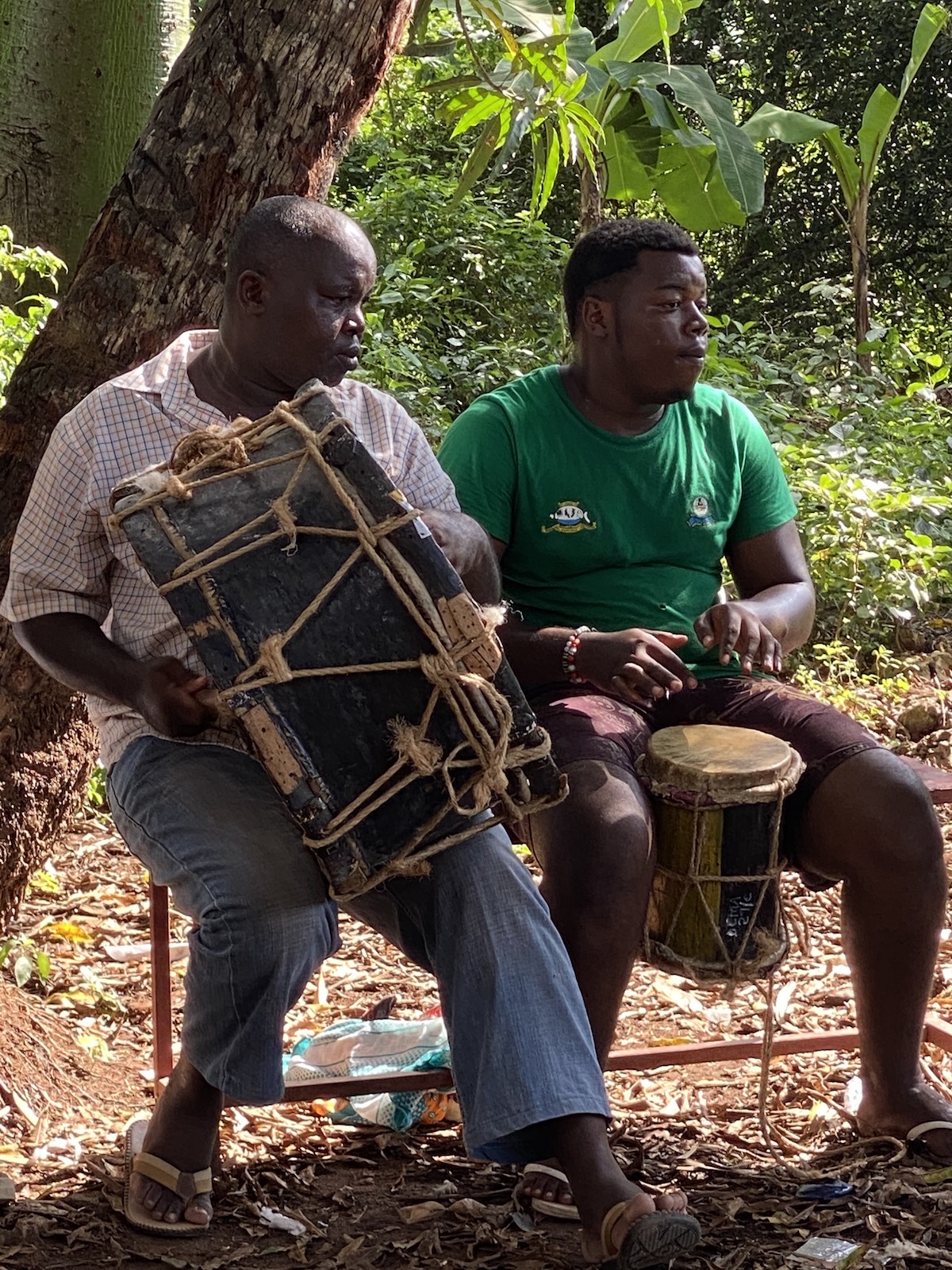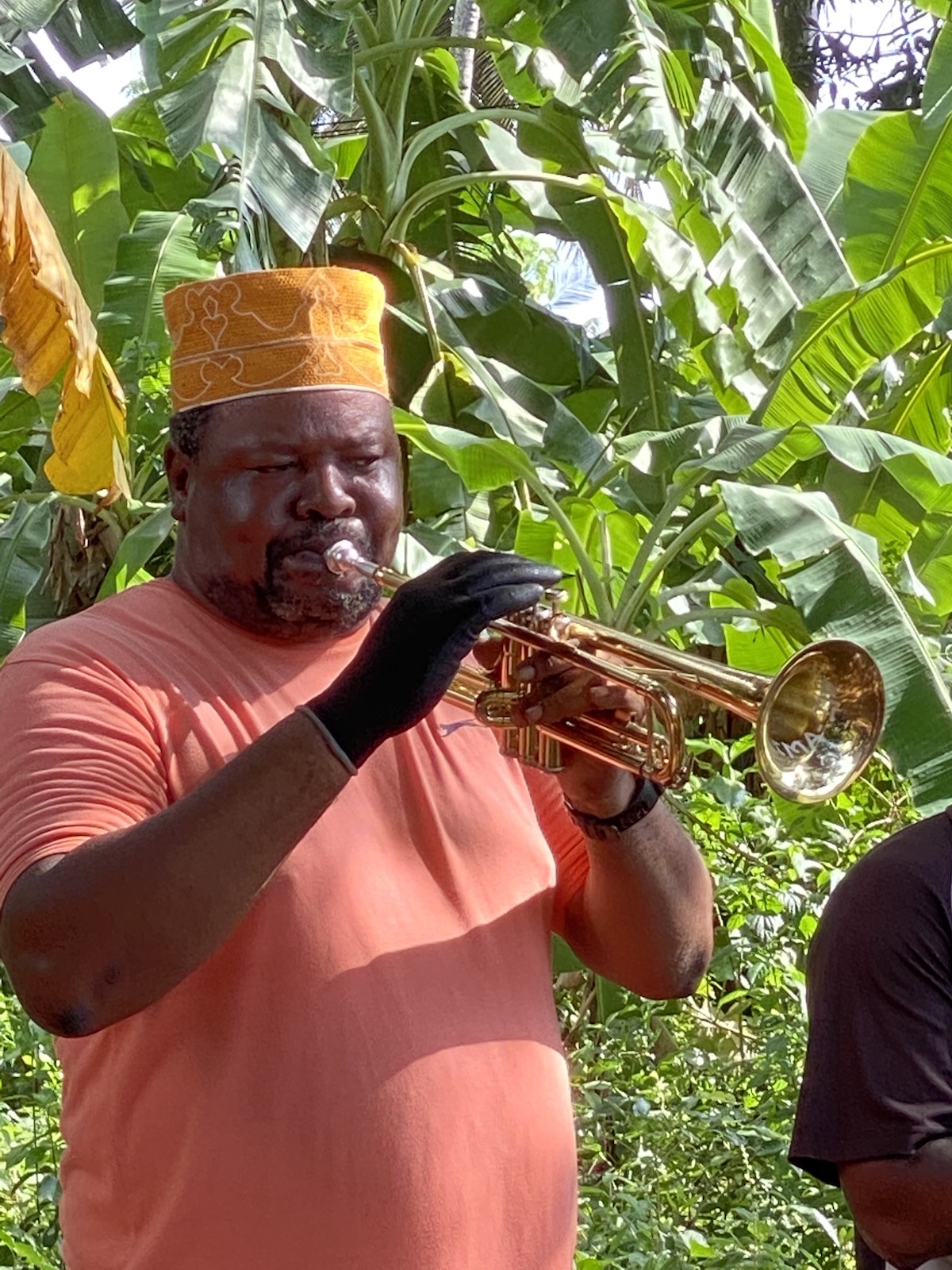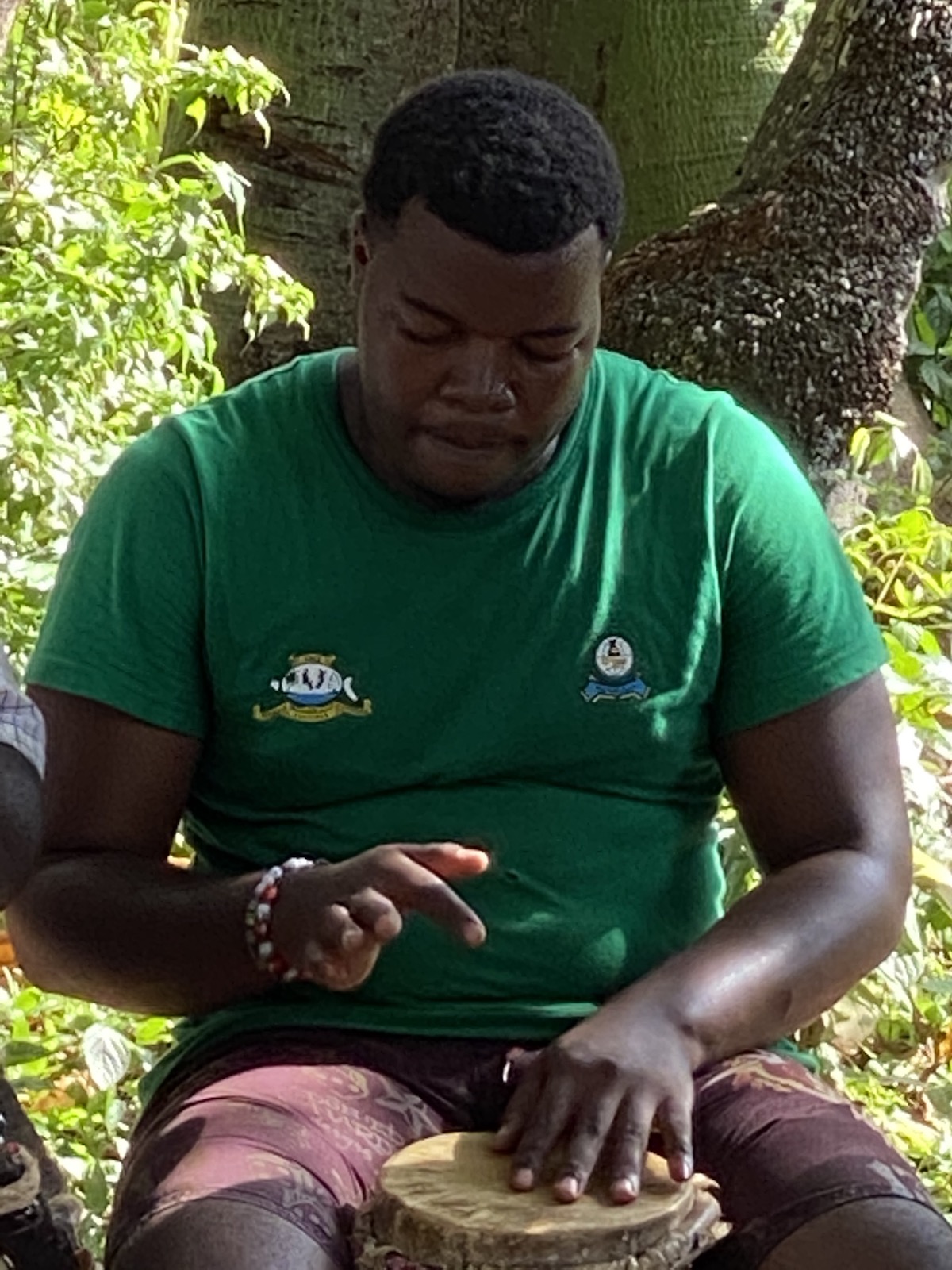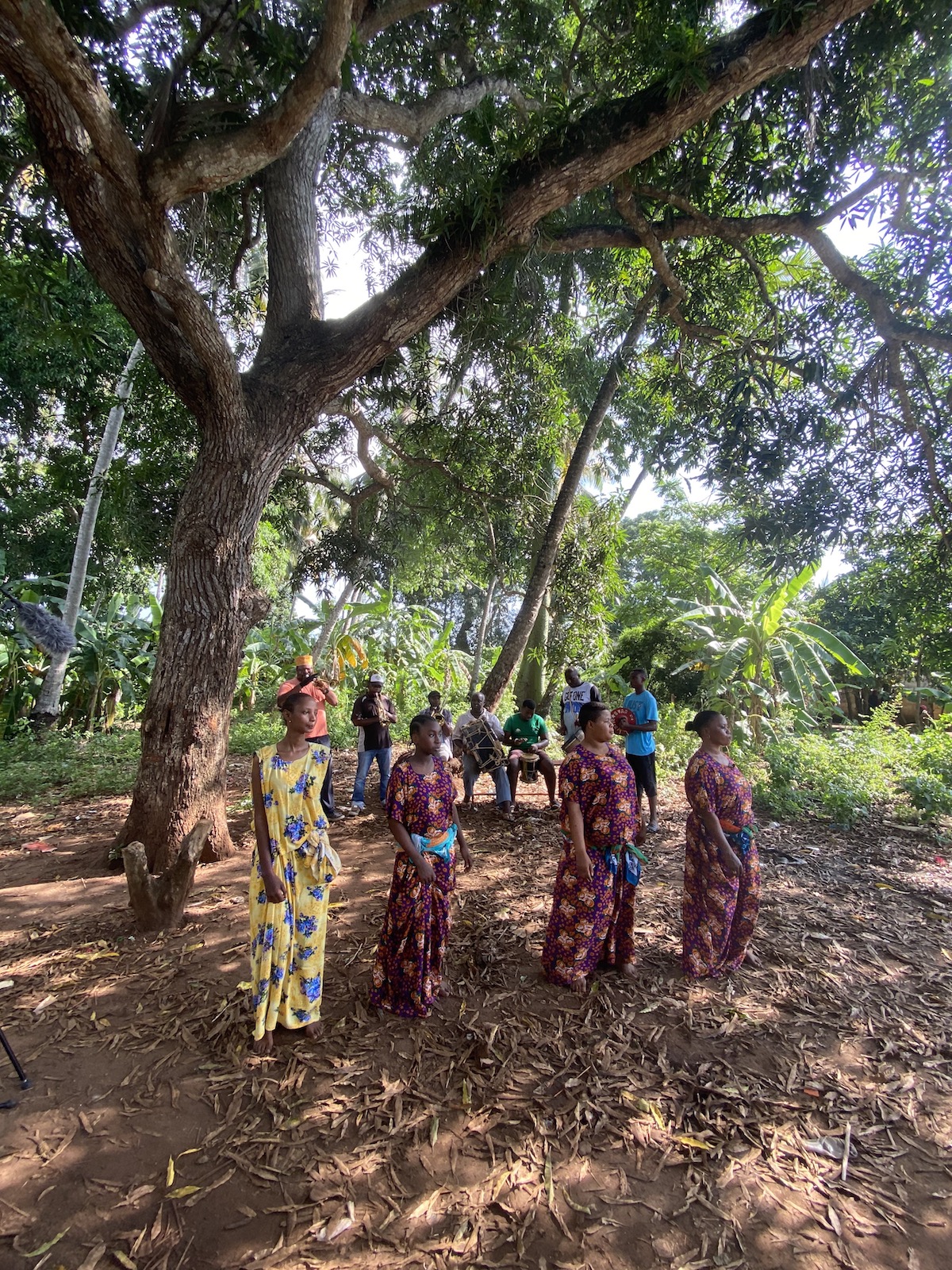 Performers: Salmin Ali Borafya (trumpet, leader), Ali Borafya (base drum), Fatihi Hassan (trombone), Ali Rajab (trombone), Ahmed Hassan (drum), Mahmud Ali (cymbal), Abdalla Iddi (tabla).
Dancers/singers: Pili Idi (lead singer) Aisha Khamis, Zainab Khamisi, Aldeh Jonas, Nafla Khamis.
Director: Omar Mohamed – he didn't play in the band but directed it and spoke with us
Songs:
Chapapunga
Asili
Zarina – rhumba style
Magic moment – trumpets and trombone.
Once this band started, they played for 25 minutes. When the lead trumpet played a solo, they switched styles. We were able to distinguish between three main styles. The dancers danced and sung throughout. The village joined in the dancing as they continued to play. By the end it felt like a joyous party with many joining in, reminiscent of New Orleans Mardi Gras.