Monday, February 19, 2018:  Woke up early and drove to Sirisia to record the band Namatete. The band was founded by Weput Khulu Namatete in 1992. He and his friends gradually made instruments and learned to play them while taking care of their cattle. By 1992 they were good enough to call themselves a 'serious' band.   The founder started by playing the Lituneu. His brother joined him for a while and brought the Shirili, the single stringed instrument similar to the Orutu.   After 23 years his brother formed his own band.   Weput Khulu Namatete (Samuel) then recruited new members and the band has stayed very active and prosperous, playing in the Tindikiti style. The play at hotels, festivals, weddings, funerals, etc..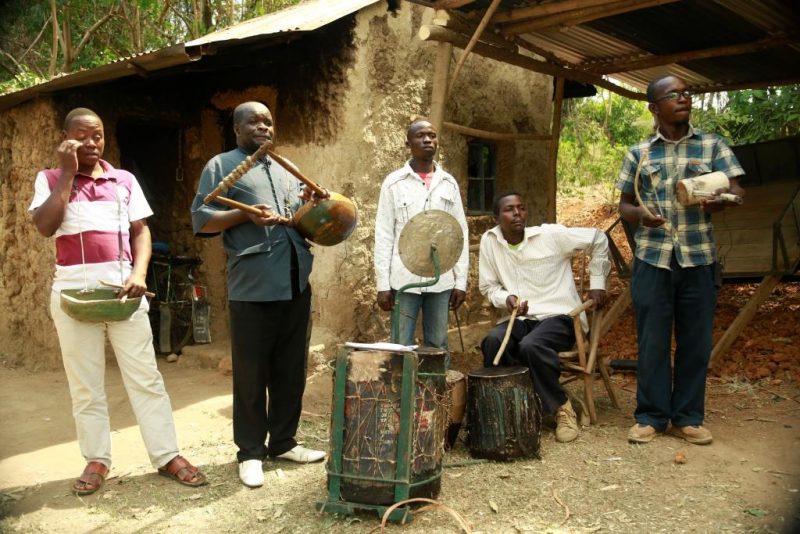 In terms of instruments they have:
Luengere:   Drums
Eng'oma: Drums
Litungu: Strings
They performed the following songs:
We then travelled to Lugulu to record  Plus Wafula. We were in a stone quarry to record them next to Mabuyole Falls.  Beautiful but hot.   We were recording Webuye International Band.   They played in the Tinkikti style. The group was formed in early 2000, when founder Webuye Juakali was a backup singer for separate band. In 2009 he became the main singer of the band. It has the following instruments:
Shirili (Single String instrument)
Litungu: multi-stringed instrument
Chisasi: Shakers
Luengere: Rattles
Eng'oma: Drums
They played five songs:
From there, we retreated to our hotel in Bungoma.   Pretty hot in the quarry, so Tuskers brought relief.