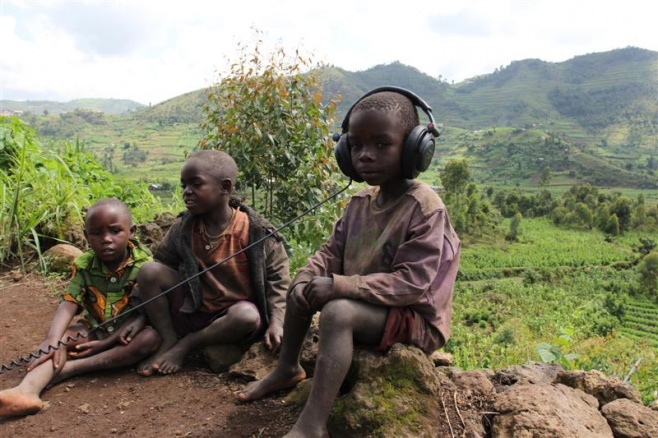 This photo was taken during the field visit to Kisoro in SW Uganda where we recorded the music and dance of the Batwa people.  The story of the Batwa can be read in detail by following the featured link below, but for now we will tell you about this little boy with the headphones.  It was on our second day in Kisoro when we travelled to the Mperwa Batwa community.  Consisting of just a small number of families, the Mperwa have settled on a small area of borrowed land just a few kilometres from the town.
At first glance the setting appeared to be spectacular, with the lush valley and terraced hills of local farms as a backdrop and the magnificent Virunga volcanos in the distance. But we were quickly struck by the impoverishment of this small community.  As we arrived, a group of women were gathered on a muddy terrace, washing their babies in a small plastic bowl.  Rather self-consciously, we began to set up the equipment in amongst the tiny grass huts, the outdoor 'kitchen' and the dug out latrine – it was our first intimate view of daily life for the Batwa and a sobering one.
Gradually more members of the community began to arrive on the 'stage' and we were ready to start. The recording session was an extraordinary one, full of energetic dancing and wonderful, joyous singing.  By the end of the session everyone was joining in with the performance.  We had attracted a large audience of local people who had gathered on the hillside, including, of course, this group of three young Batwa boys who were intrigued with all our recording equipment. Andy invited them to listen to a playback of one of the songs through his headphones and this particular boy overcame his shyness to have give it a try.
We could see how hard life is for the Batwa, living on small pieces of borrowed land on the fringes of society but the performance of the Mperwa Dancers did not portray this – it was full of pride and happiness. Once again, we witnessed how important the songs and dances are to the whole Batwa community, from the youngest infant to the oldest members of the family.