November 2013 sees the Singing Wells team come back together for another week of live field recordings.  On this trip we will be working in East and Central Uganda, visiting musicians and music groups from the Baganda, Basigu, Bagwere, Basoga and Banyoli communities.
In September, Steve and Tabu from Ketebul Music travelled to Uganda to undertake a 'recce' and identify the music styles and groups which we will be recording for this next Singing Wells trip.  We now have our outline itinerary to share with you.
Day 1: SWP team assemble in Entebbe
After flying in from Nairobi and London, the Singing Wells team will meet at the Airport Guesthouse in Entebbe.  It's the perfect place to stay on our first night being just minutes from the airport (the BA flight from London arrives at 22.40). We have stayed at the Guesthouse before and Jan Willem, George and the rest of the Gorilla Tours team have always been excellent hosts.  On our final day of the Uganda 2012 trip we had an very special afternoon in the garden recording the wonderful Watmon Group with our 'Influences' artist Akello.
We are very grateful to Gorilla Tours for their generous sponsorship of the Singing Wells project this year providing us with a Land Cruiser and supporting our accommodation costs at the Guesthouse.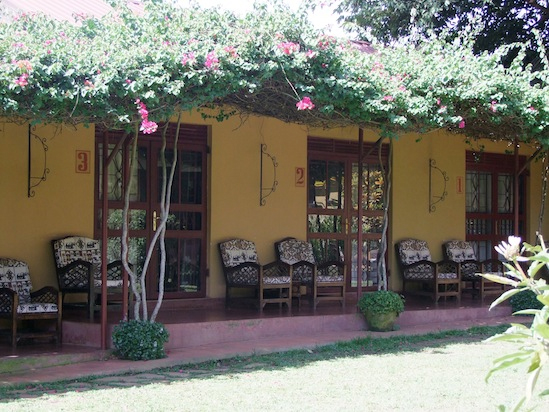 Day 2: Entebbe to Masaka – Baganda music
Our first recording day will take us to Masaka in Central Uganda about 140 kms south west of Kampala.  Here we will record two Baganda music groups: Kika Troupe and Bukala Troupe (from the town of Rakai).
These groups were identified by James Isabirye who will be our local liaison contact while we are in Uganda. Steve met James following a chance meeting with an old friend while in Kampala for the 'recce' trip.  Here's an extract from Steve's notes:
"I had a chance meeting with an old friend from Addis Ababa, Teshome Wondimu, who runs an organisation called Selam which hosts an annual festival in Addis Ababa.  While chatting to Teshome, I mentioned that I was in Uganda for a recce and he was really interested in what I was doing.  He invited me to join him for a meeting the following morning which he thought would be of benefit to the recce. This later turned out to be one of the best leads and contacts I got for someone knowledgeable in Ugandan tribal music……The person Teshome wanted me to meet was James Isabirye, the Selam co-ordinator in Uganda and, more importantly, the secretary of a cultural organisation called National Council of Folklorists of Uganda – NACOFU. James turned out to be very resourceful on the music and culture of Uganda and organises an annual tribal music festival.  He was very impressed by the Singing Wells project agenda and very pleased to be part of the project and suggested we explore even more collaborations in the future."
After recording these two groups we will head back to Kampala for the night to write up our field notes, post reports on the website, back up the audio and video files and prepare for our second day in the field.
Day 3: Kampala to Budaka – Bagwere and Banyoli music
Budaka is a town in Eastern Uganda, about 210 kms from Kampala.  On his recce, Steve identified two groups which would demonstrate the typical music and dance styles of the region.
Lyama Twali Tutya is a group led by Ndoboli Ramadhan and Wakida Fred.  They perform Bagwere dances and play traditional instruments such as Mudiri (long drum), the Tongoli (bow harp) and Namadu (set of 7 drums).
Post Taste Club is a group led by Mwima Paul from a village in the Butelega District.  They perform Banyoli dances such as 'Amabega' (shoulder dance) and 'Nasale', playing traditional instruments such as the Embaire (xylophone), Ndingidi (tube fiddle) and Efumbo (long drum).
Once the recording sessions are finished we will pack up the studio and drive the short distance to Mbale, the location of our recording session on Thursday morning.
Day 4: Mbale & Nakisenyi – Music of the Bagisu and Basoga
On this morning we will meet the Elgon Ngoma Troupe who perform Bagisu music.  Steve met the leader of the group, Wolimbwa Julius, during the recce trip.  Here's an extract from Steve again:
"We arrived in Mbale and proceeded straight to the headquarters of Elgon Ngoma Troupe.  As we drove into the centre's compound, we were surprised to find a large group of teenagers playing an assortment of brass instruments and drums in a marching band format!  Elgon Ngoma Troupe is an interesting group led by a very charismatic director called Wolimbwa Julius.  Most of them are former street kids and, apart from learning music and performance at the centre, they also live there and till a modest garden, producing crops for their food and also for trading in exchange for other food items like rice and beans.  They play both traditional Bagisu music as well as being a brass band.  Julius informed us that his vision is to get to a point where they will play traditional Bagisu music in the brass band format.  They are well known for their circumcision dance 'Kadodi', the pre-circumcision dance 'Isonja' and the harvest dance 'Luwengere'. 
Before we left, Tabu gave a short speech to the Troupe, encouraging them to stay on the path they were on.  We asked Julius to find some of the older generation Bagisu musicians for us to record when we return in November. One thought that came to mind as we were leaving was how we could further support the Elgon Ngoma Troupe. We wondered if we could provide them with cleaning and repair kits for their instruments, or maybe even collect used brass instruments to donate to the group."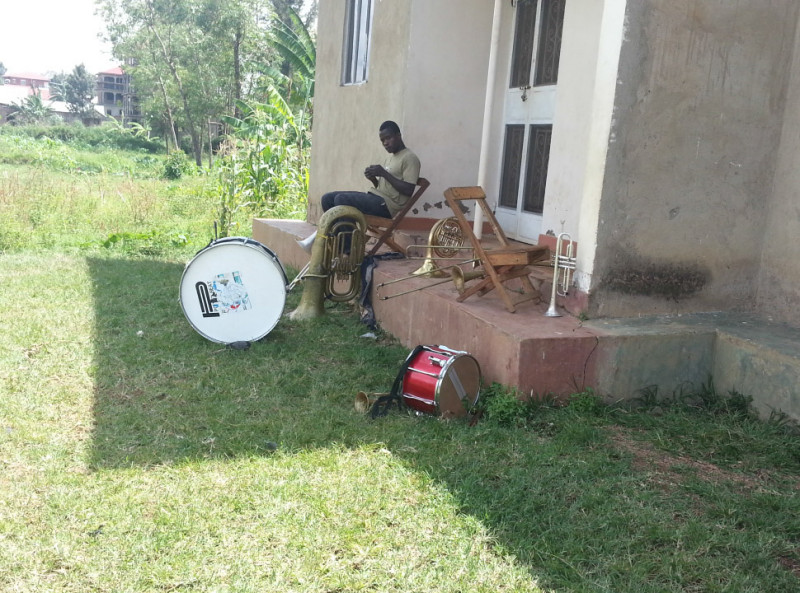 Our afternoon will be spent in Nakisenyi (about 120 kms from Mbale), recording a Basoga group called Muwewesi Xylophone Group.  Like their name suggests, they play the traditional xylophone or 'Embaire' which can be played by up to 6 people, depending on how large it is.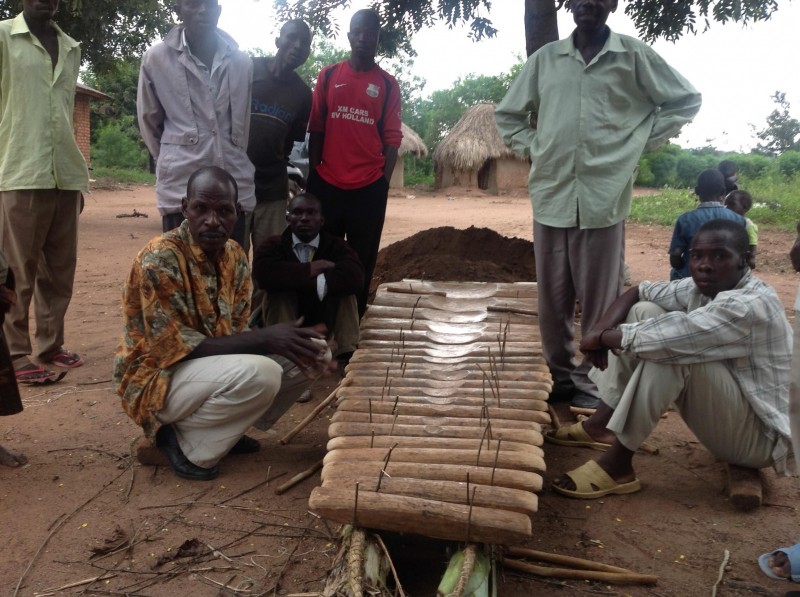 At the end of the session, we will pack up the studio (we are very quick at doing this now!) and head off to a new location – this time the town of Jinja on the shores of Lake Victoria, close to the source of the River Nile.
Day 5: Iganga, Kasokoso & Nabirere – Music of the Basoga
Day 5 will see us in Kasokoso to record a Basogo musician called Nathan Mata.  Here are Steve's notes from when they met in September:
"Our first stop was at Kasokoso village to meet an elderly man who has been mentioned in several circles so far as being one of the remaining custodians of Basoga music history.  Nathan 'Mata' is a composer and songwriter who plays the 'Endongo' (thumb piano).  Mata, (Lusoga for 'milk') as he is popularly known, has lost his sight and lives in very humble conditions with his family. He said he was glad we had visited him and was looking forward to our return in November."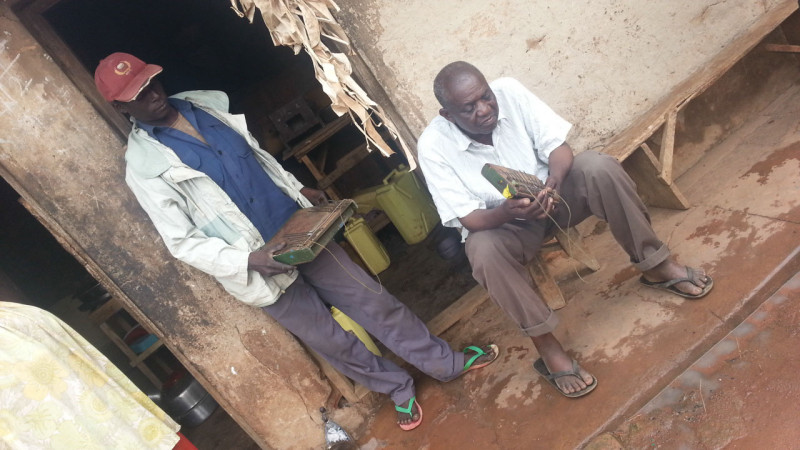 After our recording session with 'Mata' we will head to Nabirere and the Bigwala Group, which is led by a frail but jovial old man called Lugolole.  He is the only surviving member of the original Bigwara Group which featured the 'Olwendo', a trumpet made from a hollowed gourd.  Lugolole still plays but nowadays with the sons and grandson of his old band members, as well as anyone else who is keen to play.
From Nabirere it's a short drive to Bukona to meet Siraji Kirimungo, a talented vocalist from Bukona village whom Steve and Tabu heard much about during the recce but were unable to meet while they were in Uganda.  We look forward to finding out more about him in November.
We will spend the night back in Jinja, occupied by our usual tasks of writing field reports and backing up the day's audio and video files.
Day 6: Music of the Basoga
Day 6 and we are scheduled to record a group called Nile Beat artists, a traditional Basoga 'orchestra' who sing, dance and play a myriad of Basoga instruments and songs.  Steve and Tabu met their leader Haruna Walumsimbi who told the story of how music by Nile Beat and the Muwewesi Xylophone Group was used by American banjo player Bela Flack, whose album 'Throw Down Your Heart: Tales from the Acoustic Planet' won the Grammy Award for Best Contemporary World Music Album.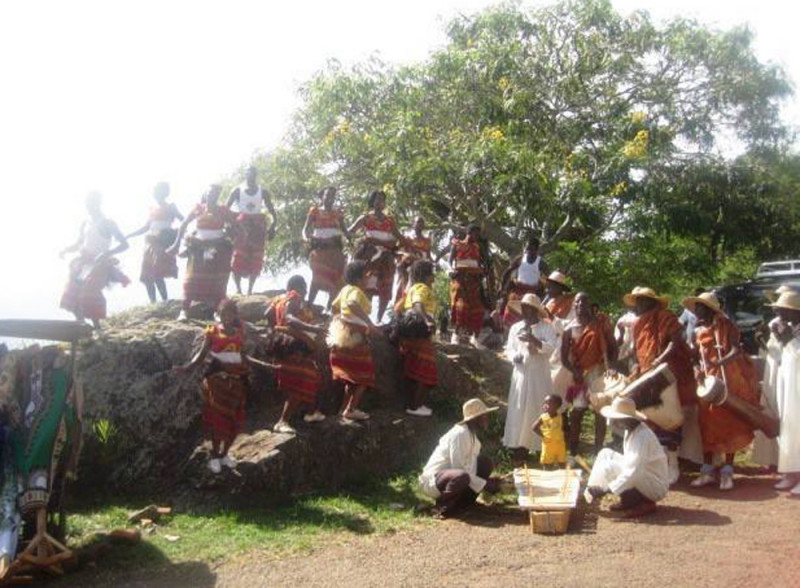 Day 7 & 8: Music of the Baganda and 'Influences'
After five days travelling in the field we will head back to the city for our final two days of recording which will focus on the music of the Baganda and also the recording of new newly arranged songs for our Influences series.
First, our Baganda musicians.  We will be recording  Albert Bissaso Ssempeke, who plays a variety of Baganda instruments including the Ennanga (bow harp), Entongoli (bowl lyre), Amadinda (xylophone), Endere (flute) and Engoma (drums).
We have also arranged to record a performance from the Kadinda Players, a Baganda group led by Chief Kabogo Abdul who play for the Kabaka, the king of the Buganda Kingdom.
We will also be meeting Matia Kakumirizi , a singer and guitarist who will be working with our 'Influences' artist Irene Ntale who is joining us for this field recording trip.  Irene is a singer and guitarist living in Kampala who was recommended to us by Akello, our Influences artist on our 2012 recording trip – The Music of Northern Uganda.
Steve is liaising with James about the various recording locations but it's possible we may once again use the garden of the Airport Guesthouse which proved to be such a wonderful setting this time last year (and surprisingly quite considering its proximity to the airport!).
Stay tuned for more updates on our itinerary and daily reports from the field once we arrive in Uganda in November.
SWP team
October 2013