Recently, Singing Wells embarked on our latest field trip to Uganda. We went in search of the lost musicians of the Ugandan Kingdoms, to discover and record the royal music.
Fundamental to our understanding of traditional Ugandan music and our accurate sharing of the music we captured during the trip has been Peter Cooke, a retired ethnomusicologist and Research Associate at the School of African Studies, London.
We've referenced Peter many times in our field reports and blog posts: in our history of recording East African music summary, in our post about music archives across the world, when reflecting on the importance of archiving traditional music and, most recently, in our posts about our journey to discover and record the Royal Drums.
It was James Isabirye, a lecturer at Kyambogo University and expert in traditional Ugandan music, who first introduced us to Peter. We learned that he had taught at Kyambogo University himself from 1965 to 1968 (then called the National Teachers' College at Kyambogo) and had established the new music department.
During his time at Kyambogo, Peter had recorded much royal music. Excitingly, we also learned that Peter knew Musisi, one of the last remaining entenga players from the Buganda Palace, whom we met during our last trip in December 2015. Musisi is now working with James at Kyambogo to implement our entenga restoration scheme to preserve and promote this traditional instrument for future generations.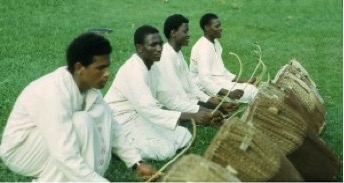 Students practice entenga drum-chime at Kyambogo in 1968 (Musisi is furthest from the camera)
Peter's research into African music is extensive. "It all began in 1964, a few weeks before travelling out to begin teaching in Kampala, Uganda," says Peter. "On the stage of the Prince's Theatre, London, I received my first lesson in playing the Kiganda amadinda xylophone from the South African musicians Andrew and Paul Tracey before their evening show Wait a Minim."
"My work in Uganda led me to begin exploring that country's traditional music initially with the aim of collecting useful materials for teaching purposes.  That exploration has continued since then, apart from during the chaos of the periods of the rule of Amin and the Second Obote regime (1969-87)."
Most notably for Singing Wells, in reference to our latest project, is Peter's work to record the King's musicians of the Buganda Kingdom in the 60s and 80s. You can listen to some of those recordings here. Here, too, is a full list of Peter's work on African music.
We asked Peter to tell us a little more about his time working with Musisi in the 60s.
"In 1967, as head of Music at Kyambogo and at the suggestion of the wonderful young musician Bulasio Busuulwa, one of the former royal flute players, who was already working with me at Kyambogo, I also recruited his young friend Musisi – a former member of the royal entenga group," says Peter. "They made an excellent team – making numerous traditional instruments in the department's workshop and teaching them to the music students and to music teachers who came for in-service courses. Like Musisi, Busuulwa had not found conditions good for him at the palace and after the attack on the palace and the flight of the Kabaka (King) into exile in London, Musisi no longer had a patron so they were both enthusiastic about working at Kyambogo. Sadly Bulasio Busuulwa died during that awful period of turmoil under the dictatorship of Amin and Obote, but Musisi continued to work on at the College and he was still there when I returned in 1987 to learn what I could about the fate of the royal ensembles and the musicians."
"Although entenga playing had ceased at the palace after the coup, the tradition was kept alive for a time at Kyambogo thanks to Musisi's excellent teaching. Of course, I was also keen to learn from him and when I eventually returned to the UK I was able to introduce entenga playing to students at Edinburgh and at Birmingham universities."