This is a transcript of a report received from UOBDU, following the visit made by the Singing Wells project to record the music of the Batwa in Kisoro, Uganda in December 2011.
United Organisation for Batwa Development in Uganda (UOBDU)
Narrative Report on the Promotion of Batwa Cultural Music
Since April 2012, UOBDU started implementing a project responsible for promotion of Batwa cultural heritage, supporting the performance of music and drama to local audience and to allow UOBDU to monitor and update the performance of the groups visited by The Abubilla Music Foundation.
During the visit the members met six Batwa dancing groups from different communities which includes among others Birara, Mperwa, Kanyabukungu. Mikingo, Gatera and Kabahenda from Kisoro district.
This report therefore shows various progresses from different Batwa groups.
Monitoring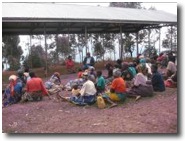 Monitoring was done by UOBDU staff who were designated the Singing Wells Project. The two staff (Neza and Alice) worked hand in hand with a committee of tourism in UOBDU to make sure that all the activities were implemented. This committee has been meeting monthly to hear from the implementing staff and be advised accordingly. During the field visits the staff would offer facilitation and would advise the groups on the best way of managing their groups. It is the same committee which usually selects the Batwa who are to perform to different occasions. All in all the staff performed to their expectations, thanks to them for their seriousness and dedication.
BIRARA group
This is one of the communities that is still cherishing music and dance as the Batwa culture it is still leading and very creative. The community members also share the knowledge on culture and pass on the knowledge to the young ones in order to promote and preserve the Batwa culture which includes music and dance.
KANYABUKUNGU group
As the Batwa group that benefited from the Singing Wells visit, the group is improving very fast in terms of cultural performance and savings as a community. The group is active, committed and promising because they have made savings which has accumulated to UGX 80,000/= from the performance carried out when UOBDU was requested to select the Batwa group to entertain people in Kanungu district which is one of UOBDU operation areas. This cultural performance took place during the launch of water project by Bwindi Mgahinga Conservation Trust where the Prime Minister of the Republic of Uganda was the Chief Guest of Honour.
In addition, this group has managed to set aside Saturdays of every week to meet and make practices on their cultural music and dance in order to meet its target "staging music shows" as the future plans of the group.
GATERA Group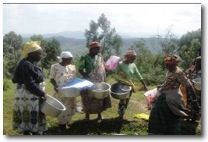 Gatera men and women group takes the highest position in savings from their cultural performance comparing it with other Batwa groups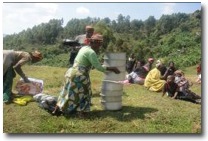 met with the Singing wells visitors.
From their savings the group have managed to buy bed sheets and source pans and have kept or reserved UGX 180.000/= which will be used or spent in future.
In addition to the Batwa cultural performance activity, the group members make contracts with other local people to work for them in the fields for a better pay. Gatera group's plan is to register their group at the sub county and have a group name which will allow them officially to perform and be known at both local and National level among the cultural performers.
MIKINGO group

Mikingo is in the heart of Kisoro Town Council, Kisoro district and neighboring Kisoro Administration offices. The group has good musicians and can do better if given chance to develop their talents however much they are the poorest among their fellow Batwa due to lack of where to plant even vegetables since they live in Town center. The group is very creative and has dedicted a song to the Singing Wells and UOBDU which can be easily translated into English. The office started engaging them in performing their cultural music at Travelers Rest Hotel and other places of interest around. However as a community that has no other income, anything they work for is for buying food for their families since they stay in town with no land.
MPERWA and KABAHENDA group
Both communities are slow and this has caused them remain behind in performance and making savings especially from their cultural performance but the group can easily be mentored and catch up. Apart from being slow, their music and dance is as good as that of other Batwa groups and can easily catch up. These groups still need a lot of encouragements plus some special talented people who may help them do a lot of practice.
Achievements
Through UOBDU monitoring, each group set a day in a week for making practice and this has improved the performance of the groups.
During the implementation of the project UOBDU has been able to secure space in different occasions for different groups to perform and all the groups performed excellently, these occasions include the Kabahenda group danced for their Member of Parliament during the time he visited his constituency. Furthermore, the Kanyabukungu group entertained for the Prime Minister of Uganda while Birara group entertained the Ford Foundation Director from New York and FF Nairobi team when they visited UOBDU. Mikingo and Kanyabukungu groups also entertained visitors during the Women's day celebrations in Kisoro.
Through formation of the Batwa dancing groups have made other developmental ideas to the including saving groups. These groups have gone ahead to improve their economic situations by carrying out other activities such as working as a group on people's gardens as well as entertaining people at a fee when invited.
Some group members are improving their standard of living through purchase of house hold items such as bed sheets and saucepans.
The recorded CDs/DVDs and albums for Batwa dancing groups are in place for anyone interested.
The CDs/DVDs have started generating some income so far UGX 70,000/= has been raised through sales.
Through Albums and music recorded provided by Abubilla Music Foundation to UOBDU, all the groups performed were very exited and appreciative while seeing themselves dancing as well as fellow Batwa viewing their fellow Batwa performing. This encouraged other communities to keep practicing and maintain their cultural heritage.
For the last six month when the project started, UOBDU's staff has been able to get some contribution on his salary plus office stationery as well as fuel for the community visits and facilitation for Batwa members. All these facilitations have been improving the morale of the staff and the Batwa.
Challenges
Although the Batwa have special talents and gifted by nature in developing songs and dances they lack technical support in order to package their songs well.
The project was too short to further advance this Batwa talent to higher levels, there is a need to extend the project even to other communities who shows interest.
These promoted groups lack dancing costumes (uniform) and equipment which would make it more unique and attractive. Due to this challenge, UOBDU had to purchase a few musical instruments (Drum and dancing bells) for Kanyabukungu group who danced for the Prime Minister of Uganda.
Dancing costumes and traditional instruments remains a challenge among the groups in order to market their culture.ConclusionUOBDU is very grateful to the Singing Wells group for visiting the Batwa and their office UOBDU as well as promoting and supporting their cultural music.
Zaninka Penninah
UOBDU Coordinator