DAY 4: Thursday, 10 March 2022
Act One: Ontitri Bukundo 
Genre : Obukano
Location: Treat House Resort – Rongo
Field Notes:
It was a smooth drive all the way from Kisumu to Rongo using the newly re-carpeted Katito-Kendu Bay road. We reached our destination in no time, given the vastly improved road network in the region. Along the way, we passed through Rodi Kopany, a small center with an interesting historical background. The name Rodi Kopany was derived from the words 'Road Company' because back in the day a campsite for the laborers building the tarmac roads in the region was located there. It would appear the full name of the company in English was too much of a mouthful and the locals simplified it to 'Rodi Kopany'.
When Ben Mukabwa returned to Kakamega after our last recording in Kisumu, Dave Otieno joined us in Rongo and teamed up with Fiston Lusambo to continue our experimental fusion of contemporary elements with traditional sounds of Western Kenya region. Dave and I go back a long way as we worked together on several musical projects under the Nairobi City Ensemble. Other notable projects with Dave were during the period of Spotlight on Kenyan Music, which was a collaboration between Ketebul Music and the Alliance Française in Nairobi. Mention should also be made of the Smithsonian Folklife Festival in Washington, D.C. in the summer of 2014, a trip that included Ontiri Bikundo, one of the musicians we were scheduled to record that evening in Rongo. Ontiri is a master of the obukano, an instrument which has an indelible history among the Abagusii community of Western Kenya. The obukano is used more as percussive instrument and an accompaniment by a soloist. However, the nyatiti and the litungu played by the Luo and the Luhya, respectively, follow chord progressions, notes and keys.
Ontiri came on stage at Treat House Resort at 5:30pm and true to the professional that he has become, gave an exemplary performance without any re-takes. By 7:00pm his session was completed and he was on his way back to Kisii County. The next group was Otacho Young Stars who began their performance at 8:00pm. Otacho Young Stars were also no strangers since we recorded them in 2011 as part of the Singing Wells project. These musicians are now in their 30s and no longer answer to the name Young Stars and are appropriately simply known as Otacho Stars. For a long time Otacho Stars were based at Kamus pub in Ranen but following Covid 19 challenges, and when a new team took over the management of the pub, they stopped having regular shows at the venue.  By 9:30pm we concluded the recordings with Otacho Stars and formally ended Travel to Stream!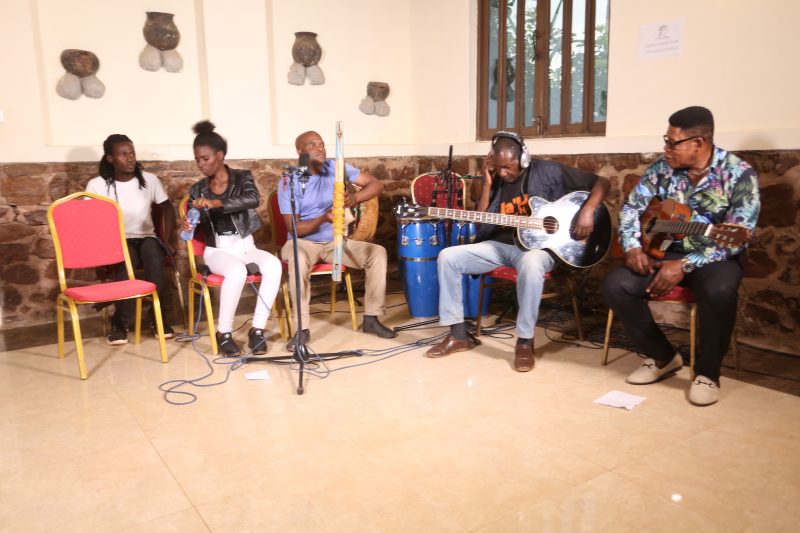 DAY 4: Thursday, 10 March 2022
Act One: Ontitri Bikundo
Genre : Obukano
Location: Treat House Resort – Rongo
Profile:  Ontiri  Bikundo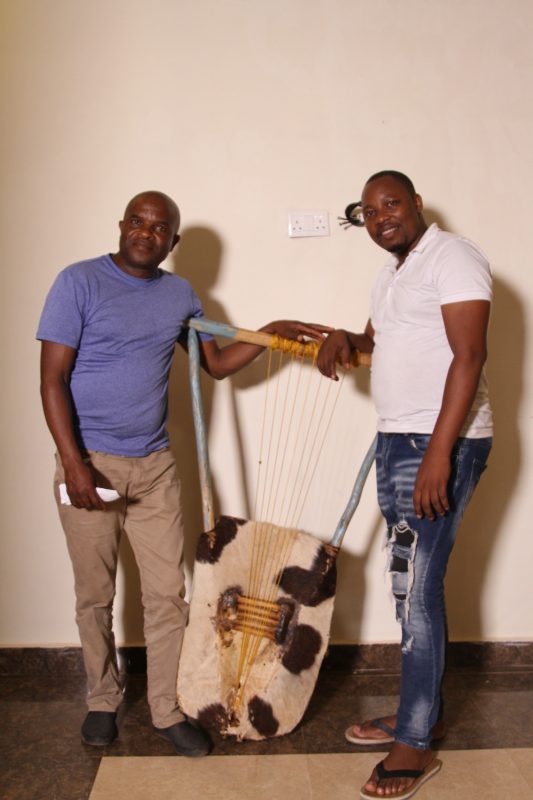 Ronald Ontiri Onchuru Bikundo is a versatile obukano player who was born in 1974 in Kisii. Ontiri started playing music in 1985 and recorded his first song  'Bikundo Obaba mbono' in 1994 and from then on he has been the main star of the obukano music genre from the region. Ontiri has performed in most entertainment venues within Kenya and is among the few Kenyan musicians with a huge fan base in the US and Canada, where he has also toured extensively. Ontitri has been invited to perform in South Korea and Germany, not mention that he was one of the leading performers at the Smithsonian Folklife Festival in 2014. Ontiri on the obukano and vocals was backed by Leonidah Basbori on tumba and vocals with Lavin Kwamboka, Cliff Mogeni Mogaka, and Omuya Cyprine Moraa all on background vocals. Fiston was on guitar with Dave on bass. Ontiri is married to Ruth Moraa and the two reside in Kisii town with their four children.
Day 4: Thursday 10 March 2022
Act Two: Otacho Stars
Genre: Traditional Benga
Location: Treat House Resort – Rongo
Profile: Otacho Stars
Founded in 2009, Otacho Stars are led by Joseph Ogutu Onyango who plays the orutu (traditional fiddle) and Jared Otieno Owuor on the ongeng' (metallic ring). Other members are Oluoch Onyango, the group's MC and vocals, with Evans Ochieng Olero on nyangile (sound box) and Fredrick Ouma Olero on lead vocals. In 2007 and 2008, these youngsters were members of Apoly jazz band, a group that was formed by Polycarp Otieno, then a schoolteacher at Bondo primary school and well known for his skills in the adaptation of traditional folk songs. Apoly later moved to Yago primary school next to Ranen center in Migori County and is credited with teaching Otacho Young Stars the art of playing traditional music. Following the death of Apoly their mentor in September 2009 these youngsters each went their own way but later regrouped to form the Otacho Young Stars. Having come of age, they have appropriately dropped the Young Stars tag and are now simply Otacho Stars. For several years the group held regular shows at the Kamus bar in Ranen Centre before Covid 19 interrupted live shows, as in most places. Presently, they only perform on demand. On this live recording Dave Otieno played the guitar while Fiston Lusambo was on bass.
Project Summary 
Upon completion of the 'Travel to Stream' tour, we were quite encouraged in seeing that most of the musicians we interacted with were immediately trying to put into practice some of the suggestions we made to them on ways of improving their performances. Most of them were ready to experiment with new ways of playing their traditional musical instruments, as well trying to devise standard tuning for them. Furthermore, we appreciated the fact that our intentions were well received and that the musicians did not consider us to be some arrogant city slickers trying to teach them their own cultures and traditions.
Our goal was to build resilience by trying to restructure the operations and business models for these musicians to enable them to develop a better understanding of how to improve their performances. These adjustments were of utmost importance in making it easier for these rural and peri-urban based musicians to migrate their shows and concerts to online platforms in order to reach wider audiences and create new revenue streams.
As we headed back to Nairobi on Friday, 11th March 2022, we had lively discussions on ways and means of empowering these marginalized creatives and on how to assist them to access global markets. They need a conducive environment that would enable them to showcase their individual musical talents and unique identities. If we succeed in our efforts, we believe they will rightfully take their place on center stage. To accelerate this process music policies must be put in place for these musicians not to be simply programmed as part of a loose musical troupe, relegated to and delegated with the mundane task of playing ceremonial music to visiting tourists. END
Tabu Osusa
Founding Director, Ketebul Music
Nairobi-Kenya
April 2022