Act One
Artiste: Johnstone Mukabi and Omutibo Stars
Genre: Omutibo
Location: Small Matters Park – Shikangania
Field Notes:
After an early breakfast the following morning we drove from Ilesi to Mukumu Girls' High School, situated along the Kakamega-Kisumu road. Our first recording of the day was to be with Johnstone Mukabi, son of the legendary guitarist George Mukabi. The senior Mukabi is regarded by all as the pioneer of omutibo, arguably the most popular musical genre in the region. It would not be our first meeting with Johnstone Mukabi since we had previously featured him on the Singing Wells project in April 2018. He later came to Ketebul Music studios in Nairobi in May that year and recorded a few songs that are yet to be officially released.
Going through a narrow winding road we arrived at the Small Matters Park, our first location for the day. The Ketebul Music technical crew is well experienced in field recording routine preparations, having been part of the Singing Wells project for many years. Hence, it did not take long for our sound team to determine the best site for the stage within the well-groomed homestead and in less than an hour we had the mobile studio all set. Normally, our preferred device for capturing sound on these trips is the Zoom digital recorder, having started with H4 before upgrading to Zoom H6. On this occasion we opted to record directly to the laptop. All recording systems have their merits and demerits and our choice was no exception as it caused us some delays when the laptop overheated due to the hot tropical sun, resulting in drops in frame rates. We solved this problem simply by avoiding direct sunlight and staying in the shade. Due to the short period assigned for the completion of this project, we did not have time to conduct a recce and for that reason we came to realize rather late that some of the venues chosen for the recordings had no main power outlets. Fortunately and for a nominal fee, good neighbors always came to our rescue by allowing us to tap into their main power supply lines with our snake cable.
When all the issues were sorted out, the rest of the recording went smoothly with Johnstone Mukabi and the Omutibo Stars coming on stage at 11:00am. Accompanied by Francis Massanga on vocals, they were joined by guest musicians, Fiston Lusambo on guitar and Ben Mukabwa (a college tutor whose other calling happens to be music), on guitar and percussion. On shakers was Ben's elder brother, Fredrick Mukabwa, while veteran musician and producer Gido Kibukosya (formerly of the groups Musically Speaking and Zanaziki) was on bass. The session ended at six o'clock in the evening.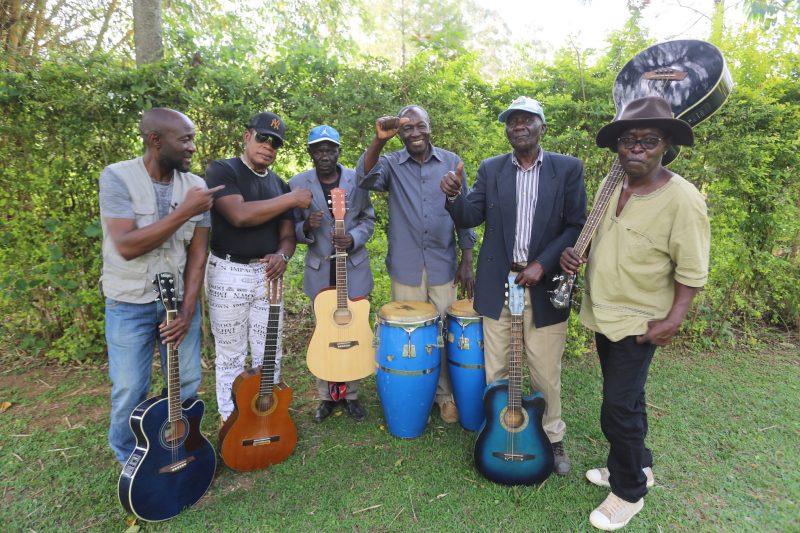 Profile:  Omutibo Stars
Johnstone Ouko Mukabi was born in 1956 to the legendary guitarist George Mukabi and his first wife Joyce Adero in Emulunya village in Kakamega County. His sister, Emily Sikobe, came immediately after him, while his brother Abil Aseta was born of a different mother, Jennifer Osimbo also known as Sengula. She was the second wife of the senior Mukabi and was the woman immortalized by the legendary king of omutibo in the song of the same name.
It is reported that Jennifer (Sengula) was allegedly the cause of the death of George Mukabi when the musician was hacked to death when he followed her to her village in Butsotso in Kakamega County where she had sought refuge after a domestic row.
Having lost his father at an early age, Johnstone taught himself to play the guitar and by 1978 he had mastered the 'finger picking' style technique which his late father helped to develop. Through the years, he has become incomparable to anyone when it comes to interpreting his late father's songs. He is married to Leah Mbone with whom he has eight children and presently lives in the Marura suburbs of Eldoret town.
DAY 1: Monday, 07 March 2022
Act Two
Artiste: Julius Itenya and Super Phoenix Band
Genre: Maveka (Lipala)
Location: Kibukosya's Gazebo – Mukumu
Field Notes:
The drive to the next location (Kibukosya's Gazebo) took less than 15 minutes but no sooner had we set up our equipment for the second session of the day than it started drizzling. Fortunately, the rain did not last long and by 7:00pm we were back on track with Julius Itenya and his Super Phoenix Band on stage. They were a well-rehearsed team and all went according to plan until a group of mourners appeared from nowhere with a coffin of a dead relative that had just recently arrived from Nairobi. Although the burial was planned for the following day, the emotional villagers were already wailing loudly and playing mournful dirges. This dramatic twist of events threw us off guard and we were forced to stop our program temporarily.  As required by local custom, we dutifully went to commiserate with the family of the bereaved. We paid our last respects to the unknown dead in the sealed coffin and donated some money to the family to assist with the burial activities on the following day. Seeing that we had appeased the spirit of their departed, the mourners quieted down and allowed us to continue with the recording successfully, ending shortly after 9:00pm. After a night photo session – thanks to our newly acquired LED lights – members of the Super Phoenix Band jumped on to their Boda Bodas (motorbike taxis) and disappeared into the dark night, one by one. We drove back to Josephine Garden at Ilesi where we spent our second night.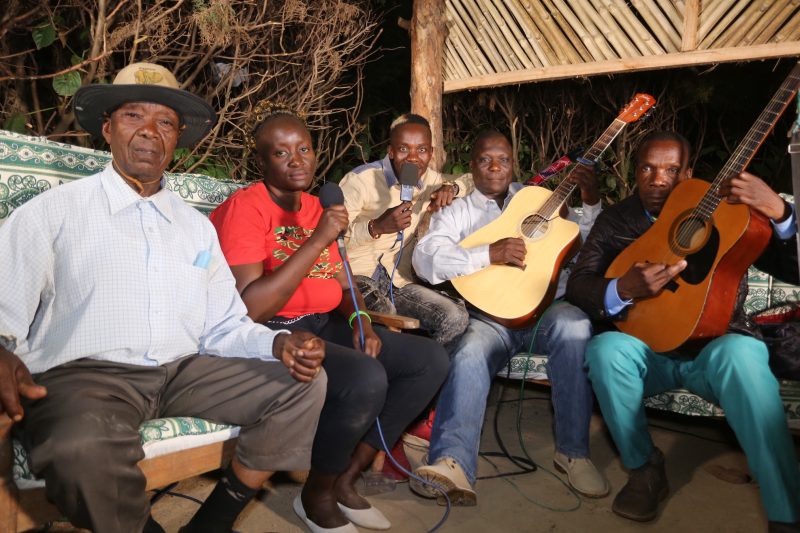 Profile: Super Phoenix Band  
Julius Khamoyi Shivaji was born on June 5th 1966 in Shisalachi, Ikholomani sub-location in Kakamega County. He started his musical journey in 1990 as a member of the choir at his local church. He took up the stage name Itenya in 1999 when he joined the Phoenix Success band led by veteran musician Jacob Luseno of the Mukangala hit. He broke away from Jacob Luseno's group in 2007 and formed Super Phoenix Band.  Like most of the Luhya beats, Julius calls his music Maveka a musical style close to Isikhuti and like most of the Luhya beats is on the 3/4 signature time. Maveka is the Luhya language for 'shoulders' which are shaken vigorously with this kind of dance. An accomplished guitarist, Juluis Itenya regularly performs in Kakamega town but his popularity goes beyond the Western Kenya region and is frequently invited for shows in Nairobi city. Other members of the Super Phoenix band are Henry Khavuchi (percussions), Catherine Khavayi (vocals), Justice Akumali (vocals) and Bernard Liseche (guitar). Julius is married to Joyna Khamayi and the couple reside with their six children in Chesere village in Kakamega County. During this live show, they were joined by Fiston Lusambo on guitar, with Ben Mukabwa interchanging with Gido Kibukosya on bass.