The story of how Singing Wells started….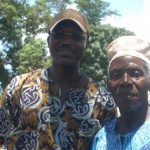 After two years of planning, the Singing Wells project was launched in March 2011 with our first field visit to Malindi to record the music of the Mijikenda. So, how did Tabu Osusa, one of Kenya's most successful record producers end up in a remote Kenyan village, teamed with me, an American businessman, and a sound engineer from Gateshead?
The Singing Wells project is a result of a chance meeting between two music labels on two separate continents. Tabu Osusa founded Ketebul Music in 2007 with a goal to record and promote traditional East African music. Tabu laments the fact that the music heritage of the region is being eroded. He says, 'For reasons I can't fully explain, contemporary East African music has lost touch with its tribal roots. Our most popular musicians find far more inspiration in western music than they do with East African music. I worry about this. As a people, we risk losing our deep cultural heritage – the role of traditional music and dance in our lives. And as musicians, we risk becoming undifferentiated. Rather than drawing upon what makes us unique we risk our voices being lost in the sea of American and British groups'. At Ketebul Music, Tabu recruits and develops musicians committed to the rich musical cultures of East Africa. His goal is not simply to preserve this music, but bring it back to life with contemporary musicians putting a modern stamp on traditional music.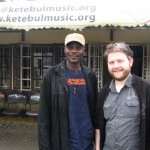 A few thousand miles north of Nairobi, our band of musicians at Abubilla Music in London had similar concerns. Some of us had travelled through East Africa and we were astounded by the quality of the tribal music, but equally surprised to find how hard it was to access the music back in Britain. As the founder of Abubilla Music, I set out to find partners in East Africa who were committed to preserving the music. Through a series of e-mails that travelled the world, Tabu and I were brought together by Joyce Nyairo, then of the Ford Foundation, East Africa office. After several long e-mail exchanges and a few Skype calls, we agreed to start the Singing Wells project. We both knew we wanted to do something to preserve the music but it took us a while to define exactly what to do. Finally there was a eureka moment – the best thing we could do was to go the musicians, to their villages, to their homes and record them with their families. We would record them singing their songs to their children, three generations dancing together in their village. Andy Patterson, who helped design the mobile studio, noted, 'I'm a sound engineer and used to recording in professional studios, but I must say, my favourite studios are the ones we create in these villages where even the chickens that wander on to the set add hugely to the essence of the recording.'
So, we piloted the project on Kenya's Coastal Region around Malindi and Mombasa and have now travelled across the country recording 30 musicians and traditional music groups representing three major tribes: the Mijikenda, the Luo and the Kalenjin. We have also travelled to Uganda to record the amazing musicians of the Batwa tribes, bringing many of them back to Nairobi to record them in Ketebul Music studios. We have designed two mobile recording units which can be assembled just about anywhere.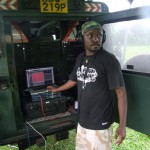 The Ketebul and Abubilla audio and video engineers who support Singing Wells talk of the amazing experience working in the field. As Steve Kivutia says, 'Nothing is more satisfying than watching the musicians listen back to their own recordings. In the past, one or two of them might have been invited to a local town for a simple recording. Singing Wells allows for the whole group to perform, singing and dancing in front of ten microphones and three digital cameras.' Video engineer, Patrick Ondiek, adds, 'I love producing the final videos and getting phone calls from my friends asking me 'how did you find these musicians?' I feel like I'm on the cutting edge of music, bringing these talented musicians to my Nairobi friends.'
In addition to our field visits, we have developed an online Music Map of East Africa that charts the tribes of the region, their music, their instruments and influences. The map also shows where we have travelled with the Singing Wells project and features audio tracks and videos of the songs and dances that we have recorded along the way.
Two final words: influences and origins. When we first set out the aims for Singing Wells, we realized that we couldn't just be fossil collectors, finding and cataloging music that will soon die out, leaving videos and songs in the archives. We also had to work to make this music relevant and important to contemporary artists. A key part of a field visit, therefore, is to bring contemporary African musicians with us to perform with the tribal groups and to write new music influenced by these sessions. Winyo, a wonderful singer/songwriter with Ketebul Music, is one of our Influences artists and has been with us on three Singing Wells field visits. His first album 'Benga Blues' (released by Ketebul Music and Abubilla Music in September 2012) is rooted in traditional music. Of Singing Wells, he says, 'What we find in these villages are important and very talented musicians. One of the most special moments of my music career was dancing on a hill in Uganda with Jovah from the Mperwa Batwa community. She has one of the most amazing voices I have ever heard. For me, Singing Wells is 100% about inspiration – I am in awe of the talent we find.'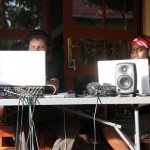 And finally the origins of our project name. We often get asked why we have called our project 'Singing Wells'. The inspiration for the name comes from the real-life singing wells of the Samburu tribes people. During the dry season, Samburu herdsmen (and boys) draw much needed water for their cattle from deep wells which they have dug in the parched river bed. As they pull water from these wells they begin to sing, a different song emanating from each well. The animals appear from the bush, seeming to recognize the unique song of their master. Once the animals have had their fill the herdsmen climb from their wells and disappear into the bush. The songs tell stories of Samburu traditions and help the herdsmen keep a steady rhythm while they lower and raise their buckets. These 'singing wells' illustrate the importance of traditional songs in the life of the Samburu tribes people.
We think that Singing Wells is a very good name for our project which aims to preserve, celebrate and share the unique music traditions and heritage of East Africa.
Jimmy Allen, Founder Abubilla Music and Trustee of the Abubilla Music Foundation